North American Bowling News
---
Back in the Spotlight: Walter Ray Williams Returns to Winner's Circle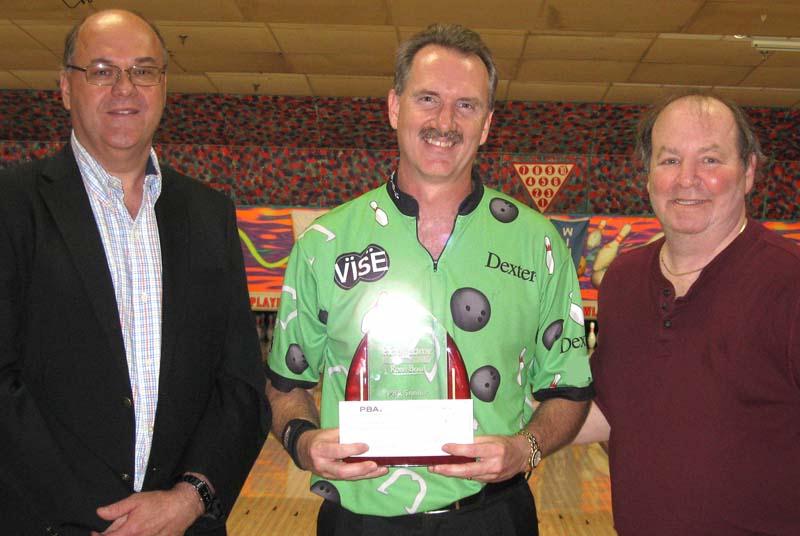 Walter Ray Williams Jr, flanked by Rose Bowl GM, Michael Sickonic, on left, and Mark Roth on right (Photo courtesy PBA LLC)
Professional Bowlers Association legend Walter Ray Williams Jr. of Ocala, Fla., won the PBA Senior Mark Roth Allentown Open on May 24th for his first tour win in more than a year.
Williams defeated 2009 Senior Player of the Year Ron Mohr of Eagle River, Alaska, 268-168, in the championship match at Playdrome Rose Bowl for his first senior title of the season and second of his Senior Tour career.
Williams left little doubt of the outcome by opening the championship match with eight consecutive strikes before leaving a 10 pin in the ninth frame. Mohr, trying for his second consecutive win this season, having won the Senior Miller High Life Classic in Mooresville, N.C., three weeks ago, could never get anything going.
"I got off to a good start and Ron just couldn't get lined up, especially on the right lane," said the 51-year-old Williams. "I was able to play between the first and second arrow and just had a nice angle to the pocket and great ball reaction from there."
In his Senior Tour debut, Williams won his first Senior Tour title in the Senior Miller High Life Classic in early May of 2010, shortly after earning a record seventh PBA Player of the Year crown at the conclusion of the 2009-10 Lumber Liquidators PBA Tour season.
After also going on to earn PBA Senior Rookie of the Year honors last year, it has been quite a dry spell for Williams, however. He experienced the worst PBA Tour season of his 28-year career in 2010-11 where his best finish was sixth. It ended a record streak of 17 seasons with at least one Tour win.
"I think the hard work I've put in the past couple of months has really paid off," said the all-time leader in PBA Tour wins with 47. "I'm feeling very comfortable being able to make the adjustments I need to make and just bowling very well in general. You're going to have your good times and bad times but I'm very encouraged and confident going forward from here."
Williams' previous best Senior Tour finishes this season were second in the Sun Bowl In the Villages and third in the Senior Don Carter Open.
In the semifinals, Mohr defeated Hall of Famer and four-time Senior Player of the Year Tom Baker of King, N.C., 206-174, to advance to the championship match and Williams defeated Harry Sullins of Chesterfield Township, Mich., 238-192.
Williams is looking forward to the PBA Senior U.S. Open presented by the Suncoast June 12-17 at the Suncoast Bowling Center in Las Vegas, which is the next Senior Tour stop.
"I wish it was next week," Williams said of the U.S. Open. "But, it gives me a couple weeks to get back to work on my game and relax a little bit."
Go Back or Close Window

(To execute a 'BACK' command after clicking on a photo to enlarge, right-click on a white area on the screen that follows, and then select 'Back' from the menu that will appear)
If you like this article, give us a quick click on the 'Google +1', 'Facebook Like', and/or 'Twitter Follow' below