North American Bowling News
---
Skee-Ball Becoming Big Business in Bethesda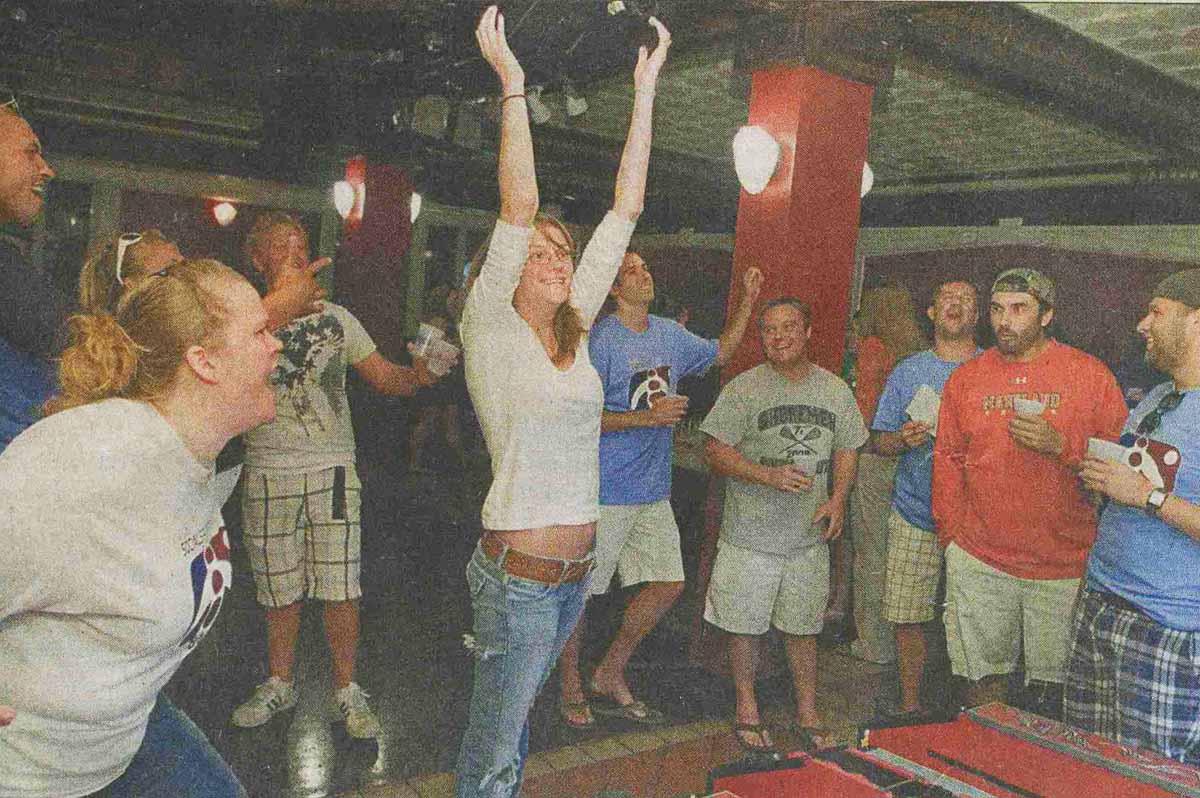 Meredith Harvill of Bethesda (center) celebrates a good score with her teammates during Skee-Ball league (Story reprint and Photo courtesy of The Gazette)
*This article is a 'reprint' from The Gazette community newspaper of Bethesda, Potomac, Chevy Chase, and Kensington, Maryland
Article by Alex Ruoff
During the day, Allie Norte works as an executive assistant at a law firm, generally filing paperwork or answering calls from 9 a.m. to 5 p.m., but on Thursdays, she's an athlete.
Sort of.
Norte, 28, and a few other ex-Bethesda/Chevy Chase High School softball players joined a weekly skeeball league hosted by "The Barking Dog Tavern" in Bethesda as a way to unwind over drinks and some healthy competition.
"We still like games, just no one wants to run or get sweaty anymore," the Silver Spring resident and former Battling Baron said. "That's why we're here."
That need to return to the fun of organized sport is what people like Nick Groth are trying to capture. Groth helped develop and is on the board of directors for the DC Bocce League - started in 2004 in Washington, D.C., by a group of friends looking for a different kind of recreation than could be found in basketball or softball leagues.
In the six years since the league started, it has grown immensely, from the original four founders playing in Capitol Hill to more than 1,500 players from Arlington, VA., to Bethesda rolling the small, colorful balls on the philosophy of combining a social atmosphere with people's love of competition.
"I think what we do is different from something like a softball league because we're not as focused on the sport. What we do is more about the social aspect, meeting people, having fun," he said."... It's something like a bowling league, only not as difficult."
He said while the gig doesn't pay enough to be his day job - he'd rather leave what that is out of this - it is quickly becoming more lucrative. Registration is $50 per play to participate in the outdoor league. Indoor is $40 and provides a free T-shirt, league play, and drink/food specials.
The top four teams in the tournament donate a total of $17,000 a year to charities, and league members can win tickets to Washington Nationals games or to amusement parks, all paid for by seasonal fees and sponsorships.
DC Bocce is expanding beyond the Beltway too, he said, as it has set its sights on locations in Ohio, New York, and Atlanta.
Social sports, termed for tournaments for games such as bocce, skeeball, cornhole, dodgeball, and others that are more focused on meeting people than winning— although winning isn't discouraged— aren't new. But their size and popularity show they are a fast-growing business in the Bethesda area and around the country.
Started in October, United Social Sports hosts and manages skeeball—such as the one Norte plays with in Bethesda—kickball, bowling, cornhole (also known as "bags"), bocce, the drinking game flip cup, and shuffleboard leagues from Charlotte, NC to Washington, DC, on the same notion: offer an afternoon of sports followed by - or combined with - a sponsored happy hour at a bar or restaurant.
Founder Robert Albrecht, of Washington, DC, said the happy hour is essential.
"Bars play an integral part in it; you couldn't do this without them," he said. "They are what make it different from any other sports."
The concept may not have been created by WAKA Kickball - the World Adult Kickball Association, started in 2000 and now found in 48 states and three countries - but it was popularized by it, Groth said.
"WAKA definitely lit the fire under people," he said. "It was just baseball and softball doing this kind of thing, then people started getting into these other sports."
Social sport league administrators find bars, beer brands, and other commercial interests willing to provide discount drinks to a league's participants after - or during - games and for end-of-season parties or events, Albecht said.
Sponsorships allow the leagues to offset costs for materials, permits to use fields or courts, free movie nights, mixers, and, of course, more parties; big incentives for the 20-somethings that populate the leagues, said Jack Fan, sports coordinator for CHASE Kickballs, a league operated out of Washington, DC, which hosts a variety of sports, from flag football to foosball to broom ball (think floor hockey with brooms) in Chevy Chase and Bethesda.
"People do it for the fun," he said. "One of the big attractions is what we can offer in terms of a night out."
Bars and restaurants have been using his model to bring in crowds during off times for years, said Alan Pohoryles, owner of Tommy Joe's Restaurant in Bethesda, who sponsors teams from Social Sports of Bethesda, WAKA Kickball, and eight unaffiliated softball teams.
"Some produce better than others, but generally it's a good way to bring in a crowd when you're not really busy, like a Saturday day," he said.
From the looks of "The Barking Dog", when the skeeball machines are out or Caddies on a Thursday night in Bethesda, it's a great relationship: people in DC Bocce T-shirts drinking their sponsor beer Peroni on a night when most would be at home.
"I have to admit, it has added a night at the bar for me," Norte said as she thought about what she used to do on Thursday nights. "Normally, I'd just be at home."
Go Back or Close Window

(To execute a 'BACK' command after clicking on a photo to enlarge, right-click on a white area on the screen that follows, and then select 'Back' from the menu that will appear)
If you like this article, give us a quick click on the 'Google +1', 'Facebook Like', and/or 'Twitter Follow' below