North American Bowling News
---
Making Strides: Mark Roth on the Rough Road to Recovery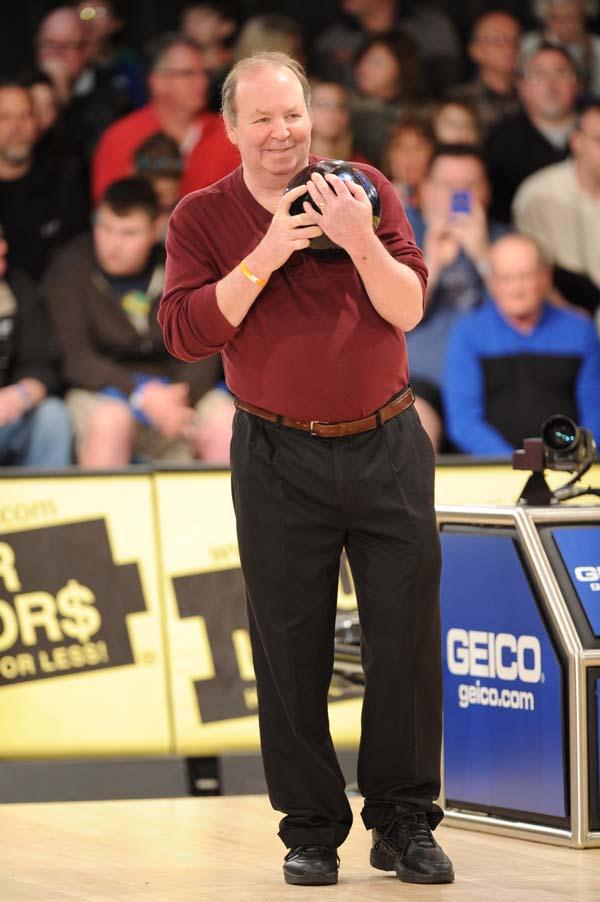 Mark Roth (Photo courtesy PBA LLC)
In May of 2009, Professional Bowlers Association Hall of Famer Mark Roth, a 34-time champion and universally regarded as one of the greatest bowlers in history, fell victim to a massive stroke that paralyzed his left side and left his family and friends wondering if he'd ever walk on his own again.
The thought may have entered Roth's mind, but it left quickly as he began a determined battle to recover use of his body. The first signs of significant progress became apparent when he was able to attend the inaugural PBA Mark Roth Plastic Ball Championship in West Babylon, N.Y., in March of 2010. The tournament, named in his honor, was won by amateur Brian Ziesig.
Roth and his wife, Denise, recently made the trip from their home in Fulton, N.Y., to AMF Thruway Lanes in Cheektowaga for the 2011 edition of the Mark Roth Plastic Ball Championship. It quickly became apparent that Roth has made even greater strides on his road to recovery when he stepped onto the lanes and bowled a few games.
Mark has improved steadily thanks to therapy and the use of an electronic device called "WalkAide." The device, manufactured by Hanger Prosthetics, provides electronic stimulation to his left leg, allowing him to walk more efficiently by overcoming a common stroke complication called "foot drop."
When Roth proved he had the determination to walk again, his doctors recommended bowling as the ideal form of therapy.
Roth, who celebrated his 60th birthday on April 10, returned to the lanes with a six-pound ball and has slowly graduated to heavier equipment.
"I've gone from a point where they thought I would never walk again to where I can bowl three games at a time using a 12-pound ball," Roth said. "I can use a 15-pound urethane ball for a few frames, but I'm not able to keep the speed up and it hooks off the lane."
The "hook off the lane" comment is ironic, considering that Roth is widely credited with creating today's "power game" with a unique delivery technique back in the 1970s that allowed him to generate massive hook with plastic bowling balls that few could match. His ability to hook plastic equipment revolutionized both the way modest bowlers throw the ball, and the advanced technology built into today's bowling equipment that enhances hooking power.
In addition to the challenge of recovering from his stroke, Roth also developed complications with his hip that hampered his ability to sleep. Hard work in therapy has also alleviated most of that problem.
"Going to therapy five times a week about killed me," he admitted, "but it has helped a lot. Right now I'm on a break from therapy, which I'm enjoying."
Roth's recovery has progressed to the point where now he feels good enough to travel longer distances. In fact, he recently passed his driver's test.
"Passing the driver's test was a big milestone for me," Roth said. "Being able to drive again is just another thing that has increased my independence."
Attending the tournament named in his honor is also an important part of Roth's therapy.
"Mark really needs this," Denise said about attending the Plastic Ball Championship. "This was Mark's family for so many years and he needs to be in this environment—it's good medicine."
Roth attended the Sunday finals, sitting in the front row of the Plastic Ball Championship, which aired live on ESPN.
Roth's legacy is firmly established. In addition to his 34 Tour titles which ranks tied for fourth all-time, he is a four-time PBA Player of the Year (1977, 1978, 1979 and 1984). He led the Tour in average six times, including a then-record 221.699 in 1979. His record of eight titles in 1978 may never be broken and for good measure, he followed his record year with another seven titles in 1979. He earned more than $1.6 million in career earnings before moving into PBA Senior Tour competition where he won two more titles, earned Senior Rookie of the Year honors in 2001 and Senior Player of the Year honors a year later.
While Roth has quite a way to go in his rehabilitation, because of the progress he has made thus far, he's encouraged about one day returning to PBA competition.
"I've got a long way to go and need to get a lot of strength back especially in my left leg," Roth said. "But I'm determined and with the progress I've made so far, don't count me out."
Go Back or Close Window

(To execute a 'BACK' command after clicking on a photo to enlarge, right-click on a white area on the screen that follows, and then select 'Back' from the menu that will appear)
If you like this article, give us a quick click on the 'Google +1', 'Facebook Like', and/or 'Twitter Follow' below