North American Bowling News
---
Couch Wins 16th PBA Tour Title in Plastic Ball Championship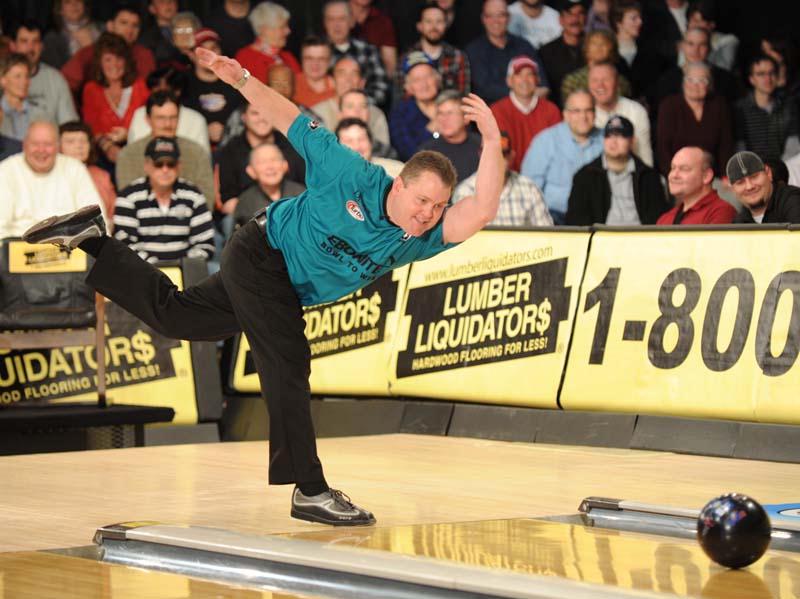 PBA Plastic Ball champion, Jason Couch (Photo courtesy PBA LLC)
Jason Couch of Clermont, Fla., won his first Lumber Liquidators Professional Bowlers Association Tour title in four years and the 16th of his career by defeating Hall of Famer Parker Bohn III, 219-175, in the championship match to win the PBA Mark Roth Plastic Ball Championship Sunday at AMF Thruway Lanes.
Couch's last wins came in January 2007 when he won back-to-back tournaments in Las Vegas and Fountain Valley, Calif. At the conclusion of the 2006-07 season he had knee surgery which took him out for the entire 2007-08 season.
"It's been a long road to get back to even close to where you need to be physically and mentally," said Couch, who was the No. 1 seed for the tournament. "But I've been making good progress and bowling pretty well recently.
"Coming into this tournament I had high expectations because I have experience throwing plastic equipment and the way I throw the ball I can get the reaction I need bowling on the conditions we're bowling on here."
Bohn, who was hoping for his 33rd Tour win, ran into trouble in the second half of the championship match throwing back-to-back opens, one of which was a 4-6-7-8-10 split.
"I was fighting the feel of the ball and was having problems with the tape in my thumb hole," Bohn said. "I had an opportunity to turn it around there but just couldn't capitalize on it.
"Jason threw a complete game - I didn't - and he was rewarded for it."
Couch, who earned $20,000 for the win, left a 6-7-10 split in the fifth frame but made the spare and then threw three consecutive strikes which essentially wrapped up the match.
"I was disappointed with that shot but when I picked up the spare it loosened me up and I threw three good shots after that," said Couch, who is the only player to win three consecutive PBA Tournament of Champions titles.
In the semifinal match, Bohn, of Jackson, N.J., defeated hometown favorite Ryan Ciminelli of Cheektowaga, N.Y., 213-207, to advance to the final match. Ciminelli, who finished third, was hoping for his second career title having won his first six weeks ago in the One A Day Earl Anthony Memorial.
In the opening match, Bohn defeated 2009 PBA World Championship winner Tom Smallwood of Saginaw, Mich., 201-197. Smallwood, who finished second in the 2011 PBA Tournament of Champions, finished fourth and was also hoping for his second career Tour title.
The Mark Roth Plastic Ball Championship, which requires players to use identical "throwback" polyester (plastic) ball technology, is named in honor of the PBA Hall of Famer who dominated the plastic ball era in the 1970s. Roth, who is making steady progress recovering from a stroke he suffered in 2009, threw out the ceremonial first ball of the tournament.
The concept behind the plastic ball tournament is to put a premium on knowledge of changing lane conditions, subtle adjustments in hand positions and delivery techniques, and other skills rather than relying on advanced bowling ball technology.
Go Back or Close Window

(To execute a 'BACK' command after clicking on a photo to enlarge, right-click on a white area on the screen that follows, and then select 'Back' from the menu that will appear)
If you like this article, give us a quick click on the 'Google +1', 'Facebook Like', and/or 'Twitter Follow' below