North American Bowling News
---
The World Series of Bowling: Tenpins' Best Specialists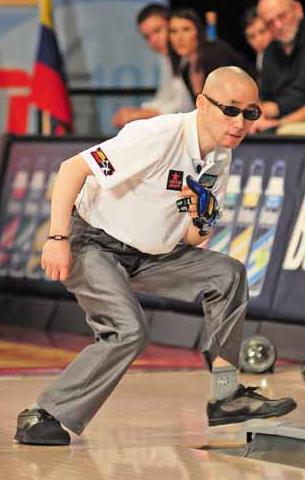 Scorpion Champ, Yong Jin Gu (Photo courtesy PBA LLC)
South Korea's Gu Pulls Off Stunning Upset in PBA Scorpion Championship
Yong-Jin Gu, a slightly-built 48-year-old left-hander, had never bowled in a Professional Bowlers Association event before the World Series of Bowling, but he pulled off one of the biggest upsets in PBA history when he defeated an international field of opponents to win the PBA Scorpion Championship at South Point Bowling Center.
The finals of the PBA Scorpion Championship aired on ESPN. It was the first Lumber Liquidators PBA Tour television final ever to include four international players and only one American.
Gu (pronounced "coo") upset four straight opponents, including top qualifier Jun-Yung Kim, 236-224, in the all-South Korea championship match, to become the first South Korean ever to win a PBA Tour event.
In a stunning finish, Gu held a 10-pin lead entering the ninth frame, but he missed a 7 pin spare conversion to surrender his lead. Needing a nine-count spare and strike to win, Kim then left a pocket 7-10 split on his first shot in the 10th frame to hand the victory back to Gu.
Gu started the stepladder finals with a 245-204 victory over former Saginaw Valley State collegiate All-American Dan MacLelland of Windsor, Ontario, throwing strikes on seven of his first nine shots. In his second match, Gu routed 2010 Pepsi Viper Champion Bill O'Neill of Southampton, Pa., 256-208, again striking on eight of his first 10 shots. He then romped to a 233-208 victory over Australia's two-handed star, Jason Belmonte, throwing seven strikes in eight tries. Gu had his first open frame in the 10th against Belmonte, but by that time he had already clinched a trip to the final match.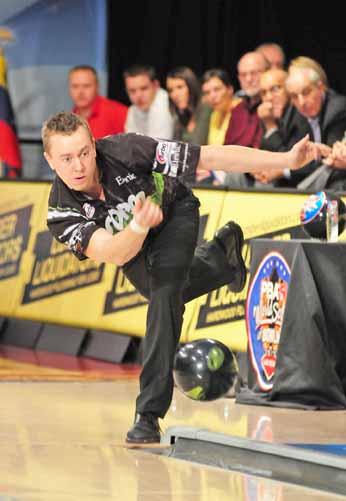 Shark Champion, Osku Palermaa (Photo courtesy PBA LLC)
Finland's Palermaa Captures PBA GEICO Shark Championship
Finland's Osku Palermaa, Europe's premier two-handed bowler, survived a 173-149 battle with top qualifier Dan MacLelland of Windsor, Ontario, to win his first Lumber Liquidators PBA Tour title in the PBA GEICO Shark Championship at South Point Bowling Center.
Widely considered the most difficult of the PBA's five so-called "animal" lane conditioning patterns, the Shark took a bite out of the entire field of power players. In the end, it was Palermaa's ball speed and ability to loft the ball down the lane, using his two-handed technique, that made the difference as four splits killed MacLelland's bid for his first PBA Tour title.
With his victory, Palermaa accomplished his primary objective in traveling to the United States to bowl in the multi-event PBA World Series of Bowling: an opportunity to also bowl in the $1 million PBA Tournament of Champions Jan. 15-22 at Red Rock Lanes in Las Vegas. The PBA Tournament of Champions is open only to bowlers who have won a PBA title.
"That was the main part of my being here," Palmeraa said. "Being from Finland, I can't bowl in the PBA regional tournaments, so (winning a title during the World Series of Bowling) was my only way in. It's the biggest tournament I've ever had a chance to bowl in. I can't wait.
On his way to the title, Palermaa also won a long-awaited showdown against his Pacific region counterpart, Australia's Jason Belmonte. The Shark Championship was the first time the world's best two-handed bowlers had ever met each other on television.
"It was our first match on TV so I wanted to be the one to get the first win," Palermaa said. "There will be plenty more to go, and we'll see what happens. But I got the first one."
Belmonte started the Shark finals with a 248-223 victory over Mike Fagan of Patchogue, N.Y., and he then eliminated reigning PBA World Champion Tom Smallwood of Saginaw, Mich., 208-192, to set up his showdown with Palermaa in the semifinal match.
As the high-revolution power players burned away the oil in the front part of the lanes, both two-handers struggled. In the end, it was a 4-6 split in the 10th frame that doomed Belmonte. A spare/strike in the 10th frame gave Palermaa a 182-176 victory and a chance to bowl MacLelland for the title.
"I'm happy with the way I bowled," Palermaa said. "I might have wrapped my hand around the ball a little too much a couple of times, but I made my spares. It was the Shark. It was expected the lanes were going to get ugly. There's only so much oil and it got burned up."
Palermaa appeared to accept his milestone victory in a stoic Scandinavian manner, but he admitted later he was more excited than he appeared to be.
"I'm an emotional guy, but it's inside," he said. "Why waste the energy showing the emotions? It's the Finnish way. That's the way I learned to do it. Maybe I should be more emotional, but that's the way I'm used to doing it."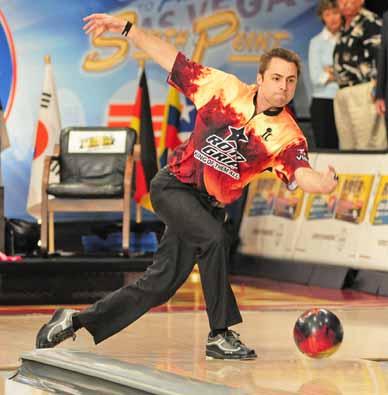 Chameleon Winner, Scott Norton (Photo courtesy PBA LLC)
Rookie Scott Norton Wins First PBA Tour Title in Chameleon Championship
California attorney Scott Norton of Costa Mesa, Calif., held court for the first time as a full-time Lumber Liquidators PBA Tour competitor in the title match of the Chameleon Championship at South Point Bowling Center, and he won his case.
Norton, a 28-year-old left-hander who passed his California bar exam just a year earlier, delivered a powerful opening statement in his first PBA Tour television appearance, starting the title match with eight strikes before converting a 4-7 spare in the eighth frame in easily defeating Sean Rash of Wichita, Kan., 256-181. Rash had won three consecutive matches to reach the championship contest, defeating Osku Palermaa, 236-211, Chris Barnes 227-175, and Wes Malott 235-217, before falling to Norton.
"It's pretty amazing. I've worked a long time for this," Norton beamed. "It's an unbelievable, crazy feeling. I was unconscious for a lot of that match."
The son of Professional Women's Bowling Association and United States Bowling Congress Hall of Famer Virginia Norton earned his opportunity to bowl as a Lumber Liquidators PBA Tour exempt player for the 2010-11 season by winning the 2009 PBA Regional Players Invitational. This season might be his rookie year as a full-time PBA Tour competitor, but he came into it fully prepared.
The physical game he learned under his mother's wing, and the mental game he learned under Team USA sports psychologist Dr. Dean Hinitz after winning the 2000 U.S. Amateur Championship, helped explain his composure as he threw a near-perfect game at Rash.
"Seriously, I don't remember half of that game. I just remember getting up and saying the same things to myself, over and over. I told myself I was going to hit my target, execute and that set the tone. I was really able to stay within myself. I couldn't see anything to either side. I really thought I was going to have a problem with the lights and people and the camera on the ball return, but when we got started, I didn't see any of that. All I saw was the lane and the pins.
"When I got up in the ninth frame, I really wasn't thinking about 300," Norton said. "I realized I was going to win and that's the only thing that was going through my mind.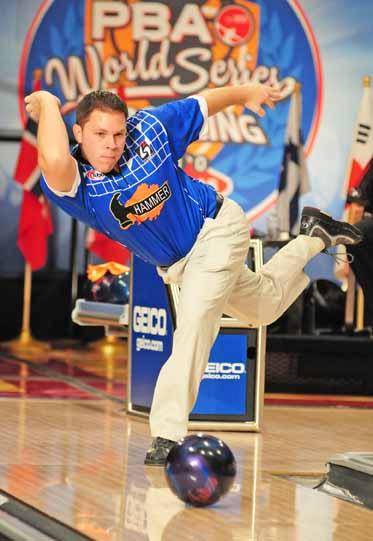 Viper Champion, Bill O'Neill (Photo courtesy PBA LLC)
O'Neill Romps to Third PBA Tour Title in Pepsi Viper Championship
Bill O'Neill of Southampton, Pa., made his third Lumber Liquidators PBA Tour title look easy, eliminating four competitors to capture the Pepsi Viper Championship at South Point Bowling Center.
O'Neill, considered by many veteran observers to be a rising star on the PBA Tour, struck on six of his first seven shots in the title match to soundly defeat top qualifier Andres Gomez of Colombia, 237-203. To reach the championship contest, the No. 4 qualifier romped past PBA Hall of Famer Amleto Monacelli of Venezuela, 244-159; Mike DeVaney of Murrieta, Calif., 242-209, and Tommy Jones of Simpsonville, S.C., 248-192, and maintained his torrid pace against Gomez.
Overpowering performances on television haven't always been O'Neill's strong suit. In fact, it took him a little over four years and a dozen unsuccessful television appearances before his breakthrough victory in the 2009 Chameleon Championship in Allen Park, Mich.
"When I make a TV show now, I have a better idea of what to expect," O'Neill said. "Today I knew the other guys were going to try to hook the lanes a lot, so I decided to do just the opposite, and it wound up perfect.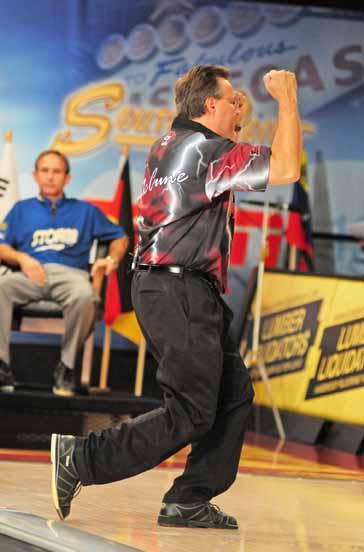 Cheetah Champ, Eugene McCune (Photo courtesy PBA LLC)
McCune Executes Flawless Shot to Win Brunswick Pro Bowling Cheetah Title
Eugene McCune of Munster, Ind., flawlessly executed the shot he had practiced for more than two decades to nip PBA Hall of Famer Norm Duke of Clermont, Fla., 238-237, to win the Brunswick Pro Bowling Cheetah Championship, the opening event of the 2010-11 Lumber Liquidators Tour season.
McCune's strike on his final ball earned him the second title of his 24-year PBA Tour career and a successful conclusion to an event he had dominated in earning the No. 1 position for the stepladder finals for the first time in his career. McCune steamrolled through nine games of match play with a 9-0 record and a PBA-record 2,468 pins (a 274.22 average) to run away with the qualifying lead.
"It's especially nice to win when you set records and it comes down to one game for the title," McCune said, "because if you lose, some people think you're just a piece of garbage."
McCune and Duke, a 33-time PBA Tour champion and the defending Cheetah champion, battled pin-for-pin into the final frame. Duke, finishing the match first, struck on his first shot in the 10th frame, but left the 4-8 on his second shot. McCune, needing a nine-count/spare and strike to win, got exactly what he needed, converting a 4 pin for a spare before throwing the biggest strike of his career.
That strike followed an interruption. Just as McCune was prepared to deliver his final shot, a background noise disturbed his concentration, so he backed off and re-grouped.
"Maybe I wasn't even ready to throw the shot," he said. "I got to step away, calm down, and collect myself. I wasn't nervous at all. I figured, this is what you do. This is it. This is the shot you have told yourself about in practice all of those years: 'He must have this strike…this one is for the title.' And I absolutely threw that ball so good it was unreal."
Many times in championship matches, the higher qualifier will try to apply pressure to his challenger by forcing the opponent to finish last, although the truly memorable performances often occur when a bowler wins a title by performing in the clutch. Being the top seed, McCune had the option and decided he wanted to finish on the right lane, which meant bowling last in the match.
"When I can play where I was on this pattern and throw the ball hard, I don't miss. If I'm on lane conditions where I have to hook the ball, there are guys who can hook it better than me. I start making mistakes and leaving splits. On the Cheetah, I knew I could strike and if I didn't, I wasn't leaving splits. It's easier mentally for me when I know I can stay out there on the corner and pipe the ball to the pocket."
With his PBA Hall of Fame father Don McCune in the crowd, Eugene was overcome with emotion. His only previous title came in the 2002 Banquet Classic in Grand Rapids, Mich., where, ironically, he defeated Duke and PBA Hall of Famer Walter Ray Williams Jr. for the championship.
Go Back or Close Window

(To execute a 'BACK' command after clicking on a photo to enlarge, right-click on a white area on the screen that follows, and then select 'Back' from the menu that will appear)
If you like this article, give us a quick click on the 'Google +1', 'Facebook Like', and/or 'Twitter Follow' below