North American Bowling News
---
Koivuniemi Wins PBA Tournament of Champions, Collects Record $250,000 First Prize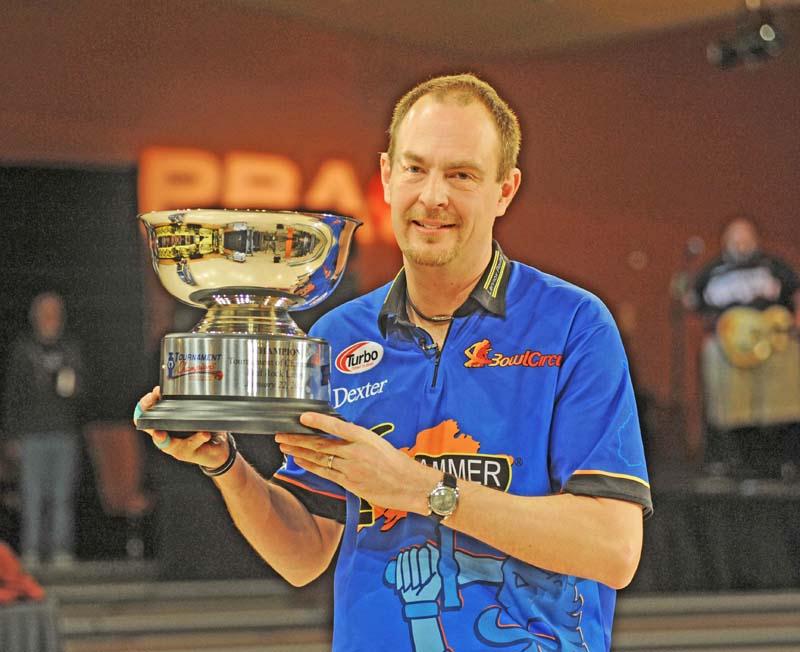 TOC Champ, Mika Koivuniemi (Photo courtesy PBA LLC)
Finnish native Mika Koivuniemi of Hartland, Mich., defeated top qualifier Tom Smallwood of Saginaw, Mich., 269-207, Saturday, Jan. 22 to win the $250,000 first prize in the $1 million Professional Bowlers Association Tournament of Champions at Red Rock Lanes.
After rolling a 299 game against Tom Daugherty of Wesley Chapel, Fla., in the semifinal match, Koivuniemi threw another 10 strikes on 12 tries against Smallwood to become the first international player ever to win the PBA's signature tournament.
"I can't even say what this title means right now," Koivuniemi said. "It was my third major and I have nine titles now. I hope I can win a few more and secure a spot in the hall of fame. And my oldest daughter is starting college next year, so the money will help.
"It helped to get past my first match," he added. "I haven't had a lot of breaks on TV lately. Even after I shot the 299, I held myself back and stayed focused. It would have been nice to shoot 300, but it's more important to win the title."
Koivuniemi earned the nickname "Major Mika" after winning the 2000 United States Bowling Congress Masters and the 2001 U.S. Open—both major champion- ships—for his first two PBA titles after a highly successful international career where he won titles in 15 different countries.
"Mika bowled great. He won," said Smallwood, who earned $100,000 as runner-up.
"He out-bowled all of us. He had a great look at the lane condition and he made the shots. And winning $100,000 can make you a good loser."
In the semifinal match, Koivuniemi came within a wobbling 10 pin of becoming the first player in PBA history to shoot two nationally televised 300 games. The 42-year-old right-hander rolled a perfect game against Jason Couch of Clermont, Fla., in Windsor Locks, Conn., in 2003.
Koivuniemi easily defeated Daugherty, 299-100, because Daugherty's television debut was a disaster. The 35-year-old Floridian left seven difficult—if not unmakeable—splits in rolling the lowest nationally-televised game in PBA history. Daugherty converted two pins after leaving the 4-6-7-10 split in the 10th frame to shoot an even 100, erasing the 129 bowled by Steve Jaros in Lake Zurich, Ill., in 1992. Despite his record low score, Daugherty took home $50,000 for third place.
"I destroyed Jaros' record," Daugherty grinned. "I would have been more upset if I'd shot 260 and lost. I really wasn't nervous. I just threw the wrong ball and made some bad shots. Once I was down 50 pins and threw another split, I was just trying to get out of Mika's way.
"But I still had the most fun I've ever had in my life this week, including today. I'd rather shoot 100 today than
Go Back or Close Window

(To execute a 'BACK' command after clicking on a photo to enlarge, right-click on a white area on the screen that follows, and then select 'Back' from the menu that will appear)
If you like this article, give us a quick click on the 'Google +1', 'Facebook Like', and/or 'Twitter Follow' below