North American Bowling News
---
Stephen Dryer: From Newsmaker to Newscaster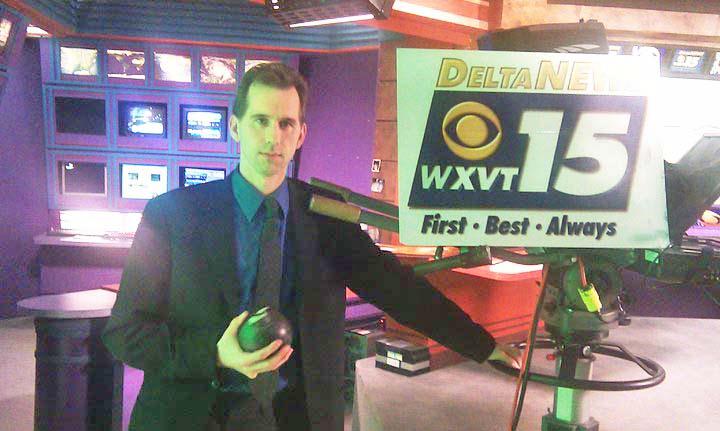 Duckpins' Number One Ranked Bowler, Steve Dryer, now turned Mississippi Weatherman
The last quarter of 2010 marked the beginning of a milestone for duckpins. The nation's Number One ranked duckpinner is now being seen by over 70,000 TV viewers on a nightly basis, which is by far the most pairs of eyes consistently focused on one member of our glorious sport. However, this is a somewhat bittersweet landmark for duckpin bowling.
Providence, Rhode Island's Steve Dryer earned his first "Number One Duckpin Bowler in the Country" ranking in the 2009-2010 season, but in October of 2010, Dryer's other childhood love, Meteorology, came to the forefront of his life. It was at that time in which opportunity arose for Steve to enter the TV broadcasting field as the weatherman for WXVT News Channel 15—a news station located in Greenville, Mississippi. The downside for duckpins is that Dryer had to give up the game to pursue his profession, as there are no duckpin bowling centers in or anywhere near the state of Mississippi.
Steve's relocation is also a loss for the state of Rhode Island, as he's been ranked the Number One bowler in the state for the last 5 consecutive years.
Dryer, a 4-time DPBA winner, was a mere 24 years old when he won his first tour stop, downing hall of famer, Steve Iavarone at Holiday Lanes in 2003. This was a real 'baptism of fire' experience for Dryer in a 'first-win' experience— victorious in 4 matches on the ladder, including a nail-biter, 144-140 in the final.
But Dryer wasn't exactly 'green' in competition, even at the youthful age of 24. During his years as a youth bowler, he was ranked Number One in Rhode Island during his last 4 years before turning adult, and ranked Number One in the entire nation during those final 2 years.
Steve played a tremendous role on the administrative side of youth bowling that is second to none. He resurrected the National Youth Invitational Tournament around the year 2001, serving as tournament director and held the event several years at AMF College Park before passing the baton to duckpin coaches in the Baltimore area. Dryer also originated a scholarship tournament at Town Hall Lanes for five consecutive years, in which he raised money for the event on his own. As a result of his unselfish labors for the tournament, a $5,000 first prize was awarded the inaugural year of the event, and $2,500 as the grand prize for the years that followed. At the tourney's peak in participation, a whopping 200 entries turned out. Overall, nearly $40,000 was given out to youth bowlers for future college education during the years the tournament existed.
As we 'fast forward' back to the present, Steve Dryer has moved onward—from helping youths get started on the right path in life, to now serving people from all walks of life on a daily basis, by keeping the public's finger on the 'weather pulse' of Greenville, Mississippi with accurate forecasts.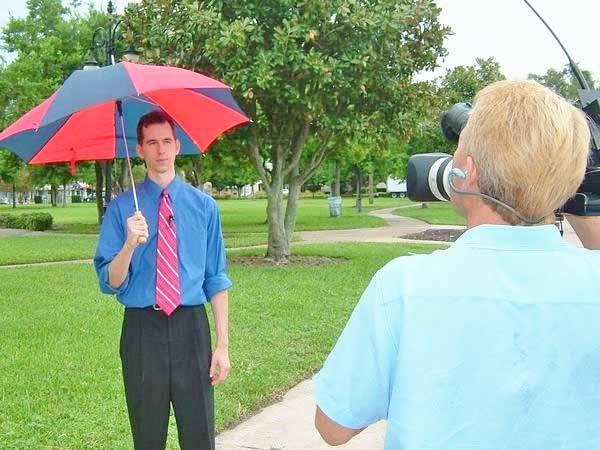 Duckpins' Number One Ranked Bowler, Steve Dryer, now turned Mississippi Weatherman
"I have been into meteorology since I was a child…", Dryer states, "remembering all the years watching the weather channel and following storms and hurricanes. I did declare it my freshman year in college and knew during my senior year in high school what my major was going to be."
Ironically, Dryer's TV experience with weather forecasting did not begin in the New England area. His first opportunity for media coverage surfaced after recently noticing the open position for a "Meteorologist" posted on the website, "Simplyhired.com". It was then that he forwarded his online application to the news director at station WXVT Channel 15, Earl Phelps. Aside from his resume and cover letter, Steve provided a link to an impressive set of videos on the YouTube website, in which Dryer convincingly simulated a real weather broadcast. After a few weeks of telephone and email tag, he got a job offer and accepted it.
Steve graduated from Western Connecticut State University in May 2002 with a B.A. in Meteorology, and was a two-time National Collegiate Weather Forecasting Champion during his college tenure. He's an expert on extreme weather of all degrees, whether it be a nor'easter, hurricane, blizzard, or severe storm.
From a bowling standpoint, "opportunity knocking for Steve Dryer", came at an inopportune time. Even though it's been a while since Dryer has won a stop on the DPBA tour, his last win being at Johnson's Lanes in Rhode Island in 2007, 2010 was the most successful year in Steve's duckpin career. In addition to his overall 'Number One in the Country' ranking, Dryer made 4 cuts on the pro tour, 3 of which he was high qualifier during the preliminary round. He suffered his only career loss in a championship match this year at Glen Burnie Bowl in a close contest with Bernie Hipkins, which is a pretty remarkable past performance record in big matches.
Dryer attributes his dad's influence as a big part of his success on the pro tour.
Steve states, "I think there was a lot of focus on my part to just do the best I can and have fun at the same time. I have not won on the tour in a long time but feel I have been very competitive. As long as we have fun at what we do, things will just fall into place. My father always reminded me of a few things. First, there will always be someone better, so do the best you can and eventually you will land on top. Second, bowling is just a game, remember that and things will happen in a good way. Once you lose focus of it being a game, it no longer serves its' purpose."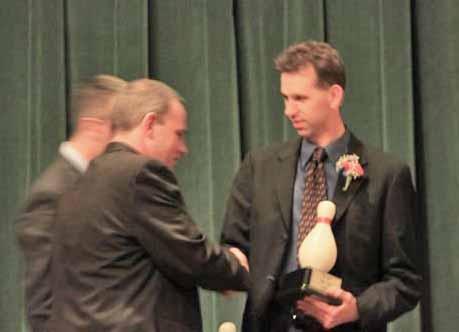 Duckpins' Number One Ranked Bowler, Steve Dryer, now turned Mississippi Weatherman
Steve's final night of league bowling came on October 11, 2010 (the night before his official 'move' from Rhode Island) in the Monday Night John Murphy Memorial League at Town Hall Lanes. He will be attending the first pro tour stop of 2011 at Highland bowl, with the national awards banquet being that same weekend. Dryer is also planning to bowl in Turner's annual big bash for duckpins in Hagerstown in May. The rest of the tour stops will be "spur of the moment" decisions.
It will be up to Steve Dryer's natural talent for the duckpin game and his muscle memory to determine if he can maintain an optimum performance level. While a bitter pill for bowling to swallow, Rhode Island's loss has been Mississippi's gain.
Go Back or Close Window

(To execute a 'BACK' command after clicking on a photo to enlarge, right-click on a white area on the screen that follows, and then select 'Back' from the menu that will appear)
If you like this article, give us a quick click on the 'Google +1', 'Facebook Like', and/or 'Twitter Follow' below