North American Bowling News
---
Up Close and Personal: Jimmy Wolfensberger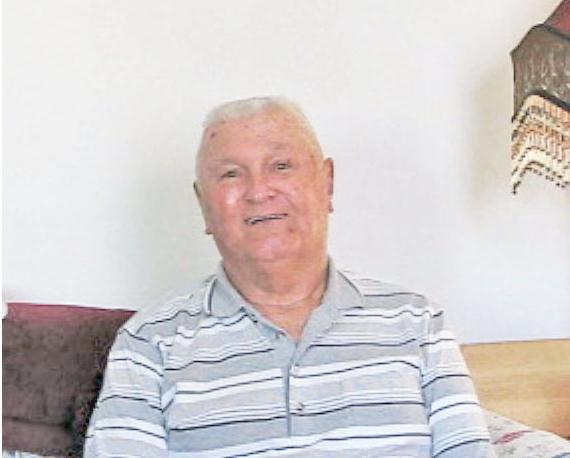 Duckpin Legend, James Wolfensberger
As time marches on, so has it a knack of 'singling out' in its own inimitable way, the truly great per- formers. True legends are sometimes moment- arily out of the public eye, but they are always in the record books and in the memories of those who idolized them. In duckpin bowling, there's no greater icon than Hagerstown, Mary- land's own Jimmy Wolfensberger.
It was this editor's distinct and fervent pleasure to sit down and chat with one of the duckpin game's historic figures. Wolfensberger came along at a time when duckpins was in its heyday, at the height of popularity. 'Wolfie', as his loyal followers warmly refer to him, did it all as a bowler and as a human spirit.
James Wolfensberger was born in February of 1929 in Maugansville, Maryland—a town on the outskirts of the larger Hagerstown district. He lived there until the age of 12, when he then moved to Hagerstown. Jimmy got his exposure to the game of duckpins as a pinboy—a trade that he credits as to where he got his start in duckpins.
When not setting up pins, he would practice whenever possible. With no youth leagues around at the time, Jimmy had to pretty much learn the game through experience.
The pinboys would assemble on the weekends for pot games that customarily began at around noon-time. They'd bowl for $2.00 a game, and in comparison to their regular hourly wages of about $1.05, with 8 or 9 players competing, the winner would come away with a pretty decent bundle. The pot games would go on all afternoon until about 6:30 pm when the evening leagues began arriving at the lanes.
Jimmy admits that being 'green' to the game, he was wild at first. Rolling with a conventional top spin, more times than not, he wouldn't get too close when faced with a single pin conversion. But Wolfensberger loved the game, and worked on improving. A couple of the old timers recommended that he go to a backup ball. He took their advice, and at around the age of 20 or 21, he began to bowl better and more consistent.
Jimmy worked on his game and after a while, got really good at shooting single pin spares—so much that he got to the point to where he would average hitting 9 out of every 10 he had to shoot. Working out a reliable style, Wolfensberger would start his delivery from the middle of the lane, aiming his backup ball at the 1-2 pocket. When he got his game polished to perfection, he soon began to bowl tournaments. And it wasn't long before Wolfensberger began to make a name for himself.
In the early to mid 1950s, Jimmy won the Radio Station WJEJ tournament in Hagerstown on two separate occasions, shortly following up these triumphs by capturing the All-Star Match Game Championship at Queenstown Bowl in 1956. By the end of the decade, he would win the first of two heralded "U.S. Classic" tournaments at Colonial Lanes in Annapolis, MD. The U.S. Classic yielded a lofty $1,000.00 first prize, although the highest purse Jimmy ever walked away with in his career was $1,500.00. Also in the latter part of 1950s, he added the 29th annual Dixie Classic title at White Oak Lanes to his resume.

Photo courtesy of the Duckpin Pro Tour
The 1960s would prove to be even more productive for Wolfensberger. It was then that he would attain the Number One national ranking on two occasions, which was a pretty remarkable feat considering that the bowling centers in the Hagerstown area were not quite as well-maintained as those in other jurisdictions. With the formulation of the Duckpin Pro Tour in 1963, more accolades were soon to come. Jimmy earned an impressive runner-up finish to Dave Volk in the 2nd ever pro tour—a tour in which he was the high qualifier in the preliminary round. Between the 1960s and 1970s, Wolfensberger would eventually corral 6 pro tour wins, 5 runner-up finishes, and 6 high qualifier honors.
Wolfensberger also won the National Tournament All-Events title in 1964, and would also enjoy a National Tournament Doubles Championship with Morris Alexander. He won the prestigious Eastern Classic twice under two different formats at Lucky Strike Lanes in Connecticut. Other notable victories during the 1960s included the John Dennis Singles Open, the Fair Lanes Classic (F.L. Westview in Baltimore), the Presidential Open (Twinbrook), and the Willow Bowl Open (Richmond), just to name a few.
As one would expect, Wolfensberger also held world records. He set the 16 game record with 2289 pinfall in a pro tour qualifying round at Fair Lanes Prince Georges in 1964, and he was the first bowler ever to carry a 140 average for an entire season, which occurred in the Elks League at Longmeadow Bowl in Hagerstown, MD. Although Wolfensberger won 6 pro tours, when asked about his tournament wins, there seemed to be a special pride for his "U.S. Classic" titles.
Jimmy Wolfensberger in action (Photo courtesy of the Duckpin Pro Tour)
Jimmy Wolfensberger was a hot commodity during his splendid bowling career.
He was invited by White Oak Lanes to bowl in the Friday Night Open Mixed Doubles league, partnered with Dorothy "Dottie" Clark. The lanes paid for his expenses for bowling. During a time when spectators would come to the bowling alley to watch high-profile league matches, as a promotional pitch for bowling, the lanes encouraged Wolfie to come down from Hagerstown as competition for the Washington Metropolitan area's high average bowler, Jimmy Dietsch. Wolfensberger faithfully made the trip down from Hagerstown for about 10 years.
But this wasn't the only time he was asked to do exhibitions. Wolfensberger received formal requests to do charitable exhibitions at many of the Veterans Administration hospitals that had bowling lanes, and Jimmy readily complied whenever he could fit them into his schedule. Wolfensberger visited 'VA' hospitals in Martinsburg, WV, Northampton, MA, as well as Brockton, MA, Fells Point in Baltimore, MD, and several hospitals in Virginia.
I asked Jimmy about some of his traveling mates from the Hagerstown area who were standout bowlers in their own regard. Wolfensberger named a few that quickly came to mind—Clark Copenhaver, who won the first ever duckpin pro tour, Kak Drenner, Ab Barnhardt, and Angelo Palladino. When questioned about the other local, yet distant, bowlers away from the Hagerstown area, Jimmy recalled Shorty Divver, Hank Howard, Bob Wilson, Bob Fisher, and Dick Westlake. I inquired about whom he considered the most promising up and coming bowlers who were making a name towards the latter stages of his run, and he recounted the names, Jeff Pyles, Buddy Creamer, and Bookie Jenkins.
Regarding the bowler whom he held in the highest regard in his younger days, his immediate response was Nick Tronsky. Wolfensberger says he did have the occasion of bowling in a tournament with Tronsky, and from what he vaguely remembers about Nick's bowling style, Tronsky also rolled a backup ball. Jimmy recalls that one of Nick's idiosyncrasies was that he'd bowl with a cigarette in his left hand. Jimmy wasn't sure of the reason behind this, whether it helped with balance or not, but it was just something that he remembers.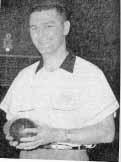 Photo courtesy of the Duckpin Pro Tour
In an effort to pick up a few pointers, I asked Jimmy a few general questions. Regarding equipment, he used bowling balls that were 5" in diameter, and 3 lbs. 11 oz. in weight. He used Manhattan Rubber and Ebonite bowling balls. Wolfensberger was a 'pin' bowler, as opposed to being a 'spot' bowler. When confronted with splits, he'd always try to convert them for spares. He'd bowl 2-3 times a week in leagues, usually on Mondays, Tuesdays, and/or Thursdays. During a time when scoring was more difficult, Jimmy's high single game was 214 and his best 3-game series was 535.
Jimmy Wolfensberger retired from duckpin bowling in 1984 at the age of 55. He felt that when the time came when his skills had diminished a bit to where it was difficult to make cuts, and in keeping up with the younger bowlers, then it was time to step aside. Wolfie had no regrets about walking away from the game, as he felt he accomplished everything in his bowling career that he set out to do. He had ranked Number One nationally twice, won 6 pro tours and approximately 30 tournaments overall, and was elected to the NDBC Hall of Fame, the Duckpin Pro Tour Hall of Fame, and the Washington County Hall of Fame, all at early ages.
During his professional career, Wolfensberger was employed by Mack Truck from 1963 until his retirement in 1987.
To this day, Jimmy still sports a crew cut. He maintained that look throughout the years, and as he modestly and amusingly proclaims, "Now short hair is back in style".
Jimmy and his wife of 45 years have lived in the same quaint house in Hagerstown since they were wed, sharing the abode with their Himalayan Persian cat, Deacon.
A LITTLE BIT ABOUT NICK TRONSKY
One of the great things that happens when you chat with an icon of a sport like Jimmy Wolfensberger is that you gain so much from the benefit of his knowledge, experience, and insight. When asked about the bowler whom he looked upon as the 'man' during his 'coming up' period, there was no hesitation when he summoned the name of Nick Tronsky. Further research into Wolfie's choice bears out his selection.
Nick Tronsky is arguably the best example in sports history of a premiere athlete crossing the barrier between multiple generations. Tronsky had a competitive bowling career that spanned over 40 years in a sport that wasn't in the midst of a decline. He was the Number One bowler in the 1930-1931 season, and five other times, the last of which being the 1961-1962 season. But Nick wasn't done at that point, as he won the heralded Dixie Classic event in the 1969-1970 season, an event that was open to all the big guns of the era.
Go Back or Close Window

(To execute a 'BACK' command after clicking on a photo to enlarge, right-click on a white area on the screen that follows, and then select 'Back' from the menu that will appear)
If you like this article, give us a quick click on the 'Google +1', 'Facebook Like', and/or 'Twitter Follow' below