North American Bowling News
---
Another Look at the Game of Skittles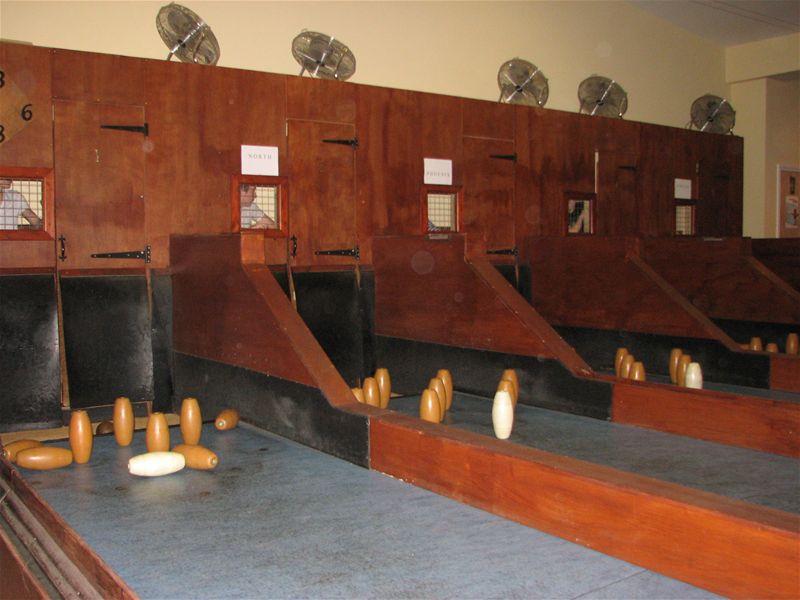 Skittles is big at community functions
Back in Issue #2 of the North American Bowling News, we examined an English variation of bowling called Skittles. There was limited public information available on the game until other sources have now presented themselves for our interest and reading enjoyment.
As reported in Issue #2, Skittles is a bowling variation predominantly played in pubs. Unlike the more closely governed variations of bowling on the North American continent, the casual game of Skittles has no rigid guidelines under which each pub or group must adhere regarding length of playing field, special surfacing, equipment, etc.
There are in fact, social groups and clubs that use the game of Skittles for fundraising as well as competition, or even a combination of both. The Rotary Club of Bedworth in England is such a social organization, and they have actually formalized the game to a certain degree to the point of erecting actual lanes that are transportable to halls or establishments large enough to house its five Skittles lanes.
Notice in the photo above that there are enclosures behind the 'pit area' with little windows for the human pinsetters to peer through to determine when deadwood needs to be cleared or a new reset of the pins is in order. Each enclosure has a door for easy passage for the 'pinboys' to come in and out from behind the pin area, when needed.
In the photo to the left, the atmosphere of the place is more like a bowling center within a country club, or even an environment like an American Legion hall.
It's unclear as to whether or not these portable bowling lanes are the norm regarding the tournament and league play that stretches across the many counties in England, but one would suspect that they are. If so, then it's safe to speculate that the simple and unpretentious game of Skittles will easily outlive the modernized variations of the small ball bowling games.
With the portable method of setting up lanes, there's no expensive machinery to upkeep, you don't need to travel across states to find a small-ball bowling center, and you don't have to worry about the game disappearing just because a piece of real estate is sold to the highest bidder. Just another example of the durability of simplicity .
Perhaps we need to think about adopting a version of Skittles in this country, at least for our kids' sake, if not our own. Granted, the game may not have all the bells and whistles of automation, but if it's good enough for England, then why not here?
Go Back or Close Window

(To execute a 'BACK' command after clicking on a photo to enlarge, right-click on a white area on the screen that follows, and then select 'Back' from the menu that will appear)
If you like this article, give us a quick click on the 'Google +1', 'Facebook Like', and/or 'Twitter Follow' below