North American Bowling News
---
The Sears Saga: Sprinting to the Hall of Fame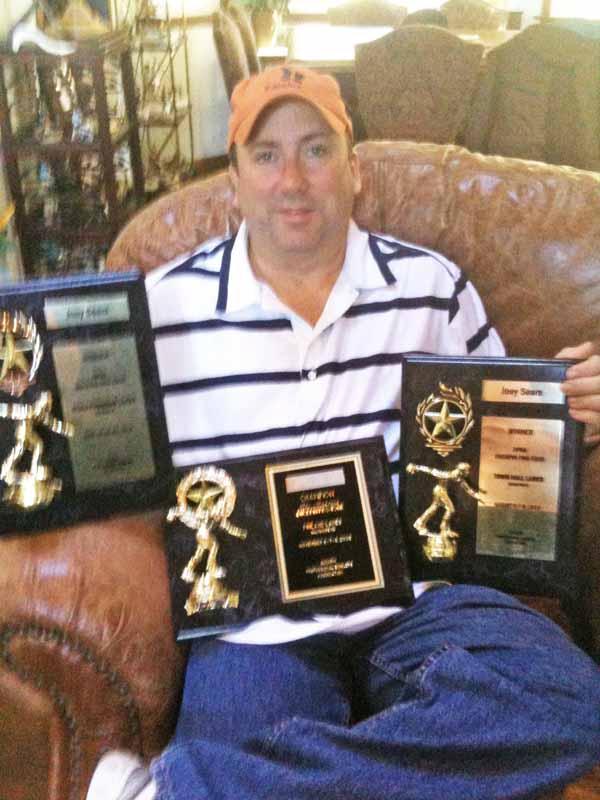 DPBA's Joey Sears
Who can figure out the game of duckpins? At times, this variation on the sport of bowling can be extremely fickle—almost to the point of disrespect, and at other times, a bowler can experience the jubilation and confidence that nothing can go wrong. The story of Stevensville, Maryland's Joe Sears is a tale of a bowler's meteoric rise to being just a step away from automatic induction into the duckpin pro tour's Hall-of-Fame.
Sears, 44, has been bowling competitively since the early 1980s, and joined the Duckpin Pro Tour in 1992. He isn't considered a 'power' player, as he relies on accuracy instead of speed. Joe didn't consider himself a force in the early going on the pro tour, but as time went by, his confidence grew. It wasn't long before Sears was a 'bowler to be reckoned with'. In 2003, he was runner-up in the Buddy Creamer Classic, and Joe pinpoints that event as his confidence booster. Shortly afterward in 2004, he won back-to-back Virginia pro tours, and over the next several years, Joe added 3 Pop Whitten tour victories to his resume, along with an Eastern Classic win in 2007. But the DPBA victories eluded him. Although Sears did have a DPBA runner-up finish back in 2004, his recent thoughts as late as 2009 on his DPBA career were that he figured he wouldn't ever win a tour stop. But that would soon change.
In November of 2009 at the Masters event at Pinland Lanes, Sears advanced to the head-to-head round after a solid 8-game qualifying score, and narrowly won his division by a slim 2 pins. Joe advanced to the stepladder finals, but was on the bottom rung of the ladder. Sears bowled well, and the winning took care of itself throughout the first three matches on the ladder, which led to a championship contest with the top seed, Dom Caprinolo. Joe started fast in the title match, with a double-header to gain a significant edge, but Dom chipped away at the lead until the 10th frame, when Caprinolo pitched a '20-box' to put Sears on a mark to win the tournament. Sears was up to the task as he delivered the best ball of his pro tour career—on target for a strike, and thus his first star was achieved in a 177-166 win. As a result, his confidence was raised a notch.
Seven months later at Meadowbrook Lanes in Rhode Island, Joe would win his second tour. Sears admits that he felt good going into the event, and had a feeling that he indeed was going to come away with another tour victory. Joe was able to take advantage of any opportunity open to him during the head-to-head round, and ended up winning his division to gain the 3rd seed position on the stepladder. Sears dominated on the stepladder, totalling 489 for his 3 games, with an average margin of victory of 46 pins per game.
Two tours later, in a return trip to Rhode Island, this time at Town Hall Lanes, Sears qualified comfortably for the match play semi-finals, and was focused throughout the round, rolling critical marks at key times to advance to the stepladder once again. Joe was seeded 4th on the ladder, and although not as overwhelming as the prior tour, he still performed at a high level with solid games, and won comfortably in the title game to claim his 3rd tour victory.
With the DPBA's criteria for automatic induction into its hall-of-fame being 4 tour wins, Sears is 3/4 of the way there—a feat which he accomplished in a short 6-tour span in less than a year.
Sears attributes much of his success to early mentoring by three former top bowlers: Marty Alford, Joe O'Connor, and Howell Sherbert. O'Connor helped him with his mechanics; Sherbert taught him how to make spares; and Alford enlightened him on attitude and how to win. Sears' wife, Diane, who is a member of the WNDA and NDBC halls of fame, also provided a lot of help on how to combine these facets of bowling, along with a few tips from her own experience on the mental side of the game.
In the case of Joe Sears, youth in bowling from his personal standpoint is highly overrated. Sears feels that he is undoubtedly a better bowler now than he was 10-15 years ago. The mental side of the game plus understanding what he's doing has led him to a 150 average. No longer does Joe hope to just 'make cuts' in the tours, but now is confident that he will successfully advance through the preliminary round, and is disappointed when he fails to do so.
Sears feels that understanding mechanics is his strong suit in bowling. Joe isn't afraid to move around on the approach, and will throw whatever spin is needed. Many bowlers who know him well refer to Sears as the 'Mad Scientist', due to all of the changes and tweaks he constanty makes in his game.
Joe has a career high average of 151, and an all-time best game of 239 and a 574 set. He also has the distinction of what is believed to be the highest DPBA game rolled during the stepladder finals, which was a 234 back in 2002 at AMF College Park.
Go Back or Close Window

(To execute a 'BACK' command after clicking on a photo to enlarge, right-click on a white area on the screen that follows, and then select 'Back' from the menu that will appear)
If you like this article, give us a quick click on the 'Google +1', 'Facebook Like', and/or 'Twitter Follow' below