North American Bowling News
---
The PBA's Regional Round-up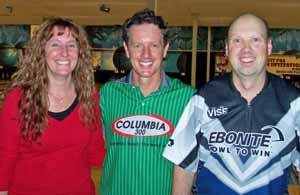 Lonnie Waliczek (center), with Mike Scroggins (on right), Photo courtesy PBA LLC
SCROGGINS PICKS UP 35TH PBA REGIONAL TITLE IN NEW MEXICO
Mike Scroggins of Amarillo, Texas, defeated Lonnie Waliczek of Wichita, Kan., 201-193, to win his 35th PBA Regional title in the joint PBA Southwest/West Region Farmington Open at Bowlero Lanes in Farmington, N.M., on Nov. 7.
Scroggins, who won $2,500, threw two strikes in the 10th frame to nip Waliczek, who had just bowled in the finals of the Brunswick Pro Bowling Cheetah Championship three days earlier at South Point Bowling Center. Scroggins defeated Gary Skidmore of Albuquerque, N.M., 248-192, while Waliczek defeated Kris Koeltzow from Wheat Ridge, Colo., 280-184, in the Round of 4 to set up the championship match.
Also on Nov. 7, Dale Traber of Cedarburg, Wis., defeated Mike Zicha of Streamwood, Ill., 279-222, to win the PBA Midwest/Central Regionís Victory Lanes Senior Open in Kankakee, Ill. The title was Traberís second of the year and his 45th overall PBA Regional title. He earned $1,600.
Traber defeated Harry Sullins of Chesterfield Twp., Mich., 279-192, while Zicha edged Paul Gerard of Cincinnati, 189-180, in the semifinal round to set up the championship match.
In the Central Regionís third annual Lefeld Implement Classic, Derek Sapp of Keokuk, Iowa, won his fifth PBA Regional title and $4,500 on Sunday, Aug. 15, at Pla-Mor Lanes in Coldwater, Ohio. Sapp defeated PBA Hall of Famer Parker Bohn III of Jackson, N.J., 206-203, in the championship match.
ADAM BAER WINS IN EAST, EARNS RIGHT TO BOWL IN 2011 TOURNAMENT OF CHAMPIONS
Adam Baer of Gettysburg, Pa., became the latest PBA member to qualify for the $1 million PBA Tournament of Champions when he won his first PBA Regional title Aug. 29 in the PBA East Regionís Mil-Ray Foods Open at Brunswick Zone Turnersville in Turnersville, N.J.
Baer defeated Terry Decker Jr. of Philadelphia, Pa., 238-210, to win $2,500 and an invitation to enter the Champions field at the Tournament of Champions at Red Rock Lanes in Las Vegas, Jan. 15-22.
In the PBA Midwest Region, 2007 USBC Masters champion Sean Rash of Wichita, Kan., earned his third career PBA Regional title and $2,500 in the PBA Midwest Region Premier Bowling & Entertainment Center Open in Pleasant Hill, Iowa. Rash won the 20-game, total pinfall event by 68 pins over Mike Steil of Wheeling, Ill.
In the Central Region, Chris Loschetter of Avon, Ohio, won his seventh career PBA Regional title and $2,700 in the 25th Annual Bud Light Fort Wayne Open at Georgetown Bowl in Fort Wayne, Ind. Loschetter defeated Nick Kokenos of St. Clair Shores, Mich., 182-180, for the winner.
Bobby Johnson of Chillicothe, Ohio, won the joint PBA Central/Midwest BowlingGift.com Senior Open at Georgetown Bowl in Fort Wayne, Ind., when he defeated John Deloney of Troy, Ill., 200-179, for his first Senior Regional title of the year and the second of his career. He also earned $1,700.
In the South Region Spartanburg, S.C., Open covered by ďThe Bowling DoctorĒ Jeff Mark on PBA.comís Xtra Frame, Chris Collins of Savannah, Ga., won his second career PBA Regional title and $2,300 on Aug. 29 at Paradise Lanes. Collins topped Scott Newell of Deland, Fla., by 77 pins in the 21-game, total pinfall event.
Kevin Mitchell of Tulsa, Okla., successfully defended his Southwest Region Greenville Open title at DBís Entertainment & Sports Grill in Greenville, Texas, on Aug. 21, defeating David Newcomer of Pearcy, Ark., 277-234, for $2,300 and his sixth career Regional title.
In the West Region, Marv Sargent of Temecula, Calif., earned his eighth career Regional title and $2,400 in the Pain Center Arizona Open at Johnson Lanes in Sun City West. Sargent beat former exempt player Ben Laughlin of Phoenix, 235-185, in the championship match.
Go Back or Close Window

(To execute a 'BACK' command after clicking on a photo to enlarge, right-click on a white area on the screen that follows, and then select 'Back' from the menu that will appear)
If you like this article, give us a quick click on the 'Google +1', 'Facebook Like', and/or 'Twitter Follow' below