North American Bowling News
---
Weber Rewrites History with Marathon Open Victory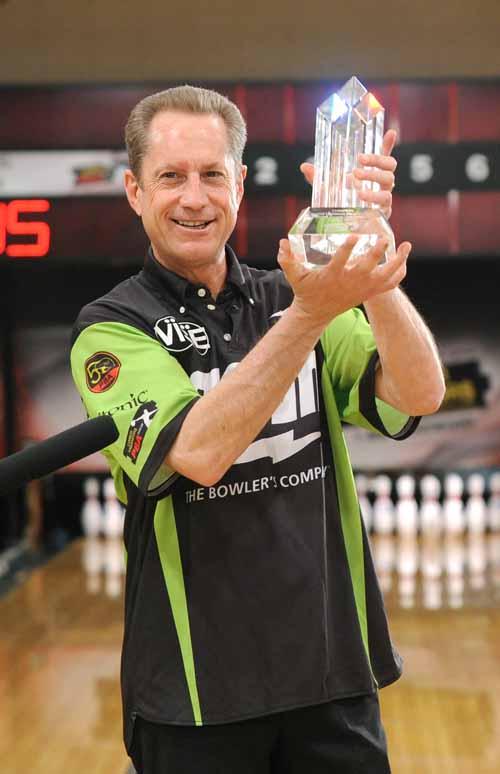 Photo courtesy PBA LLC
BALTIMORE, Md. (April 4, 2010) – Hall of Famer Pete Weber of St. Ann, Mo., re-wrote the Professional Bowlers Association history book Sunday when he defeated top qualifier Mike Scroggins of Amarillo, Texas, 268-224, to win the Lumber Liquidators Marathon Open at AMF Country Club Lanes.
With his 35th career victory, breaking his tie for third place on the all-time PBA Tour titles list with Mark Roth, Weber denied Scroggins' bid to become 2009-10 PBA Player of the Year, and handed that crown to his long-time rival, Walter Ray Williams Jr. of Ocala, Fla.
Williams therefore becomes the first to win the PBA Player of the Year title seven times, breaking a tie with the late Earl Anthony. Williams, with 47 career titles, and Anthony, with 43, are now the only two with more PBA titles than Weber.
"I feel like I just won my first title," the teary-eyed Weber said. "I don't know what to say. It's been three years since I won. I thought I was never going to win again."
Weber led the title match throughout, starting with five strikes before converting a single-pin spare. He then threw another four strikes to end Scroggins' hopes for a third 2009-10 title and his first Player of the Year award. Scroggins entered the finals in a three-way tie in the Player of the Year competition, but he needed to win the title because he trailed Williams in the overall competition points tie-breaker.
"So Walter Ray owes me another one," Weber said, referring to the payback he wants because of Williams' dominance over Weber on television. "But I said yesterday, if Mike was going to win Player of the Year, he was going to have to earn it and I'm sure the other guys on the show felt the same way.
"Mike, I'm sorry I shot 268 at you…not," Weber grinned.
On breaking his titles tie with Roth, Weber said, "I never thought I'd get to 34 titles, let alone pass Mark Roth. He was my idol growing up. I feel kind of bad about going past him, but not really."
Weber advanced to the title match with a 233-212 victory over Brad Angelo of Lockport, N.Y., in the semifinal match. Angelo eliminated defending Marathon Open champion Wes Malott of Pflugerville, Texas, in the opening game, 207-192, and Chris Barnes of Double Oak, Texas, 256-227, in the second game before losing to Weber.
The championship round was conducted on the Dick Weber lane condition, one of seven used during the tournament. Scroggins, as top qualifier, selected that pattern for the TV finals.
"It was Mike's choice, but winning on the pattern named in honor of my father makes it even more special," Weber said.
Go Back or Close Window

(To execute a 'BACK' command after clicking on a photo to enlarge, right-click on a white area on the screen that follows, and then select 'Back' from the menu that will appear)
If you like this article, give us a quick click on the 'Google +1', 'Facebook Like', and/or 'Twitter Follow' below