North American Bowling News
---
July 2010: The Month of the Lipkas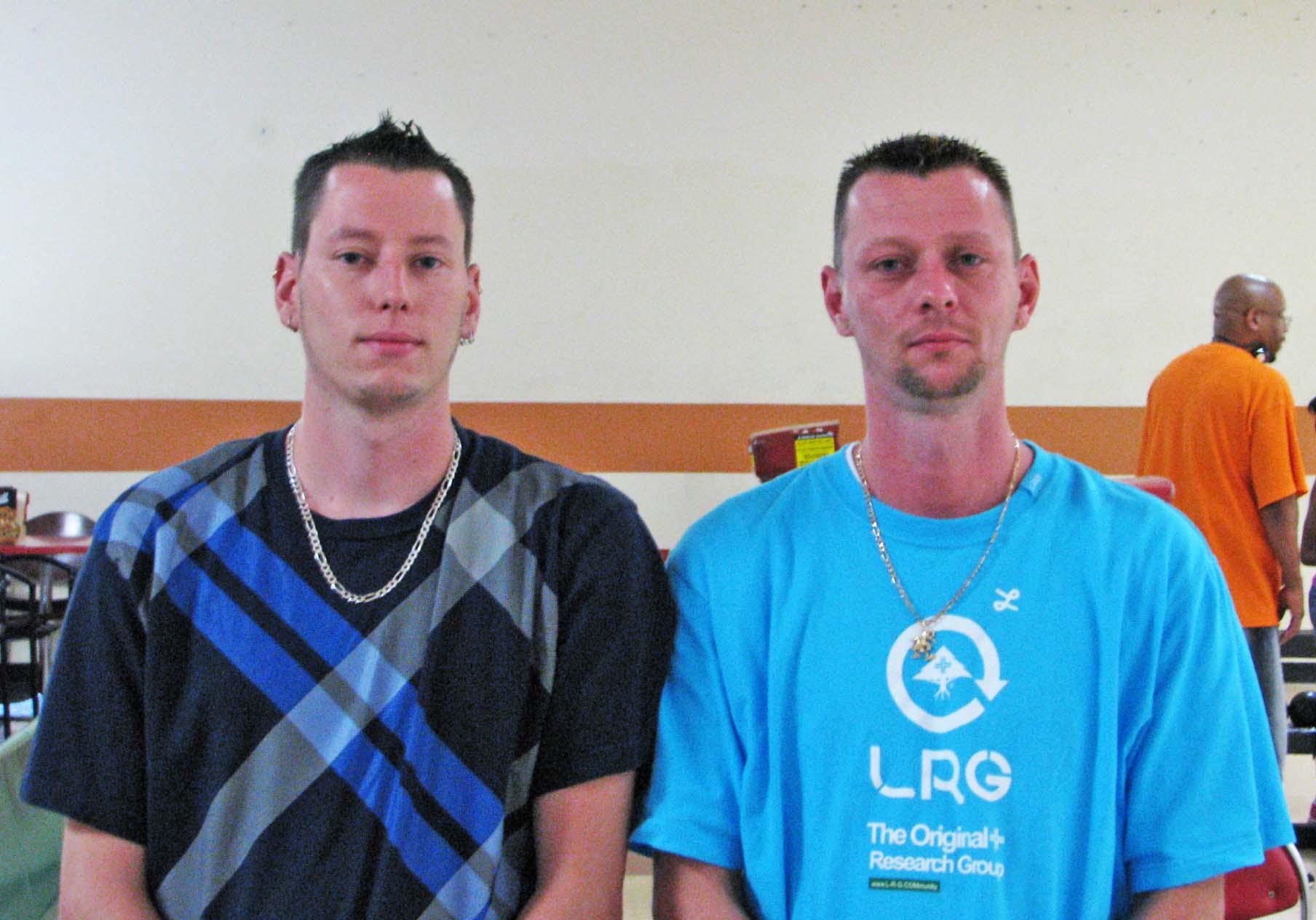 Brothers of Destruction: Wayne and Keith Lipka
Ever hear of the sci-fi movie, "Day of the Triffids"? Or "Night of the Lepus"? Well, a real-life sports thriller occurred in mid-summer on the pro duckpin scene, that Hollywood couldn't have scripted any better. Based on the occurrences at White Oak and Pinland Lanes, July 2010 will forever remain etched in sports history as being "The Month of the Lipkas". Why so? The 'brother combination' of Wayne and Keith Lipka entered the record books as the only siblings to win 2 events on the professional duckpin circuit in the same month. And they did it in grand fashion.
When you consider the opposition and circumstances facing each Lipka, what they accomplished is truly phenomenal. On July 11th at White Oak Lanes in the Duckpin Professional Bowlers Association (DPBA) tour stop, Wayne Lipka defeated the number one bowler in Baltimore and front-runner for top ranking bowler in the country, John Deantoniis. John has been on another level this past season, compositing over a 150 average, and because of his dominance, is a natural to capture his first tour win when the opportunity arises. And on July 25th at Pinland Lanes, Keith Lipka lassoed his first star in the Pop Whitten Pro Tour (PWPT), defeating Hagerstown's 'toughest of the tough' tournament bowlers, Jimmy Burns. Jimmy was fresh off a prestigious 'Masters' victory in June, and as is so often the case with pro bowlers, a repeat performance was in the making at Pinland. In each case, a Lipka had to not only battle to get to the championship game, but each had to overcome the overlooked factor of "momentum"—the irresistible force that so many opponents ride on their way to fame and victory.
Wayne Lipka has really turned a lot of heads when it comes to posting the big scores in big events. At Pinland in a previous Pop Whitten event back in January, Lipka earned the top seeding with an undefeated record, including a monster pinfall score of 877, in which his head-to-head round featured two '200' games. He would eventually fall to John Deantoniis in the final by a scant 3 pins.
This time at White Oak, Wayne was in a rough division in which there were numerous scenarios going into the final game. Lipka bowled Mike Weaver and the task was that Wayne needed to win his game to secure a 3-2 record, and with his pinfall being lofty, he would claim his division through this tiebreaker. Trailing Mike by about 15 pins throughout the game, trading marks with the unrelenting efforts of Weaver would prove to be not enough, and Lipka needed to really 'go to the whip'. In the 7th frame, Wayne posted a strike, which kept him in the game. In the 8th, he was able to break through with a mixing hit, and landed a double-header, which pretty much evened the match. Lipka added a strike in the 9th, and with Mike leaving a split in the 10th, the dust was beginning to settle, and Lipka now only needed a good count to attain victory. The pressure was on, as a bad count would have led to a loss, and subsequent elimination from the stepladder finals. Lipka was true to form, pasting the pocket and sealed the match with a crushing 4th strike.
On the heels of the big finish, Wayne had re-emerged as the big gun once again, accumulating another mammoth pinfall total of 838, surpassing his closest rival from another division, John Deantoniis, who amassed a superior 811.
As the ladder matches progressed, ultimately the solid work of Deantoniis led to him as the 2nd seed successfully fending off the challenge of Bill Fox in the semi-final match, 146-117, and thus he'd now be in a rematch with Lipka from the prior January 2010 PWPT tour.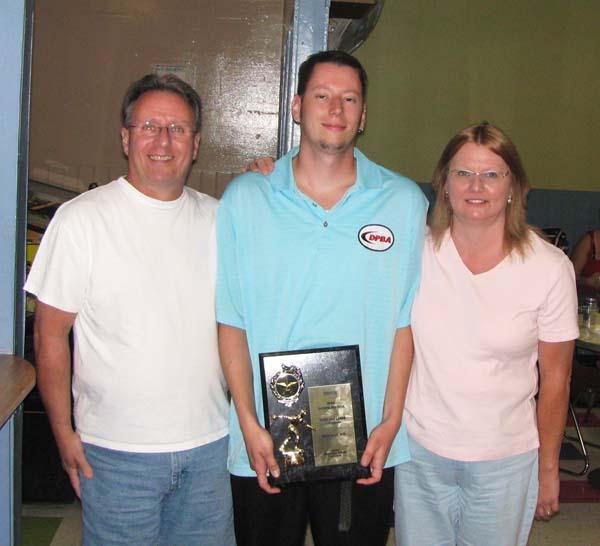 Wayne, flanked by his parents, Bob and Roxanne
The pressure of the championship match, as it usually does, led to a gritty match score-wise, although still potentially on the high side. Through the first 7 frames of the match, Lipka continually held the lead, but virtually never by more than 5 pins. With both men on marks in the pivotal 8th frame, John had a chance to post a double-header, but he ripped out the middle. In Wayne's half of the 8th, he broke 9 and converted the single pin for a spare, opening up a more comfortable lead. Both bowlers struck in the 9th and Wayne finished stronger en route to a 159-132 victory to gain his first DPBA star.
Two weeks later at Pinland Lanes in Dundalk, Maryland, after a dramatic finish in the preliminary round to advance to the Sunday semi-finals, Keith Lipka was turning a few heads of his own. After a gut-wrenching series of games to win his division with a 4-1 record, Lipka was seated 3rd for the stepladder finals. As the action came to him,
Keith defeated Curt Johnson, 144-139, Gary McKinsey 144-109, and finally Jimmy Burns 146-145. Keith, a model of consistency with two 144 games had to push himself to scrape up another 2 pins from somewhere, as another 144 would have been a 1-pin loser to Burns. To recap the 'title match'…in a tightly contested bout throughout, things looked bleak for Lipka by game's end, with Burns finishing first, and striking on his first ball of the 10th. A near full count would have put Keith on a double-header to win, but an untimely chop led to only a modest count for Jimmy, leaving Lipka with the scenario of needing a mark and 9 to win the tournament. Notably, two nights prior, on his way to narrowly making the cut, Keith's 9th frame included converting the 7-pin for a spare, and then a perfect strike in the 1-3 pocket in the 10th, with a big count to ease him into the match-play round.
As Lipka entered his 10th frame, being the sportsman that he is, Burns displayed true class as he, with genuine words of encouragement, urged Keith to finish strong in the 10th, despite being on the opposing side, realizing that Lipka was on the verge of a special moment in his bowling career, working towards his first title.
In the final box of the championship match for Lipka, with everything on the line, an uncanny repeat scenario unfolded. As he had done to finish the qualifying round, Keith once again left a 7-pin after his first ball in the crucial 10th. He nailed it, and then planted another beautiful ball in the 1-3 pocket, leaving only the 5 pin for the necessary 9 count to win his first star.
The story of the Lipka family is a bit unusual, to say the least. Bob Lipka is the father of Keith and Wayne, and is a well-established pro bowler in his own right. The name 'Lipka' is a bit unusual, and one would naturally assume that current Baltimore hall-of-famer, Larry Lipka, who is still heavily active on the tour, would possibly be an uncle to the youngsters, but as it turns out, there is no relation. This is almost as unusual as if there were 2 quarterbacks in the Green Bay area named 'Favre' that aren't related.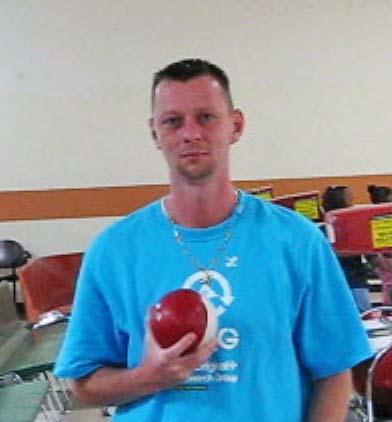 Keith and his Comet
There's a somewhat significant difference in the ages of Keith and Wayne Lipka—Wayne is 26, while the elder Keith is 35. Wayne's high game and set is 221/530, while Keith's best is a not-too-shabby 232/516. This past season, both averaged in the 136-137 range in their winter leagues, but their summer leagues and/or tournament averages (in each one's case) is a good deal higher.
Keith uses Comet bowling balls exclusively (5", 3 lbs. 9 oz.), while Wayne has a mixture in his bowling bag of Comets and 'ABC' (4 7/8", 3 lbs. 7 1/2 oz.). An interesting tidbit regarding Keith's Comets is that a week before the Pinland stop, he won a bidding war on Ebay for these Comets for $280.00. With the event paying $1,500.00 to the winner, it turned out to be a worthwhile investment.
Go Back or Close Window

(To execute a 'BACK' command after clicking on a photo to enlarge, right-click on a white area on the screen that follows, and then select 'Back' from the menu that will appear)
If you like this article, give us a quick click on the 'Google +1', 'Facebook Like', and/or 'Twitter Follow' below