North American Bowling News
---
2-Handed 'Tar'-ror!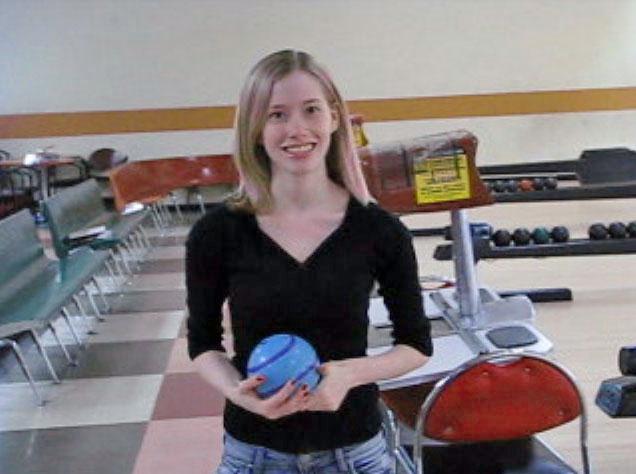 2010 Ladies All-Star Champion, Tara Cohen
The 2010 Ladies All-Star Classic entered a landmark 30th year this past March, and once again the event ascended to a supreme level for the entire sport of bowling. The tournament, held at AMF Westview in Baltimore, Maryland on March 20-21 played host to 103 of the best women bowlers in the country. The Ladies All-Star Classic has witnessed some grand efforts in its storied history, but this year's climax was truly remarkable, as Owings Mills, Maryland's Tara Cohen—a new face, and a bowler gracing a new style, became a "Champion" in every sense of the word.
Cohen is a youthful 23 years of age, which sounds like an obvious statement, but she gives the impression facially of still being a student in high school. However, looks can be deceiving, because her performance in the stepladder finals was nothing less than that of a grisled veteran.
Tara is a distinct bowler in the game of duckpins, or any form of bowling. She utilizes the 2-hand delivery, but her style is vastly different from any other 2-hand style in that Cohen has developed more of an underhand shove-shot from her stomach, instead of the popular 'shovel shot' from the hip that most pro 2-handers have adopted. While unorthodox even for a 2-handed delivery, Tara is extremely accurate.
The 2010 Ladies All-Stars tourney began on a cloudy note. A few days before the event began, the tournament director and organizer, Pat Rinaldi, was in mourning on the passing of her mother. But, with such strong support in the bowling world, when needed most, efforts from fellow pro competitors such as Vicki Kramer, Jodi Hewitt, Tammy Ashworth, and others helped exceedingly in the promotional effort, and thus the tournament once again surpassed the 100 entrant mark.
The event had many superior moments during the Saturday qualifying round, but none was as impressive as one of those special touches that Rinaldi usually comes up with. Cass Schreiner of Glen Burnie, Maryland, who is the mother of one of the bowlers, Cathy Schreiner, was in attendance. Cass has a reputation of possessing a talented singing voice, and with Pat Rinaldi traditionally on good terms with everyone who walks into a bowling center, this was a great opportunity for the All-Stars to witness something truly spectacular. Pat enlisted Cass to sing the National Anthem as a lead-in for the final qualifying squad. Without any kind of microphone or musical accompaniment, Schreiner gave a spirited and powerful rendition of the National Anthem—a rendering that was done in the fashion that the 'Anthem' was no doubt originally intended, with nothing overdone to draw crowd response, no inappropriate intonations—just a pure and simple, yet strong and respectful rendition that would make any American proud.
Of the 103 total entrants in the event, there were to be 24 'scratch' qualifiers. 7 games were bowled in the preliminary round, and the top 4 qualifiers who would head each of their respective semi-final round divisions weren't too much of a surprise. Amy Sykes of Pittsfield, MA was top qualifier with a score of 1109, followed closely by Catonsville, MD's Andrea Lanahan at 1082. A little further back but still with superb numbers were Kendra Boswell of Portsmouth, VA at 1042, and Abingdon, MD's Lauree Schreiber in the 4th position at 1041. The cut score was shared by Waterbury, CT's Sandee Canfield and Crofton, MD's Lisa Pyles, at 918. Canfield won the ensuing roll-off for the final qualifying position, and thus last year's runner-up finalist, Pyles, was the alternate.
The semi-final round got underway on Sunday, and after the smoke cleared from the 5-game head-to-head competition, the seeds for the ladder finals were established. A bit of an unusual scenario had developed for the wildcard slot, which is based on the best 2nd place record in any of the 4 divisions. The mother-daughter duo of Sharon Shipley and Jill Sachs both ended with won-lost records of 3˝-1˝, but Shipley's 682 pinfall was the deciding factor over the younger Sachs' 632 total. The division winners were seeded on the ladder as follows: #4 Susan Phillips at 4-1 (708 pinfall), #3 Kristy Penny at 4-1 (751 pinfall), #2 Jackie Adams at 4-1 (776 pinfall), and #1 Tara Cohen, with an unblemished 5-0 record (717 pinfall), with the undefeated record receiving precedence over total pins. Tara earned her 5-0 mark in the final game of match play with a pressure-packed, narrow victory over last year's All-Star champion, Lisa Huber.
With the 5 ladder seedings now official, the stretch run for the 2010 Ladies All-Star Classic was ready to begin. The opening match-up pitted two formidable pros—the wildcard, Sharon Shipley of Eldersburg, MD against Preston, MD's Susan Phillips, the number 4 seed. It was a quality match to kick things off, with both veterans evenly matched in a battle of equal levels of experience and ability. Shipley took the early lead with spares in 3 of the first 4 frames. But Phillips battled back with an early flair for the dramatics, converting the 3-4-6-7 spare in the 3rd frame, and then took a 3 pin lead at the halfway point by sliding the 3-7 split in the 5th. But Sharon was razor sharp throughout the opening contest. In frames 6-9, she converted 4 consecutive single pin spares, and managed to open enough of a lead by game's end to where she needed a 6-count on her 9th frame mark to attain victory. Shipley counted 6, and although Susan finished strong, Sharon had achieved a 151-137 triumph. Of note was the fact the Shipley was 7 for 7 on single pin spares in the contest, with 3 major splits being her only open frames.
Waiting on the next rung of the stepladder to face Shipley was Baltimore, MD's Kristy Penny. The match opened slowly for both players, as the level of excellence from Sharon's previous match had worn a bit. Shipley was open through 4 frames, and although Penny did have an early mark, Kristy was unable to count well on it, and thus the match was tied at a score of 38. But things were about to pick up in the 2nd block of frames. Both women exchanged strikes and spares in frames 5 and 6, and Sharon took the lead with a 6-10 conversion in the 7th frame. Although Kristy had opened the 7th, she regained her tenacity and took a slim lead, marking in the 8th and 9th frames. The match was tight with both ladies on spares in the 9th, and it was Sharon who was to finish the match first. Shipley counted heavily on her 9th frame spare, but was unable to convert the 10-pin on her spare attempt in the final act. The pressure was on for Penny to count well on her 9th frame spare to secure victory. Needing 9 to lock up the match, Kristy only managed 8, which at that point guaranteed no worse than a tie. Kristy needed 1 of the remaining 2 pins to close out the match, and she then sealed the deal with a spare conversion, leading to a 142-131 win.
With the strong finish from the previous match, Penny had a little added momentum going into the semi-final contest, as she was scheduled to face one of the toughest match play bowlers in the game today, Frederick, MD's Jackie Adams. Adams was fresh off a thrilling divisional play round against a "murderer's row" lineup of opponents. Jackie's 776 pinfall total in the head-to-head round was the best of the entire 24 qualifiers. The contest between Adams and Penny began on a high note, as both bowlers opened with spares and big counts. But just as was the case in the prior match with Sharon Shipley, this time it was Kristy who seemed to have trouble with her timing and she began to struggle. Adams marked in 3 of her first 5 frames and held an 18-pin lead at the midway mark. Kristy managed to get going somewhat in the 2nd half, but Jackie raised her game a notch, closing with 4 straight "20-boxes" to land a 158-109 victory.
The championship match had now arrived with the match-up now set. The top-seed, Tara Cohen, who was making her first ever appearance in the "Ladies All-Stars", was ready to step in to face the red-hot Jackie Adams. The match was intriguing to all in attendance. In spite of her 5-0 divisional play record, Cohen appeared to be in the role of 'underdog', because of her rookie status in stepladder competition, and also given the fact that she was sporting a new 2-handed bowling style which anyone would consider as 'unusual', upon first glance. On the other hand, Adams is famous for being an extremely experienced player in ladder matches, coming off a tremendous 7-month run in which she won a WNDA tour stop in August, and finished as runner-up in the most recent ladies tour event—the WNDA Grand Prix in October.
To open the match, Tara elected to go first, which would mean she would finish last, and endure whatever pressure situation the game's climax had to offer. When later asked about this decision, Cohen stated "I figured I'm here—I'll either go big, or go home." Tara's opening pitch, which was the first competitive ball she rolled since the completion of the divisional round, chopped out the 2-8. However, it didn't take long for her to readjust, and Cohen's next shot was a clean conversion for a spare. Still primed from her semi-final finish, Adams then rolled, impressively breaking 9 and nailing the 10-pin for a spare, but a 9-10 split in the 2nd frame led to an early open frame. It was at this point that Tara really began to show what she was made of. Her ensuing frames featured pinpoint accuracy, including spares in the 2nd and 3rd frames, and solid cleanups of essentially unmakeable splits—the 7-10 and the 2-3-4-6, in the 4th and 5th boxes, respectively. Adams, on her way to the halfway point in the match, struck in the 3rd, had a near miss in the 4th, and spared in the 5th, and thus the match was dead even at 74. Cohen gained an advantage in the 6th frame with a strike, and subsequently converted the 10-pin single for a spare in the 7th, to gain a 16-pin advantage. Jackie battled back with a strike in the 8th, and by the 9th frame, Tara's lead was down to 10 pins. Adams finished first, and with the pressure on, Jackie successfully converted the 4-7 for a spare and counted 8 for a 137 game. The task at hand for Cohen was this—she needed 9 in her last frame to win her first major bowling event. The tension was in the air—so thick you could almost cut it with a knife. Tara stood in firmly, concentrated, and delivered her most perfect ball of the match, flush in the 1-3 pocket for a strike to gain the victory.
When asked about the tenseness of the situation in her last frame, Tara stated, "Yes, I was nervous, but I was more worried about chopping the middle. But after I let go of the ball and saw it on its way down the lane, I knew it was a good ball."
Cohen earned $2,000.00 for the win, while Adams pocketed $1,000.00 with the runner-up check. Kristy Penny won $650.00 for 3rd place, Sharon Shipley, $450.00 for 4th, and Susan Phillips earned $350.00 as fifth place finisher.
*Editor's Note: For Tara Cohen, her 148-137 win was the most impressive performance in a title match that this editor has ever witnessed, whether for men or women. With the exception of the 9th frame, where Tara chopped the front pin off of a 3 pin breadline, every 2nd or 3rd ball in the entire match was textbook placement, and the game was a clean game with no wood lost.
Pat Rinaldi's 30th Annual Ladies All-Star Classic is another glowing example of the precious fruits that can be yielded when there's an unselfish combination of tremendous work, tireless effort, and financial generosity put forward toward an event.
---
An Inside Look at Tara Cohen and her Unique Approach to Bowling
The two-handed delivery of Tara Cohen
Tara Cohen comes from a bowling family. Her brother, Ben, is an up and coming star of the game. Her father, Howard, was a superior bowler in his own right a few years back, averaging in the neighborhood of 140. Her uncle Paul (Levin) and grandmother, Jackie were solidly grounded in duckpins also.
The roots of the 'bowling Cohens' date back to the era of the 1950s, when Tara's great grandfather, Max Levin, was in his duckpinning heyday. Tara began bowling at the age of 6 at AMF Pikesville. She participated in youth leagues up until she was 19. Her coach at Pikesville, Glenn Segal, was responsible for her learning the 2-hand 'shove style' of bowling. The kids who couldn't hold onto a duckpin ball with one hand were instructed to deliver the ball in a similar, 'push-style' manner. As Tara got older, she preferred to stick with the unique 2-hand delivery, especially since she has small hands.
Tara is active in leagues, as she bowls at AMF Merritt Lanes in Dundalk, Maryland on Saturday nights, and has made a number of appearances subbing in the White Oak Majors in Silver Spring, MD. But her favorite bowling center is AMF Southwest. She averages 132, with a high game of 191.
Take a look above at her unique delivery. Notice that she propels the ball from her midriff, instead of from the side. With no backswing to speak of, it's difficult to get any considerable speed on the ball, which makes Tara's championship performance even more amazing. "A bowling style dependent totally on the player's accuracy."
Go Back or Close Window

(To execute a 'BACK' command after clicking on a photo to enlarge, right-click on a white area on the screen that follows, and then select 'Back' from the menu that will appear)
If you like this article, give us a quick click on the 'Google +1', 'Facebook Like', and/or 'Twitter Follow' below