North American Bowling News
---
'Star of Tomorrow' Andrew Koff Wins PBA South Regional Event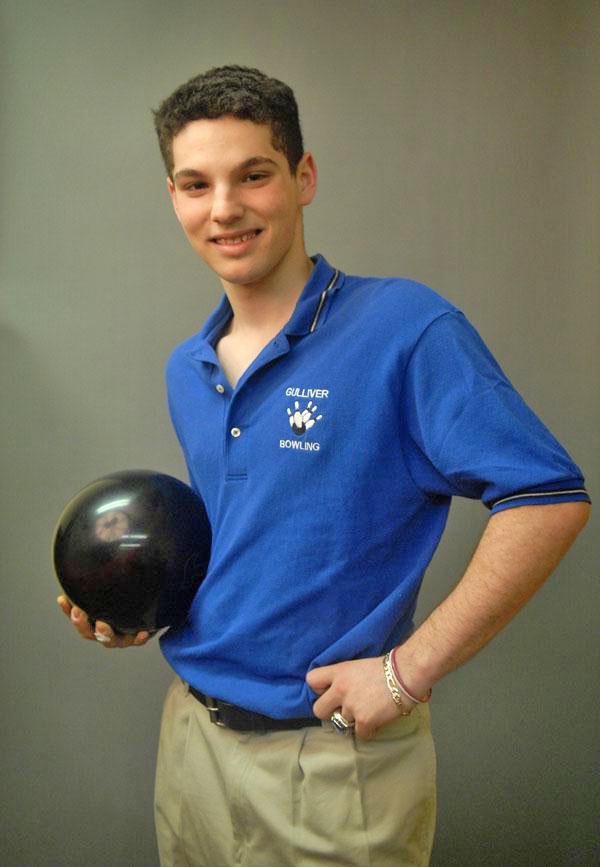 Photo courtesy PBA LLC
JUPITER, Fla. (May 17, 2010) - Two days after graduating from Miami's Gulliver Prep High School, 18-year-old Andrew Koff of Miami defeated David Boyd of Coconut Creek, Fla., 243-199, to win the Professional Bowlers Association South Region's Jupiter Lanes Open.
Koff, competing as an amateur, will receive the $2,500 first prize in the form of scholarship money deposited into his United States Bowling Congress SMART account. He will not receive formal credit for winning a PBA title, nor will he become eligible for the 2011 PBA Tournament of Champions, because of his amateur status.
Koff is not the youngest to win a PBA Regional event. That honor appears to belong to PBA Hall of Famer Pete Weber, who won a PBA Midwest Regional at Trails West Bowl in Ballwin, Mo., in 1979, at age 16 or 17. Preliminary research hasn't been able to confirm the exact dates of that event in relationship to Weber's birth date (Aug. 21, 1962) because detailed records of PBA Regional competition weren't kept at that point in time. Weber, by the way, has since won 35 PBA Tour titles (third highest in history) and a record 44 PBA Regional titles. On the national tour, the youngest player to win a PBA title is Norm Duke, who won the 1983 Cleveland Open at the age of 18 years, 345 days.
Koff, who was honored as USBC's Chuck Hall Star of Tomorrow on May 1 during USBC's annual meeting in Reno, Nev., is one of the nation's brightest young bowling stars—on the lanes and off. A two-time member of Junior Team USA, Koff's bowling resume is 15 pages long and includes feats such as finishing 25th in the U.S. Open at age 16 (he missed the cut to match play by one pin) and bowling two 300 games in one day to finish third in a PBA South Regional tournament a year ago at age 17.
Off the lanes, Koff is an honor student who has been accepted to four of the nation's most prestigious universities, but has decided to accept a full-ride scholarship to pursue an engineering degree at Duke University starting this fall.
Koff exhibits a passion for bowling and a high level of skill as a teenager, but he also has a mature outlook about his accomplishments. He's proud of what he has achieved, but he considers his records and titles as yardsticks to measure his progress. Every challenge is part of a learning curve, and he is highly appreciative of every opportunity he has been given to test himself.
"I knew beforehand that a bowler had to be a PBA member to qualify for the Tournament of Champions," Koff said. "But to me, it is an honor just to be able to participate in the PBA tournaments as a guest. I think the decision by USBC and the PBA to allow junior bowlers to participate in professional tournaments is a great opportunity that every youth bowler should take advantage of. I love to bowl with and learn from bowlers I admire".
"For now, I am just so happy that I was able to make it to the finals and win the Jupiter regional tournament," he added. "Every match was an adventure. It was not easy. It certainly took everything I had to make it to the finals because everyone I bowled against was bowling at their very best".
"I got some breaks and this time I was able to make them work for me," Koff said. "At this tournament, I was able to control my feelings a lot better than I have in the past and to be patient in waiting for an opportunity to turn the match in my favor."
In Jupiter, Koff qualified third to reach the match play finals. He then defeated Shawn Naumann of Orlando, Fla., 3-1, in a best-of-five-game match; eliminated 2008 USBC Senior Masters champion Kenny Parks of Hammond, Ind., 2-1, in a best-of-three-game Round of 8 match, and then defeated former PBA Touring Player Tom Daugherty of Wesley Chapel, Fla., 205-197, to advance to the title match.
Other top players in the Jupiter field included seven-time PBA Player of the Year Walter Ray Williams Jr. of Ocala, Fla., and current PBA Touring Players Andres Gomez of Orlando and Jason Sterner of McDonough, Ga.
Regardless of whether he gets credit for a PBA title or not, Koff is more concerned about goals that are both larger and longer range. He would one day like to join the PBA, but college comes first.
"I am planning to continue practicing as I do now (there is a bowling center five miles away from the Duke campus) and to participate in as many regional tournaments as time permits," he said. "I also hope to bowl in the U.S. Open next year; I hope that one day I will win that tournament; that is my goal."
That, and maybe help Duke University become a national bowling powerhouse—a lofty goal considering Duke currently doesn't even have a bowling program.
"I am certainly going to try," Koff said. "I was thinking that I can start as a club sport and then hopefully move into their athletics program."
The PBA conducts regional tournaments year-round, except when the national Lumber Liquidators PBA Tour season is underway. Tournament dates, locations and entry information for all seven PBA Regions—East, South, Central, Southwest, Midwest, West and Northwest—are available on pba.com under the Schedules tab.
Go Back or Close Window

(To execute a 'BACK' command after clicking on a photo to enlarge, right-click on a white area on the screen that follows, and then select 'Back' from the menu that will appear)
If you like this article, give us a quick click on the 'Google +1', 'Facebook Like', and/or 'Twitter Follow' below