North American Bowling News
---
Kalfas Revives Game to Win PBA Regional Players Crown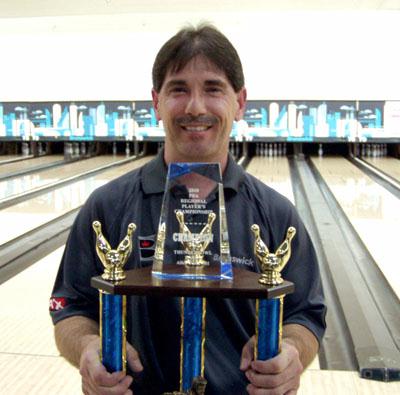 Photo courtesy PBA LLC
ALLEN PARK, Mich. (May 31, 2010) - Riga Kalfas of Florence, Ky., revived his game just in time to win the Professional Bowlers Association Regional Players Championship at Thunderbowl Lanes.
Kalfas, a 42-year-old truck driver by day and bowling pro shop operator by night, defeated Chris Collins of Savannah, Ga., 236-216, to complete a near-perfect day and claim the $7,500 first prize along with a guaranteed berth in the 2011 PBA Tournament of Champions, a record $1 million event with a $250,000 first prize.
Coming into the Detroit area event, however, Kalfas was on the brink of giving up the game.
"Three weeks ago, I was bowling so bad, I didn't plan on bowling anything," the former PBA touring player said. "I felt like the game had passed me by. To win this title is unbelievable. I can't describe how it feels. I'm numb."
After qualifying fifth in the field of 172 non-exempt PBA members to advance to Monday's single-elimination match play finals, Kalfas lost the first game of the day, 254-252, to Bo Goergen of Midland, Mich., but he didn't lose again, winning nine consecutive games for the victory. His closest call was a 210-209 squeeker against Tommy Gollick of Oberlin, Pa., in the semifinal round.
"I was throwing the ball good until toward the end," he said, "but by the grace of God, I held on. I don't know how."
The Regional Players Championship is one of two major titles for PBA regional competitors, and a win means a paid entry into the Tournament of Champions. "I'll probably bowl that one," Kalfas said with a relieved laugh. "Hopefully this win will loosen up my arm swing a bit."
The top three qualifiers—No. 1 Jonathan Van Hees of Charlestown, R.I., No. 2 Matt White of Warren, Pa., and No. 3 Don Hogue of Akron, Ohio, were eliminated in the opening best-of-five-game match play round. No. 24 seed Chris Hibbitts II of Fort Worth, Texas, eliminated Van Hees, 3-1; No. 23 Richard Kidd of El Paso, Ill., ousted White, 3-2, and No. 22 Rick Zakrajsek, Lorain, Ohio, swept Hogue, 3-0.
Go Back or Close Window

(To execute a 'BACK' command after clicking on a photo to enlarge, right-click on a white area on the screen that follows, and then select 'Back' from the menu that will appear)
If you like this article, give us a quick click on the 'Google +1', 'Facebook Like', and/or 'Twitter Follow' below