North American Bowling News
---
Canadian 5 Pin Bowlers Head to the United States in Search of Duckpin Cash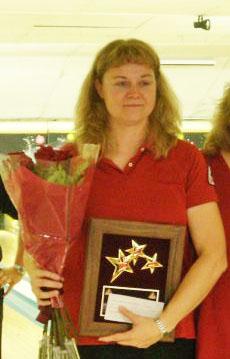 Canadian Female Phenom, Connie Ward
By WALTER HEENEY
Connie Ward of Oakville, Ontario, loves a challenge. Throughout her life, all forty-two years of it, bowling has provided that challenge and the opportunity to test her ability against the best bowlers in both Canada and the United States. As a youngster, Connie took up 5 pin bowling and from 1976 to 1984, she won six national singles championships, two as a bantam (1976, 1977), two as a junior (1979, 1980), and two as a senior (1981, 1984). "I had the opportunity to witness several of these victories at the provincial level," said Walter Valentan, former Executive Director of youth bowling in Ontario, "and, what made them so impressive was that, at the provincial level, the championship was only three games and that doesn't allow much room for error. Conversely," added Valentan, "the national finals were twenty one games and Connie was able to prevail over the marathon at the national level." With her victory as a senior in 1981, Connie became the first bowler to win the so-called youth bowling triple crown with gold medals as a bantam, junior and senior. This performance earned Connie the award as the top bowler of the twentieth century for youth bowling.
In the adult ranks, Connie has excelled as well with nineteen appearances at the provincial championships and winning the Ontario singles title twice, once in 1987 and again in 2007. As well, she has nine wins on the Master Bowlers Association tour and three national team gold medals.
Connie tried tenpin bowling as well and enjoyed success in both Canada and the United States. In 1992 and 1993, she was a member of Team Canada and represented her country at the Federation International Quilles (FIQ) championships in Guadalajara, Mexico. She was extremely successful winning a bronze medal in the doubles, a silver in the team event, and a gold medal in triples competition.
In recent years, duckpin bowling has offered a new challenge for several of Canada's bowlers. Greg Peteraitis, who is a national champion in 5 pin bowling, was the first to try his luck south of the border. "I wanted to try duckpin bowling and especially the variety without the rubber band as it appeared closest to 5 pin bowling." In explanation, the hard-belly variety (without the band) is the more difficult of the two duckpin games. "There have been hundreds of perfect games in the banded variety (soft-bellied), whereas there has never been a perfect game in the hard-belly duckpins."
"The duckpin tour has an adopt-a-bowler program to introduce new players to the tour and Rod Weaver, a veteran duckpinner, invited me to an event in 2004," recalled Greg. "The next year, I invited another Ontario bowler, Mike Herbert to try his luck and, since then, several bowlers, both male and female, have participated." Included in this group was Mike LeClerc, Steve Alexaidas, Seb Blanchet, Phil Laprade, David Stevenson, Giancarlo Marrelli, Rayad Mohammed and Bill Schwemlein and his wife, Kasey. On the female side was Connie Ward, Melissa Llewellyn and Christina Carey.
Certainly the biggest impact was made by Melissa Llewellyn and Connie Ward. Melissa, who is only 24, was a youth bowling provincial champion in 2002 and won a gold medal in adult ranks with the Master Bowlers Association in 2008. On the duckpin tour, Melissa made two stepladder finals, losing to Connie Ward in one event, but was victorious on August 30-31 at Pinland Lanes in Dundalk, Maryland. Her high game was 188, her high eight game (a qualifying round) was 1217 and she finished seventh in the rookie standings.
Connie Ward's debut on the 2008 ladies duckpin tour was both memorable for her and historic for the association. Not only was she named Rookie of the Year on the tour but also Bowler of the Year for her victories in June in Connecticut and October in Baltimore. Her high game was an outstanding 199 and her high eight game total was 1221. The double victory for Connie was the first time any bowler had achieved both rookie and championship honors in the same year. "I went for the challenge with no expectations. I was simply looking for a new form of bowling to try," recalled Ward of her first year heroics. Together, Connie and Melissa won nearly $6,000 on the duckpin tour with Connie winning $3,800 and Melissa $2,300. Both bowlers are anxiously awaiting the 2009 schedule.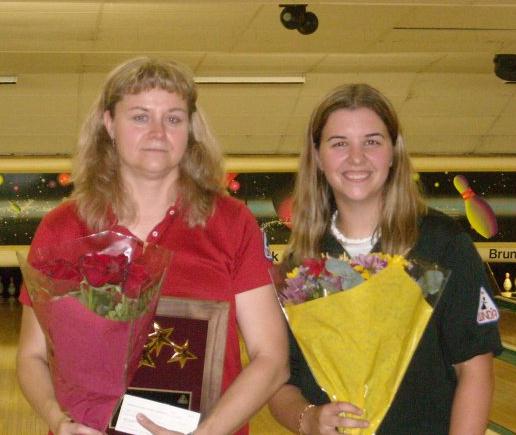 WNDA Tour Winners, Connie Ward and Melissa Llewellyn
While working at the Trillium Health Centre in Mississauga as a Technology Specialist in radiology, Connie is staying sharp by bowling a weekly league, trying several tournaments and, of course, practicing. Melissa continues with her league play, instructs youth bowlers at her home centre in Brampton and competes against the best female bowlers through the Master Bowlers provincial tour.
What has been the reaction from the regular bowlers who frequent the duckpin tour? Amy Sykes, who at age 30 has won more ladies tournaments (12) than anyone says, "It's terrific." On Connie Ward, "she rolls a great ball, really smooth and consistent." Sykes, who won an NCAA softball scholarship and is now a school teacher, uses a similar size ball to the Canadian five pinners. "I'm only 5'3" and weigh 120 pounds," indicated Sykes, "and therefore use a 4-7/8 inch diameter ball and vary between 3 pound 10 ounces (fivepins' heaviest ball) and the maximum size (for duckpins), 3 pound 12 ounces.
Jackie Adams of Frederick, Maryland is past President of the ladies tour. In describing Connie, Jackie indicated that she showed "competitiveness, sportsmanship, kindness, humble in victory and gracious in defeat and, overall, fun to bowl with". Jackie also recalled that when Connie realized she had won both rookie and bowler of the year honors, "she was choked up, shedding tears of joy and totally overwhelmed by the entire situation, a really humble moment." Also, when Connie accepted her awards, "she was so gracious, that everyone was standing and applauding".
While Connie and Melissa were dominant forces on the ladies tour, the Canadian men faced a tougher battle against their foes from south of the border. Bill Schwemlein of Mississauga fared the best during the 2008 season by qualifying at his only trip south of the border at Baltimore. "Bill tied for the 30th spot and dominated a three player roll-off to advance to the qualifying round," recalled Rayad Mohammed, who bowled a Canadian high single of 199 and was named our ambassador to the men's tour governing body.
The men's tour is led by Dennis Pontes, who has been the volunteer president for about fifteen years. "Each year," indicated Dennis, "the association meets in January to lay out the summer stops. As well, we are dependent on proprietor cooperation as each stop is offered with no lineage charges."
How have the men handled the Canadian invasion? Don Dove, who is the top bowler on the men's tour, with an average in the low 150's, doesn't feel that the Canadians have been a threat on the lanes. "They don't represent a problem for me," responded Dove, who participates in the full summer tour and also bowls two leagues per week. "We have an eight stop tour that begins on the last week in April and runs through November. Tournaments cost $125 each and generally attract 120 entries. Following an eight game shift, the top 30 bowlers advance to the match play finals. The minimum payout is $250 and the winner usually receives $2500." How does Dove stay sharp? "It's that secret ingredient," added the 42 year old Dove, "you have to practice and I do, to both maintain speed and ball rotations, ingredients that give the best pin action."
Is there a chance for some cross border competition? While 5 pin bowling is played only in Canada and hard-belly duckpins is a product of the United States, there is a short history of international competition. In 1980, Canadian bowlers traveled to the Philippines for a two country exhibition and, in 1983, Canada entertained bowlers from the United States, the Philippines, and Argentina at an international event held in Scarborough.
Can it happen again? Be assured, this foray south of the border has certainly whetted the appetite for a third try at international competition.
*It should be noted that Connie Ward will be inducted in the WNDA Hall of Fame later this year.
Go Back or Close Window

(To execute a 'BACK' command after clicking on a photo to enlarge, right-click on a white area on the screen that follows, and then select 'Back' from the menu that will appear)
If you like this article, give us a quick click on the 'Google +1', 'Facebook Like', and/or 'Twitter Follow' below