North American Bowling News
---
The Canadian Invasion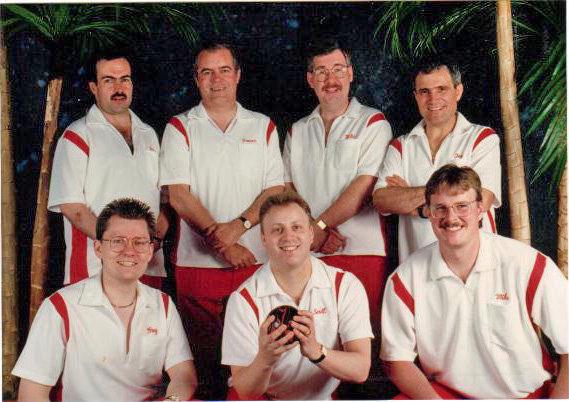 Top left to right: John Honeyford, Fraser Hambly, Mike Wood, and Tony DiRienzo, Bottom left to right: Greg Peteraitis, Scott Parsons, and Michael LeClerc (Photo courtesy John Honeyford)
Bowling's Brotherhood. That's the best way to describe the recent merger between the small ball games of American Duckpins and Canadian Fivepins. It's been a refreshing sight to behold the seamless integration of the journeying fivepinners partaking in duckpin pro tournaments, and conversely, the way the duckpin tour has welcomed the strangers from the north to its sport.
For knowledgeable followers of small ball bowling, there's an understanding, a realization, that fivepinners and duckpinners are underneath, one in the same—bowlers with the same level of expertise, who roll the same size ball in their respective forms of bowling. When bowling duckpins, the only edge a duckpinner might have over a fivepinner is a familiarity with the way certain splits can be made.
So, how did two varieties of bowling from two different geographic locations that have been separated for so many years, finally come together? In the political world, ambassadors serve as a link between nations. The sport of bowling has its own emissaries, and it would be remiss indeed, when speaking of 'fivepin bowling emissaries' to the duckpin game if the name John Honeyford were omitted from the conversation.
Honeyford is a Canadian explorer to a great degree. He is a diligent collector of bowling memorabilia and has an impressive Facebook group page, entitled the "History of 5 Pin Bowling in Ontario".
John first made contact with duckpins in the early days of "bowling's marriage to the Internet" after discovering and subsequently communicating through the old Maryland Suburban Traveling League website (which today has evolved into a web portal for various leagues, known as "worldleagues.net"). After much correspondence, arrangements were made to ship a set of duckpins up to Honeyford in Canada. John's charm using the written word, and his enthusiasm for the game of bowling made relations between Canada and the U.S. a gratifying, reciprocal endeavor. His interest in duckpins, and a clear and unobstrusive way of expressing himself in writing was something special, akin to that of a diplomat.
Honeyford established a firm working relationship between Canada's Fivepins, and the United States' Duckpins, and it wasn't long before word of duckpins was beginning to spread throughout parts of Canada. After some time, Greg Peteraitis was the next to make contact. Peteraitis, a heralded fivepinner and also a bowling ball collector, made a number of trips to the states, along with traveling partner, Mike Wood, who is a championship bowler in his own right. In the early part of the decade of the Year 2000, Peteraitis and Wood visited countless duckpin centers on their drives down from Canada, and eventually time was planned and set aside during one of their annual/semi-annual commutes to participate in a pro-style duckpin event at AMF College Park, the Buddy Creamer Classic, around the year 2004. The two Canadians' visitation to the Maryland area was enhanced to the highest degree with a dose of exceptional American hospitality when they were introduced to the duckpin game's all-time greatest bowler, Jeff Pyles, who was manager of AMF College Park at the time. Jeff welcomed Greg and Mike with open arms in his own personable, gifted manner that he has of getting along with people. One amusing and memorable occurrence during one of their initial trips to the Maryland area was that the Canadians were anxious to have Pyles bowl a game with them, as they had heard so much, but had never seen Jeff bowl before. When Jeff was able to get a brief period of relief help at the control counter, he came down to our lanes where the Canadians were playing, and proceeded to join our group to bowl a quick game. With no practice whatsoever, Pyles rolled a game, somewhere in the 160s or 170s. I remember that Peteraitis bowled what would be one of his trademark, steady and solid games, but Mike Wood actually stole the show, tossing a 191 game, rolling with a considerably slower ball speed, but extremely accurate delivery. I remember some time after Mike and Greg had returned to Canada, Jeff was relating to a patron the details of the Canadians' visit, and he remarked, "Those guys were GOOD". Pyles was no stranger to talented 'small ball' players from the Toronto area, as he was part of the American team that had competed against Canada during the World Cup competition from 1983.
A year after Peteraitis and Wood had participated in the 2004 Buddy Creamer Classic, Greg's interest in the duckpin game was high, and he competed in the 2005 DPBA tour at Hagerstown. The following year, Greg encouraged fellow Canadian, Mike Herbert, to come down to bowl in the 2006 Hagerstown event, and on neighboring lanes, three other Canadians were competing, as well—Ray Mohammed, Steve Alexaidis, and Seb Blanchet. The next year in the Hagerstown pro tour turned out to be a case of 'the 3rd time being the charm' for Peteraitis, as he successfully made the cut in the record 222 entrants for a DPBA event.
2007 marked the last year to date that Peteraitis participated in any DPBA events, but there have been a number of other Canadians in the last 3 years that have more than filled the void. Canada's Mike Herbert recently compiled a list of 29 of his fellow fivepinners that have played in men's and women's duckpin events, and are listed as follows: Greg Peteraitis, Mike Wood, Mike Herbert, Rayad Mohammed, Steve Alexaidis, Seb Blanchet, Phil Laprade, David Stevenson, Giancarlo Marrelli, Mike LeClerc, Connie Ward, Christina Carey, Melissa Llewellyn, Jim Head, Bill Schwemlein, Bob Beaucage, Darin Pletsch, Marc Goneau, Jason Medhurst, Brian Whalen, Bernie Menard, Bruce Norman, Daryl Wilkinson, Pam Periera, Scott Dumoulin, Pete Marion, Stephane Lapensee, David Phipps, and Dave Secord.
Our friends from Canada have made a tremendous impact on the duckpin game in the short timeframe that they've been exposed to the U.S. tourneys. In the 2008 Frank Barber Eastern Classic—arguably the most elite of all annual duckpin tournaments—a Quebec rubberband duckpinner, Gil Thomas, made an 'unheard of' runner-up showing, a scant 5 pins short of winning the 12-game, total pinfall tournament with a score of 1810. The event is held over the course of two weekends during the winter months. Being one of the rubberband players, Thomas has the unusual style of rolling the ball with backspin—a style which yields a minimum number of strikes, but is a common method of delivery in the Montreal area where rubberband duckpins flourishes. In addition to Thomas, Andre Duclos finished 32nd in the "Eastern" that year, and several other of these Montreal-based backspinners have since made a splash in the game.
In the years that followed at bowling proprietor, Frank Turner's Hagerstown events, which have traditionally been the biggest money stop on the pro tour, more Canadians have made that tour stop their 'mecca' for duckpin events. In recent years, Turner's tours have yielded 4 to 5 times the first place money of a normal pro duckpin tour stop, which obviously has played a major role in the Canadian invasion into duckpins.
Another area in which Canada has done its share to improve duckpin bowling relations was in the introduction of the popular "Softroll" line of bowling balls. Steve Phipps, owner of Phipps Bowling was able to get specs about the composition of bowling balls from Peteraitis, and soon developed an attractive and effective set of rubber bowling balls that are used by many of the duckpin pros to date. The balls earned an immediate reputation of being 'easier to grip' than a standard duckpin ball, and there were an uncanny number of cases in which first-time users rolled huge 3-game sets. The balls were shipped down for distribution in the early stages of development and were sold at wholesale cost in an effort to get the new line of balls spreading.
All in all, the merger of fivepins and duckpins has been a smooth and successful transition, and with the continual influx of great players of the fivepin game in pro duckpin events, it won't be long before we have a DPBA champion who hails from Canada.
Go Back or Close Window

(To execute a 'BACK' command after clicking on a photo to enlarge, right-click on a white area on the screen that follows, and then select 'Back' from the menu that will appear)
If you like this article, give us a quick click on the 'Google +1', 'Facebook Like', and/or 'Twitter Follow' below