North American Bowling News
---
Amateur Brian Ziesig Defeats Jason Belmonte to Capture Mark Roth Plastic Ball Championship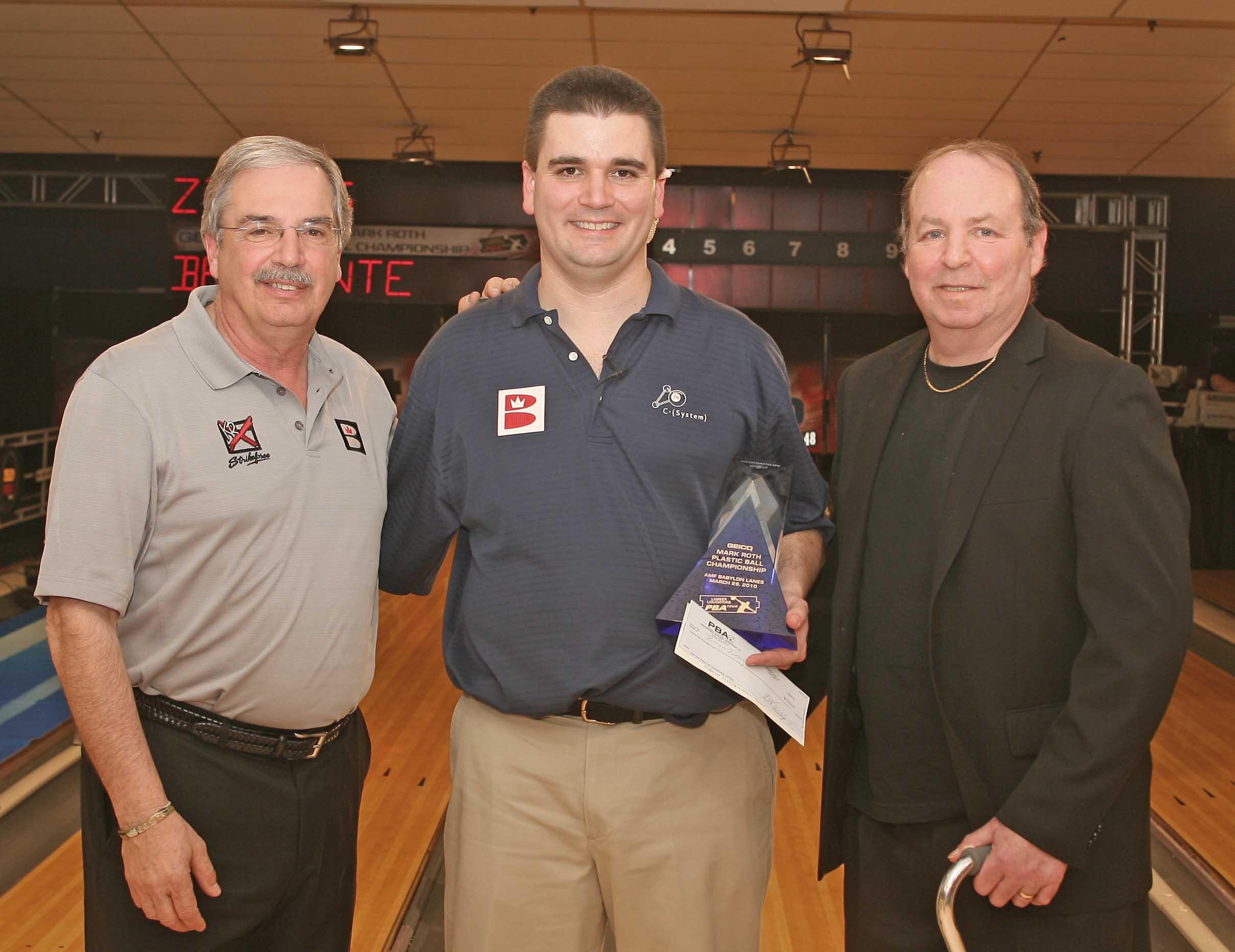 Brian Ziesig (center) flanked by Johnny Petraglia (left) and Mark Roth (on right) - Photo courtesy PBA LLC
WEST BABYLON, N.Y. (March 28, 2010) – Brian Ziesig of Levittown, N.Y., won the Professional Bowlers Association GEICO Mark Roth Plastic Ball Championship Sunday at AMF Babylon Lanes to become the first amateur to win a Lumber Liquidators PBA Tour event since 2002.
Ziesig rolled three strikes in the 10th frame in the championship match to tie Australian two-hander Jason Belmonte 247-247 in regulation which forced a one-ball, sudden-death roll-off that was won by Ziesig with a strike to Belmonte's nine-count in which he left the 7 pin.
"Whenever I tried to over-hook the ball, it seemed I wouldn't get the carry so those last few shots I paid special attention to avoiding that," Ziesig said. "Believe it or not I really wasn't that nervous so that helped me throw those shots the way I wanted to."
Ziesig became the first amateur to win a Tour title since Brett Wolfe won the 2002 United States Bowling Congress Masters.
"This is my 15 minutes of fame" said the 35-year-old Ziesig, who works for a bowling supply company. "It's back to work tomorrow morning. To be able to accomplish this on national TV in front of a hometown crowd is really kind of a fantasy."
Ziesig, who earned $25,000 for the win, had been a Touring professional in the 1998, 1999, and 2000 seasons with a previous best finish of 10th. He earned his way into the tournament field through a tour qualifying round earlier in the week.
The 26-year-old Belmonte, who earned $13,000 for second, was hoping to win his second career title having won the Bowling Foundation Long Island Classic here last year to become the first bowler to win a PBA Tour title using a two-handed delivery.
"The best you can hope for is to throw 10 good shots but I threw nine—what can you do?" said Belmonte, who finished second for the third time this season. "I left a 10 pin in the eighth frame because I got behind the ball too much and I just didn't get the break."
In the opening stepladder match, Wayne Garber of Modesto, Calif., defeated two-time tour titlist Michael Machuga of Erie, Pa., 258-245. Machuga earned $5,000 for fifth.
In the second match, the tour's all-time career win leader with 47 titles, Walter Ray Williams Jr., defeated Garber 280-211. In the third match Ziesig defeated Williams 255-237 to advance to the championship match.
William's third place finish was enough to put him in a tie for the Player of the Year race with Bill O'Neill going into the final event of the season in Baltimore during the final week of March. Williams earned $8,000 for third and Garber $6,000 for fourth.
The Plastic Ball Championship required all players to use identical plastic bowling balls and is the one event on the PBA Tour that turns back the clock on ball technology creating an equalized playing field and eliminating the reliance on today's high-powered equipment. The tournament was named after Mark Roth who is still recuperating from a debilitating stroke suffered back in May 2009. Roth revolutionized the sport of bowling with his innovative, high-rev delivery.
Go Back or Close Window

(To execute a 'BACK' command after clicking on a photo to enlarge, right-click on a white area on the screen that follows, and then select 'Back' from the menu that will appear)
If you like this article, give us a quick click on the 'Google +1', 'Facebook Like', and/or 'Twitter Follow' below