North American Bowling News
---
Former Pro Tour Member on Crusade Against Gambling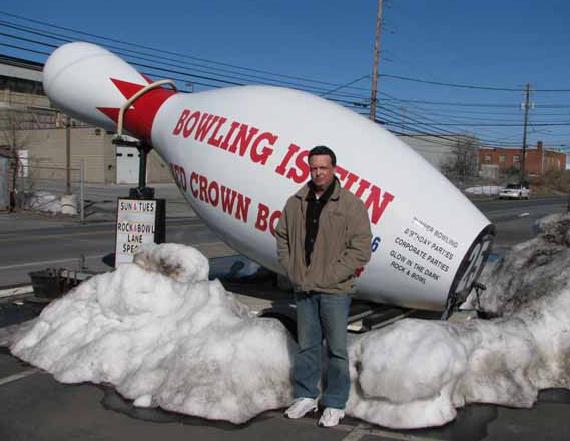 Former PBA Member, John Wade
At one time or another during our lives in this wonderful world of ours, we're all faced with tremendous challenges and uphill battles. If things go according to plan, sometimes with luck but usually through hard work and perseverance, the struggles can be overcome and a feeling of fulfillment follows. For many gifted athletes, however, superior ability sometimes is initially a substitute for hard work, and oftentimes can lead to a false sense of accomplishment and security. But if the hard work isn't recognized and employed at some point, the superior ability can't cope with the hidden intricacies of a challenge. Ironically, a person's talent and/or special gift in a particular endeavor can soon lead to making unfortunate decisions along the way, which transform life's obstacles from what were once high hurdles, into a person being thrown into an unscalable pit. The case of what was at one time one of bowling's brightest prodigies is a story that John Wade has opted to share, in an effort to prevent the same thing from happening to up and coming superstars.
In the mid to late 1970s era, Colorado Springs, Colorado's John Wade was a budding phenom in the bowling world, touted by a devoted following as being the next Earl Anthony in the sport. Wade was a tremendous talent, at one time rolling an 847 series, with a subsequent pro touring average that ranged from 204-211, which was during a time when high scores in bowling were a bit more difficult to come by. During his bowling career, he posted a dozen 300 games, with a high league average of 227. At age 18, John joined the pro tour and in the early 1980s, Wade made modest earnings, and had a lot of potential.
Unfortunately, raw talent can be a lonely entity. Without the proper backing or support, a person with this talent is open as 'fair game' to any opportunity or temptation that first comes along. As John Wade relates, the temptation of gambling presented itself to him. When the gambling fever overcomes a person, minor setbacks will occur when things start to go bad, often leading to a chain reaction of negative experiences. If not corrected, the accumulation of setbacks usually prevents a person from getting into a position to where they can compete for a larger prize, or excelling on a higher level. This is what happened to John.
Wade says that he fell into the gambling trap that so many of us have at times encountered and succumbed to. On the bowling lanes, wagering ranged from small pot games of $10.00 a game, to larger stakes that maxed out at $100.00 per pin. Along the way, the popular 'bracket' pools were also a part of the stakes, sometimes with several brackets going on at the same time, each with a tag of $150.00 per bracket entry. Horse racing also became a source of heavy wagering.
After repeated exposure to the gambling, in which a person constantly sinks into debt, the 'wagering' state-of-mind becomes an illness, causing stress and strain on the family unit, and inevitably leads to a tremendously negative affect on a person's life, and many serious repercussions tend to follow, as it did in John's case. Financial and legal ruin became a part of Wade's life. As if these tortures weren't bad enough, Wade later had to endure a family tragedy, with the sickness and passing of his daughter.
To his credit, after hitting rock-bottom, John Wade has devoted himself to recovery. Spiritual involvement has played a big part in his new life, in which he earned a diploma in Ministry in 2006 at the United Christian Bible Institute. His belief that God has put him through this ordeal to make others aware is the driving force that keeps him going.
Although he himself is battling kidney disease, Wade has been working on a project during the past 4 years in the form of a book, encompassing anywhere from 175-250 pages entitled "The Beginning of the End". His immediate goal is to move forward on his book tour, "Building Awareness Through Recovery". The book is scheduled for release in January 2011, and will be available for purchase at the website 'http://www.gamblenot.org'.
Commendably, John Wade has taken difficult steps to turn his life around. One of the methods he uses to prevent himself from slipping backwards again is to basically try to stay out of the situations that might provoke the recurrence of gambling. Wade's comeback is an inspiring story, and one that will certainly deliver a positive message.
Go Back or Close Window

(To execute a 'BACK' command after clicking on a photo to enlarge, right-click on a white area on the screen that follows, and then select 'Back' from the menu that will appear)
If you like this article, give us a quick click on the 'Google +1', 'Facebook Like', and/or 'Twitter Follow' below