North American Bowling News
---
Underdog Smallwood Wins One for America's Unemployed in PBA World Championship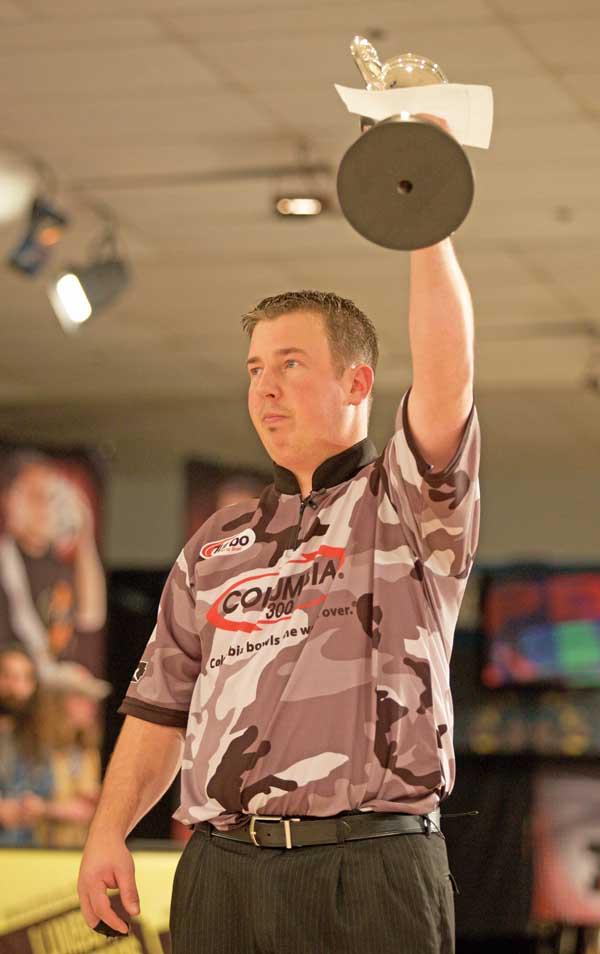 Photo courtesy PBA LLC
In Case You Missed One of the Big Stories of 2009...
Tom Smallwood of Saginaw, Mich., hit a home run for America's unemployed workers, upsetting reigning Professional Bowlers Association Player of the Year Wes Malott of Pflugerville, Texas, 244-228, to win the PBA World Championship at Northrock Lanes in December of 2009.
Smallwood, a 32-year-old former assembly line worker who was laid off from his job with General Motors nearly a year ago, won his first PBA Tour title, his first major title, a $50,000 first prize, a two-year exemption to continue his PBA Tour career and his first chance to bowl in January's PBA Tournament of Champions.
The title match was a nail-biter until the 10th frame. Malott started with four strikes, but then ran into carry problems on the right lane. Smallwood stayed close, striking on five of his first six shots, but then left a 4-6-7 split in the seventh frame and the tide turned to Malott's favor. Malott wasn't able to put two strikes together in the final frames, however, and Smallwood answered with another four strikes in a row - including two in the tense-filled 10th frame - to seal the victory.
"It's surreal," Smallwood said. "It has been a wild ride."
"I was already so nervous in the 10th frame, I told myself I couldn't possibly get any more nervous," he added. "The right lane was my good lane anyway, so I figured if I threw a decent shot, I'd be OK."
Smallwood said he always felt he could compete on the PBA Tour, but with a wife and two-year-old daughter, he had no desire to go on the road until he got the bad news from General Motors. He then decided to enter the PBA Tour Trials in suburban Detroit, where a finish in the top eight meant a full year's exemption to bowl. Finishing third meant a new career option.
"I wouldn't be here otherwise," he said. "Getting an exemption is so hard to do."
Ironically, Smallwood recently got a call from the General Motors jobs bank, offering him a chance to go back to work.
"The lady who called asked me if I wanted to come back to work, but I told her no," he said. "She asked what I was doing. I told her I'm now a professional bowler and that I'd be on ESPN this weekend. At first she didn't believe me, but the lady sitting next to her was a bowler, so I wound up talking to her for a while. Now I think the people at GM are fans."
"It's disappointing, but I couldn't get my ball to read the left lane," Malott said. "I made the adjustments I needed to make, committed to them and threw good shots, so there really wasn't much more I could have done. Tom stepped up in the 10th frame and made the shots he needed to make, so my congratulations to him."
Malott defeated Rhino Page of Wesley Chapel, Fla., in the first semifinal round match, 203-191. Malott started the match with four strikes, but gave Page a chance when he left the 2-4-8-10 split in the fifth frame and opened, followed by missing a 10 pin. But Page made a fatal error, leaving the 4-6-10 split in his ninth frame, and Malott closed the door with a spare/strike in his 10th frame.
Smallwood, who had lost resoundingly in his first TV appearance earlier in the season, threw a pair of turkeys at Bill O'Neill of Southampton, Pa., en route to a 211-159 win in the second semifinal match. A pair of splits and open frames in the second and third, and the absence of a double the rest of the way, ended O'Neill's title hopes.
Go Back or Close Window

(To execute a 'BACK' command after clicking on a photo to enlarge, right-click on a white area on the screen that follows, and then select 'Back' from the menu that will appear)
If you like this article, give us a quick click on the 'Google +1', 'Facebook Like', and/or 'Twitter Follow' below