North American Bowling News
---
O'Neill Wins First Major in 67th U.S. Open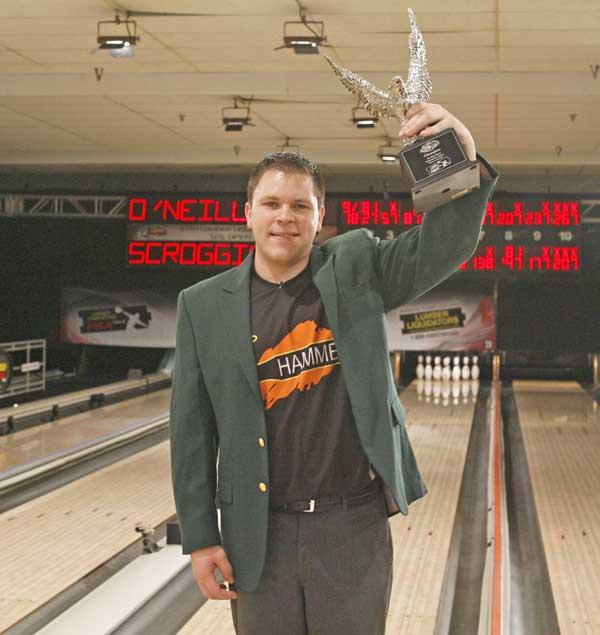 U.S. Open Champion, Bill O'Neill (Photo courtesy PBA LLC)
Former PBA Rookie of the Year "gets payback" in dethroning defending champion Scroggins
INDIANAPOLIS, Ind. (Feb. 28, 2010) – Bill O'Neill of Southampton, Pa., who earned a "can't miss" tag after his 2005-06 Professional Bowlers Association Rookie of the Year season, cruised past defending champion Mike Scroggins of Amarillo, Texas, 267-207, to win his first major title in the 67th Lumber Liquidators U.S. Open at Woodland Bowl Sunday.
O'Neill, who won his first Lumber Liquidators PBA Tour title earlier in the season in Detroit, had a spare in the first frame, failed to convert the 2-10 split in the second, and then threw 10 strikes in a row to race away to victory. Along with his title, he earned $60,000 and a three-year PBA Tour exemption.
"This title means everything to me. I can't begin to explain it," he said. "It's the most difficult title on tour to win. To have my name up there with the guys who have won it is amazing.
"I can't believe I bowled a game like that on this lane condition," the 28-year-old O'Neill said. "I found a little hold area and that's all I needed. It was just a matter of bearing down and making good shots.
"It was the most relaxed I've ever been on TV," he continued. "I don't know why, but from the time I got up this morning and came into the center, everything felt great. Even after throwing that split in the second frame, I knew I was going to throw the ball great.
"Scroggins has beaten me, like, the last 34 times I've bowled him, so it was nice to get some payback."
Scroggins never found a solid line to the pocket, failing to put two strikes together until the 10th frame. But it was a pocket 7-10 split in the eighth frame that clinched the win for O'Neill.
"At the start of the match, my thumb shrunk just a bit and I was afraid to add a piece of tape because I didn't want to hang up in the ball," Scroggins said. "I was losing it just enough, so when I put the tape in the ball in the seventh frame, I got back to the pocket.
"But Bill bowled well. All of the strikes looked the same, so you know he was throwing the ball well," Scroggins added. "It's hard to beat 267 on an easy condition, let alone the U.S. Open oil pattern."
With his victory, O'Neill also jumped into the thick of the PBA Player of the Year race with only four tournaments remaining in the season.
"I picked up a couple of points on Walter Ray (Williams Jr.), but you know he'll make a couple of more TV shows before the season is over," O'Neill said. "I'll just have to try to win another one."
O'Neill earned his berth in the title match by defeating Tommy Jones of Simpsonville, S.C., 203-152, after Jones romped past Jason Couch of Clermont, Fla., 245-192, in the opening match. In the first game, Jones threw seven strikes in the first eight frames to win easily, but when the oil began to move, he got lost against O'Neill, leaving and failing to convert four splits.
The Lumber Liquidators PBA Tour's next event is the Etonic Don Johnson Eliminator which gets underway with preliminary qualifying rounds Monday at Sequoia Pro Bowl in Columbus, Ohio.
Go Back or Close Window

(To execute a 'BACK' command after clicking on a photo to enlarge, right-click on a white area on the screen that follows, and then select 'Back' from the menu that will appear)
If you like this article, give us a quick click on the 'Google +1', 'Facebook Like', and/or 'Twitter Follow' below