North American Bowling News
---
Up Close and Personal with Liz Johnson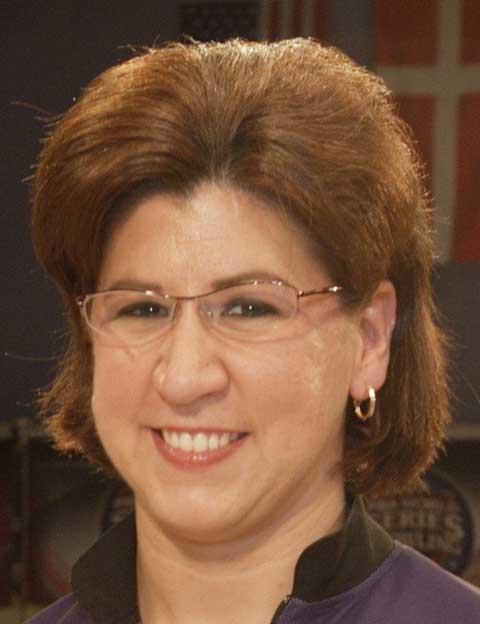 Photo courtesy PBA LLC
1. What was the format of the first Regional title that you won (42-game qualifier, round-robin match play, etc.)? What did you roll in the final game to win the Regional?
"The first women's regional I won was a round-robin and my first men's regional title was a match play elimination event. I beat Mike Fagan, 244-171, in the title match. The event was in Rome, N.Y., in August of 2005. I also finished second in a combined regional in Fredonia, N.Y., in April of 2005 and I had a 300 game in that tournament in my match against Bobby Hall II. I lost to Brian Kretzer, 197-184, in that title match.
2. In the 2005 PBA Banquet Open, were you more nervous about bowling on TV in the final, or just regarding the final itself, with TV being a non-issue?
"I am more nervous prior to a TV show. When I step onto the lanes, the nervousness becomes more excitement."
3. How many tournaments did you bowl with the male touring pros, before the 2005 PBA Banquet Open?
"2004 was the first year women were allowed to bowl in PBA events, so I believe I bowled in two or three tournaments before I made the TV show."
4. How many practice games do you bowl in a week when preparing to bowl in a tournament?
"I practice approximately six games a day, two or three times a week and I bowl league twice a week, which I use as a practice session."
5. What is your most cherished bowling memory/moment?
"I have a lot of great memories in my career, but making the men's show in 2005 was probably the moment I'll remember above all others. Winning the USBC Queens earlier this year is probably the women's title I'm most proud of. Both were a blast."
6. What was your most nervous career bowling moment, league or tournament, such as first 300 game, etc.?
"My most nervous moments on TV was striking in the 10th to win my first match on the men's show against Wes Malott. I also shot 300 on TV to win in Davie, Fla., on Sept. 14, 2001, for an LPBT title. That show actually never aired on ESPN because of September 11, but I still got a $50,000 bonus for shooting 300…although I didn't know about the bonus at the time. I also picked up the 2-8 to win a title against Leanne Barrette in Tennessee in 2002 to win a title. That was pretty nerve-wracking."
7. How much do you travel to bowl during a typical year?
"In 2009 I probably traveled about 20 to 30 weeks overall. I can't remember for sure, but I don't think I was ever home more than two weeks at a time."
8. How many bowling balls do you normally take to an event?
"If I travel by plane I bring four to six balls. If I travel by car I bring anywhere from eight to 16 balls."
9. What is your preferred lane pattern (Viper, Cheetah, etc.)?
"Well, my top finishes have been on the Viper. People think the Cheetah is my favorite, but to be honest, I haven't bowled that well on the Cheetah. I don't think there's much room for error on the Viper. I like the patterns where you can play them pretty straight and you don't have much room for mistakes. I think accuracy is one of the strongest parts of my game."
10. Do you have any tips for bowlers who might be struggling, whether it be a confidence issue, or with their mechanics?
"If you have problems with your footwork or pushaway, just try to go back to basics. Try not to over-think things."
Go Back or Close Window

(To execute a 'BACK' command after clicking on a photo to enlarge, right-click on a white area on the screen that follows, and then select 'Back' from the menu that will appear)
If you like this article, give us a quick click on the 'Google +1', 'Facebook Like', and/or 'Twitter Follow' below