North American Bowling News
---
California's Norton Wins PBA Regional Players Invitational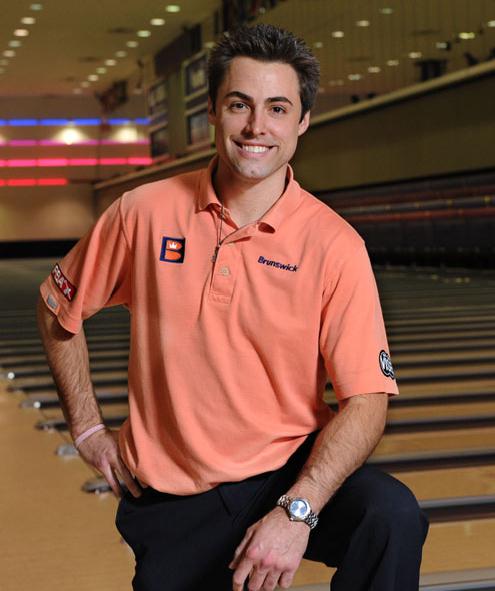 PBA Regional Invitational Winner, Scott Norton (Photo courtesy PBA LLC)
RENO, Nev. (Dec. 17, 2009) – Scott Norton of San Francisco overtook Bobby Hall II of Landover, Md., in the final round to win the Sands Regency PBA Regional Players Invitational at the National Bowling Stadium Thursday.
Norton, a 27-year-old former Team USA member and the son of United States Bowling Congress Hall of Famer Virginia Norton, averaged 216 over 30 games – six games on each on the Professional Bowlers Association's Cheetah, Chameleon, Viper, Scorpion and Shark lane conditioning patterns – for a total of 6,482 pins and a 65-pin cushion over Hall, who had led the previous three rounds.
"I grew up watching my mother bowl on the women's tour," said Norton, who recently passed his California bar exam, but may now combine a new career as a lawyer with an opportunity to bowl full-time on the Lumber Liquidators PBA Tour. "This is a once-in-a-lifetime opportunity," he said.
As Sands Regency PBA Regional Players Invitational champion, Norton earned a $7,500 prize and a berth in the 2010 PBA Tournament of Champions in Las Vegas in addition to an exemption to bowl on tour during the 2010-11 season. Also earning PBA Tour exemptions for 2010-11 were Hall; Ryan Ciminelli, Cheektowaga, N.Y.; Dave Beres, Waukesha, Wis.; Lennie Boresch Jr., Kenosha, Wis.; Chris Warren, Grants Pass, Ore., and Jeff Zaffino, Warren, Pa.
Hall, a long-time PBA East Regional competitor, will realize his dream of becoming a full-time member of the PBA Tour next season, but he realizes it's a big leap from regional competition to the national tour.
"This is bowling," Hall said. "You're pretty much competing against yourself. What I've learned from bowling at the regional level is I have to post my score and hope it is higher than anyone else's. The same principle is going to apply when I bowl on the national tour against those guys.
"I've been part-time on and off the tour for the past several years," he added, "and I've found my enemy is myself. When I've stepped out of my own way, things have been good for me."
Hall is the second African-American bowler to earn a PBA Tour exemption, following in the footsteps of Chicago native Billy Oatman, who went on to earn PBA Rookie of the Year honors during the 2006-07 season.
Ciminelli, 23, is the youngest of the newly-exempt group and has been knocking on the door for the past two seasons. He advanced from Tour Qualifying Rounds to make two television appearances during the PBA World Series of Bowling in Detroit in August. "My career is set," Ciminelli beamed after his third-place finish.
Beres, a 31-year-old office manager, will make his PBA Tour debut next season. "I finally came through after a lot of hard work and close calls," he said.
Boresch, a 47-year-old pro shop operator, will test the tour again after a lengthy absence. "I did (the Tour) 25 years ago," he said. "This is my second chance at it."
Warren, a 46-year-old pro shop operator, is a five-time PBA Tour titlist who has bowled on Tour on-and-off over the past two decades. "It's another opportunity," he said.
Zaffino, the oldest qualifier at age 50, also has bowled on Tour in years past, but is still looking for his first national title. "Now my decision is whether or not to quit my job (as a garage door installer)," he said.
The PBA Regional Players Invitational was open only to players who finished among the top 25 in competition points in their respective regions.
Go Back or Close Window

(To execute a 'BACK' command after clicking on a photo to enlarge, right-click on a white area on the screen that follows, and then select 'Back' from the menu that will appear)
If you like this article, give us a quick click on the 'Google +1', 'Facebook Like', and/or 'Twitter Follow' below