North American Bowling News
---
Liz Johnson Earns her First PBA Women's Series Singles Title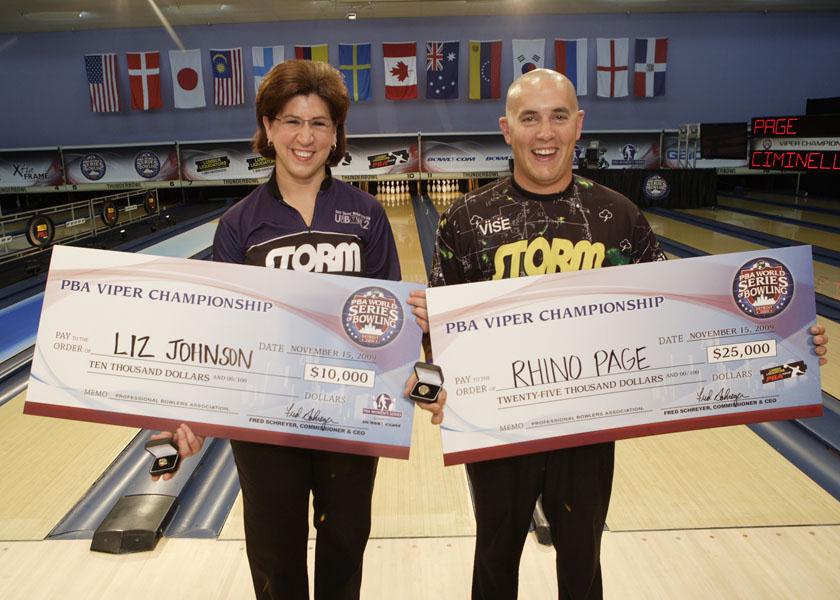 Viper Champions, Liz Johnson and Rhino Page (Photo courtesy PBA LLC)
ALLEN PARK, Mich. (Nov. 15, 2009) – Sporting a shaved head in support of a friend undergoing cancer treatment, and playing a style of game outside his normal comfort zone, Rhino Page of Wesley Chapel, Fla., out-struck Ryan Ciminelli of Buffalo, N.Y., to win the Professional Bowlers Association's Viper Championship at Thunderbowl Lanes.
As part of the PBA World Series of Bowling finals that aired on ESPN, Liz Johnson of Cheektowaga, N.Y., won her first PBA Women's Series singles title, presented by BOWL.COM, defeating Lynda Barnes of Double Oak, Texas, 211-196, for the women's Viper Championship.
Page, the Lumber Liquidators PBA Tour's 2007-08 Rookie of the Year, defeated Ciminelli, 268-246, for his third career title, a $25,000 prize and a berth in the end-of-season PBA Experience Showdown.
"It feels great to be able to get off to a great start in the World Series, and to make a show in my third event," Page said. "To get my third title this early in the season feels amazing."
Page said he turned the corner in the Viper Championship early in the event when he was struggling with his equipment and decided to switch from "reactive" bowling balls to more stable urethane equipment. Ciminelli, a non-exempt player who advanced out of the Tour Qualifying Round to earn a spot in the 72-man tournament field, was bowling next to Page – and made the same equipment move with similar results. Ironically, the two left-handers eventually met for the title.
"I threw the ball much differently than the way I usually bowl," Page said. "I was literally trying to loft the ball over the dots and as I was doing so, I was hitting it as hard as I could with as many revolutions as I could to try to get that urethane ball to do the right thing. In a sense, I was trying to make it behave like a reactive (ball), but a controlled reactive. For Ciminelli, that's his "A" game. His rotation and revs match up perfectly. For me, lacking the revolutions, I had to do something."
Page's technique worked. Ciminelli struck on seven of his first eight shots before leaving three consecutive 7 pins that ultimately made the difference because Page struck on nine of his first 10 attempts.
While Page's modified bowling style wasn't readily apparent to most bowling fans, his hair style certainly was.
"One of my best friends is going through cancer treatment and he's lost all of his hair," Page said in reference to his shaved head. "I told him when he started treatment that I'd do this for him. I wanted to show him my support, even though I'm not there with him."
With an early title in hand, Page said he is "stoked" for the rest of the 2009-10 Lumber Liquidators PBA Tour season.
"My ultimate goal is Player of the Year," he said. "I've got a title under my belt. I had a really good World Series, and I qualified for the TV final coming up in the PBA World Championship (on Dec. 13 in Wichita, Kan.). I'm really happy. I think I'm in the position I want to be in."
Page advanced to the Viper title match with a 221-180 victory over Steve Jaros of Yorkville, Ill., in the semifinal round while Ciminelli threw two strikes in the 10th frame to nip Michael Haugen Jr. of Carefree, Ariz., 238-236, in the other semifinal contest.
Go Back or Close Window

(To execute a 'BACK' command after clicking on a photo to enlarge, right-click on a white area on the screen that follows, and then select 'Back' from the menu that will appear)
If you like this article, give us a quick click on the 'Google +1', 'Facebook Like', and/or 'Twitter Follow' below