North American Bowling News
---
Rookie Lacaze, Nation Win PBA Earl Anthony Memorial Titles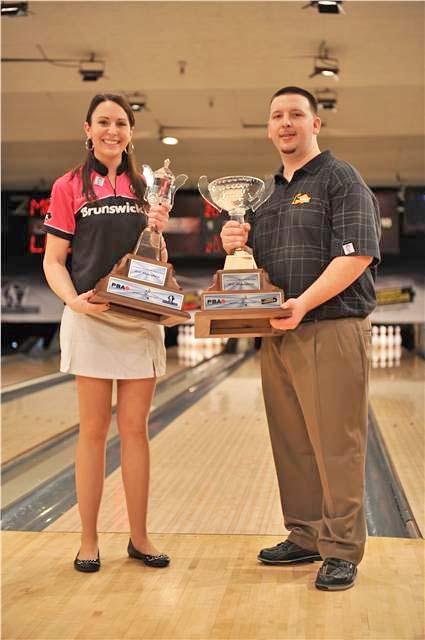 Photo courtesy PBA LLC
Clutch 10th-frame strikes help both champions overcome demanding lane conditions
DUBLIN, Calif. (Jan. 17, 2010) – Anthony LaCaze, a 27-year-old rookie from Melrose Park, Ill., won his first Lumber Liquidators PBA Tour title, throwing three clutch strikes in the ninth and 10th frames to defeat Michael Machuga of Erie, Pa., 214-206, in the title match of the Earl Anthony Memorial at Earl Anthony's Dublin Bowl.
Stefanie Nation of Grand Prairie, Texas, virtually matched LaCaze, throwing three strikes in her 10th frame to nip Lynda Barnes of Double Oak, Texas, 201-181, for the Anthony women's title.
LaCaze, in his second career Professional Bowlers Association television appearance, trailed until he threw the biggest strike of his life in the ninth frame and followed with two even bigger strikes in the 10th to force Machuga to double in his 10th frame to win. Machuga got the first strike, but left a 10 pin on his second to hand LaCaze the $25,000 first prize and a berth in the 2010 PBA Tournament of Champions.
"It's a great feeling," LaCaze said. "I wanted to throw the best shots I could, and make Machuga throw the best shots he could, and whoever did it best would win. I'm speechless." LaCaze and Machuga both survived low-scoring semifinal matches that set the stage for the title match. Machuga nipped Sean Rash of Wichita, Kan., in his semifinal match, 188-183. Machuga didn't have two strikes in a row, but otherwise bowled an error-free game until he failed to convert the 3-10 split in the 10th frame. But Rash missed a pair of single-pin spares and that proved to be his undoing.
In the PBA Women's Series title match, Nation jumped into the lead with strikes in the first and second frames, but couldn't build on her lead. An unconverted split in the sixth frame gave Barnes life, and Barnes then doubled in the eighth and ninth frames to take the lead. But Barnes left the 4-6-7 split in the 10th frame, which led to Nation needing only a mark to win. "I had it and I let it get away," Barnes said. "I grabbed the ball in the 10th frame and pulled it. That's what you tend to do when the lanes are as difficult as they were today."
Nation, who lost the 2009 Earl Anthony women's title with an errant shot in the final frame, threw three strikes in the 10th frame this time to avenge her loss a year earlier. "I was fortunate things fell my way," said Nation, who won her second PBA Women's Series title. "It was a very difficult lane condition. You had to make good shots and hope. I followed my gut, made a move and I was able to strike out in the 10th frame. That was the difference."
Go Back or Close Window

(To execute a 'BACK' command after clicking on a photo to enlarge, right-click on a white area on the screen that follows, and then select 'Back' from the menu that will appear)
If you like this article, give us a quick click on the 'Google +1', 'Facebook Like', and/or 'Twitter Follow' below