North American Bowling News
---
The Evolution of a Landmark Event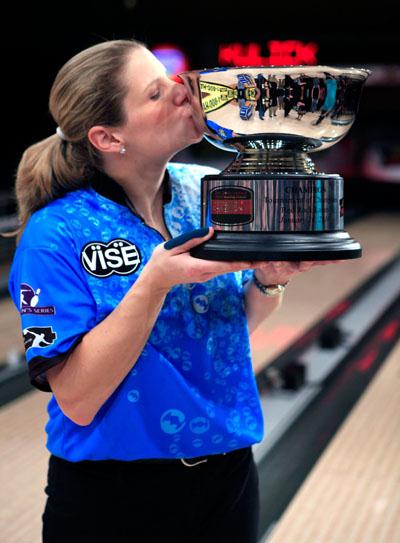 Kelly Kulick Wins PBA Tournament of Champions (Photo courtesy PBA LLC)
Kelly Kulick Makes Her Own Space in Sports History
History was made on January 24, 2010, as Kelly Kulick emerged full force as one of bowling's now most appreciated superstars. Kulick's win in the 45th Annual PBA Tournament of Champions gained much notoriety for the sport of bowling in that she is now the first woman to win a Professional Bowlers Association touring players event. Kulick's impressive victory has indeed broken new ground in the recognition of ladies in professional sports. But what really needs to be emphasized is the fact that the Tournament of Champions is one of the PBA's grandest events, and to win this tournament is the ultimate feather in any pro bowler's cap, past or present.
Unfortunately, when there is so much public attention on the issue of women competing with men, the grandness of the event itself can get lost from the overall picture. It needs to be stressed and remembered that it's Kelly Kulick as an individual--an individual who's worked tremendously hard at the game of bowling on her own, engineering a unique combination of timing, accuracy, stamina, self-control, and talent--who deserves the kudos, recognition, and spotlight for winning one of bowling's most prestigious jewels.
How the Opportunity Originated...
Kelly Kulick of Union, N.J., earned the right to become the first woman to bowl in the PBA Tournament of Champions thanks to her victory in the inaugural PBA Women's World Championship at Thunderbowl Lanes in suburban Detroit. Kulick's historic victory aired Oct. 25 on ESPN as part of the first of seven PBA World Series of Bowling telecasts.
Kulick, the only woman ever to earn an exemption to bowl full-time on the Lumber Liquidators PBA Tour, defeated Shannon Pluhowsky of Phoenix, 219-204, to win the newly-created major championship for women bowlers. In addition to her berth in the PBA Tournament of Champions Jan. 19-24 at Red Rock Lanes in Las Vegas, she earned $15,000 and a spot in the end-of-season PBA Women's Showdown presented by BOWL.COM.
Kulick bowled a clean game including a string of three strikes in the late frames to build a 35-pin lead in the eighth frame. Pluhowsky closed with four strikes in a row, but it wasn't enough to overcome an 8-10 split in her third frame.
"It's a long overdue win," Kulick said. "I've been knocking on the door for awhile. I came close in the (United States Bowling Congress) Queens earlier in the year.
"Last year I wasn't exempt for the PBA Women's Series and that really gave me things to think about. I was kinda depressed at first and then I really refocused," she added. "I asked myself if I belonged out here, but I went back to my routines – worked out, exercised, practiced a lot – and ever since the Queens, things have gotten better and better.
"Getting a chance to bowl in the Tournament of Champions is the icing on the cake. You blow out the candle and your wish comes true. But my focus was on winning the title," Kulick said. "Now I not only get to go to Las Vegas, but I get to bowl with the guys, which I've enjoyed doing in the past.
"My only failure on the men's tour (during the 2006-07 season) was that I hit the pocket as often as they did, but I didn't knock down as many pins because I don't have as high of a rev rate. That said, if you want to be the best, you have to bowl against the best players, so the only way I'm going to get better is to bowl against them. I'll enjoy the experience in the Tournament of Champions and we'll see what happens."
Go Back or Close Window

(To execute a 'BACK' command after clicking on a photo to enlarge, right-click on a white area on the screen that follows, and then select 'Back' from the menu that will appear)
If you like this article, give us a quick click on the 'Google +1', 'Facebook Like', and/or 'Twitter Follow' below