North American Bowling News
---
Jurek Ends Record 14-Year Title Quest in PBA Shark Championship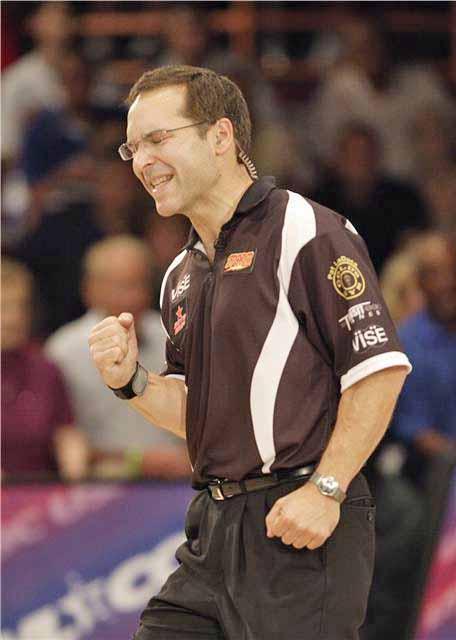 Photo courtesy PBA LLC
ALLEN PARK, Mich. (Dec. 6, 2009) – Jack Jurek of Lackawanna, N.Y., ended a Professional Bowlers Association record 14-year void between titles when he defeated Mike Fagan of Patchogue, N.Y., in a one-ball, sudden-death roll-off to win the PBA Shark Championship at Thunderbowl Lanes.
Jurek, at age 46, ended his 14-year, 175-day quest for his second Lumber Liquidators PBA Tour title when he struck in the roll-off after he and Fagan had tied at 218-218, and then watched Fagan miss the headpin. It was a heart-stopping finish after an equally tense final frame that saw Jurek falter when victory was an eyelash away.
A pair of doubles early in the game gave Jurek an edge, but he let Fagan back into the match when he left the "Big Four" 4-6-7-10 split in the sixth frame. Jurek jumped back into command with strikes in the eighth and ninth frames, and on his first ball in the 10th. Needing only a nine-count/spare to lock up the title, Jurek left the 3-6-10. He got the spare, and held his breath.
Fagan, with a strike in the ninth, needed three more in the 10th to win by a pin. He got the first two, but left a 10 pin on his last shot to send the match into overtime.
"I got the first strike and gave myself a chance," Jurek said, "but then the chills that went up my spine were indescribable. That was almost 15 years of waiting for the opportunity, and it was a little too much for me to handle at the moment. I thought about taking a re-rack, but I didn't want to give myself too much time to think about what I was going to do.
"But it was overwhelming. I took a deep breath and thought I had myself under control. But three pins? I thought it was another opportunity I let slip away," he confessed. "I was fortunate (Mike) left a pin on his third shot."
Jurek had the right to bowl first in the roll-off, so he took a calculated risk.
"The last four shots (Fagan) threw on the left lane, he struck," Jurek said. "The right lane was a little trickier. I was just kind of banking on the fact that I could throw the first strike and he'd leave something, and it worked out."
It was not the result Jurek had grown to expect in his career. In 10 previous television appearances, he had averaged a respectable 223.8, but he had a 3-9 won-lost record because his opponents were averaging nearly 250 against him. In the Shark Championship, it was Jurek's turn, racing to a 255-213 victory over reigning PBA Player of the Year Wes Malott of Pflugerville, Texas, to advance to the championship match.
"It was nice to finally not have 250 shot at me," Jurek grinned. "The odds were in my favor."
Jurek knew it had been a long time since his only previous title in the 1995 Tums Classic in Windsor Locks, Conn., but "I didn't keep track. I knew it was a long time. I knew I could go to my grave with my name on a banner for winning at least one title, but as the years went on, it was important to me to feel like I belonged out here and could win again.
"I may not have had the career I dreamed of when I was a kid, but bowling on tour is everything I still want to do. I'm sorry I'm getting older because I realize my time is getting shorter. Maybe I'm like wine, getting better as I get older."
Jurek's record span between titles broke the previous record of 14 years, 6 days held by Les Zikes.
Along with his victory, Jurek earned $25,000, an exemption for the 2010-11 Lumber Liquidators PBA Tour season, a berth in the 2010 PBA Tournament of Champions and a spot in the end-of-season PBA Experience Showdown presented by BOWL.COM.
Fagan, who was trying for his first PBA Tour singles title, defeated Jason Couch of Clermont, Fla., 224-201, to earn his spot in the championship match.
Go Back or Close Window

(To execute a 'BACK' command after clicking on a photo to enlarge, right-click on a white area on the screen that follows, and then select 'Back' from the menu that will appear)
If you like this article, give us a quick click on the 'Google +1', 'Facebook Like', and/or 'Twitter Follow' below