North American Bowling News
---
Jimmy Burns Climaxes a Brilliant Weekend at Southside Bowl in Pop Whitten Tour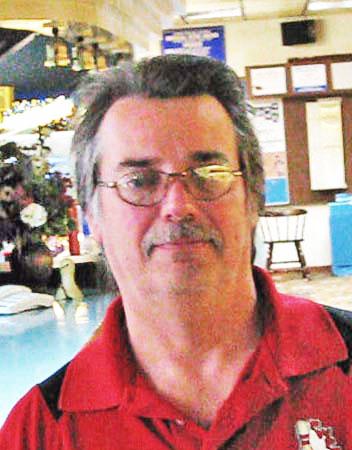 Smithsburg Maryland's, Jimmy Burns
Smithsburg, Maryland's, Jimmy Burns, proved once again why he's the duckpin game's best finesse bowler, as he captured his second Pop Whitten tournament title of 2009, back in October, and his 3rd overall PWPT/Virginia Tour event. Sacrificing speed for the ultimate control of a duckpin ball, Burns rolled a masterful game from the top seed position to overtake the hard-charging, Gary McKinsey, in a high-scoring championship game at Hagerstown's Southside Bowl.
In a field of 107 entrants, Hagerstown, Maryland's Bernie Hipkins lapped the field during Saturday's 6-game qualifier with a blistering 979 total. The hottest woman on the PWPT, Stacey Gaegler, landed in a tie for 2nd place with former world-record game holder, Randy Farlow--both shooting impressive block totals of 921.
The Sunday semi-finals included a stirring series of head-to-head matches, in which the level of competitiveness carried over into the five stepladder contests. In the first ladder match, grisled veterans, Tommy Weaver of Burke, Virginia and Baltimore, Maryland's Scoop Goodman went at it. In a tight battle, Scoop ousted Tommy, 159-150. Goodman advanced to face the number 4 seed, Eric Thibault. Eric is fresh out of the youth leagues for the 2009-2010 season, but in the match against his more experienced opponent, Thibault performed with extreme poise, and out-dueled Goodman, 153-140. Next up for Thibault was another of Baltimore's best bowlers, Mark Berends. Berends, still primed from his Masters victory in the Pop Whitten tour from three months prior, looked to put an early end to the advancing Thibault's ascent on the ladder. But Eric was riding a steady wave, and came through with a 135-125 victory over Mark. The next game would prove to be the youngster's big test, since with a win he'd move on to the championship game against top-seeded Burns. But the more than formidable second seed, Martinsburg, West Virginia's Gary McKinsey had his own agenda. In the most closely contested game of the day, each combatant was impressive, posting key marks at crucial times, and yet, each bowler had his own chances to distance himself from the other, but a few miscues from each player made the match a real nail-biter. After 10 frames, McKinsey posted an ample 145 effort, but still was in the position of being at Thibault's mercy in the climactic 10th frame. Needing a mark with a decent count to overtake Gary, Eric proceeded in his half of the 10th. Thibault clobbered the 1-3 pocket with an emphatic pitch, but a left a solid 10-pin with several messenger pins that failed to topple the surviving single. In the most pressure-packed ball of the stepladder finals, Eric took his time and nailed the 10-pin for a spare. But ecstacy would soon turn to agony. Needing 5 pins to win the match, Thibault's count ball was off the mark, as he could only muster 3 pins to come up a pin short with a 144 game to McKinsey's 145.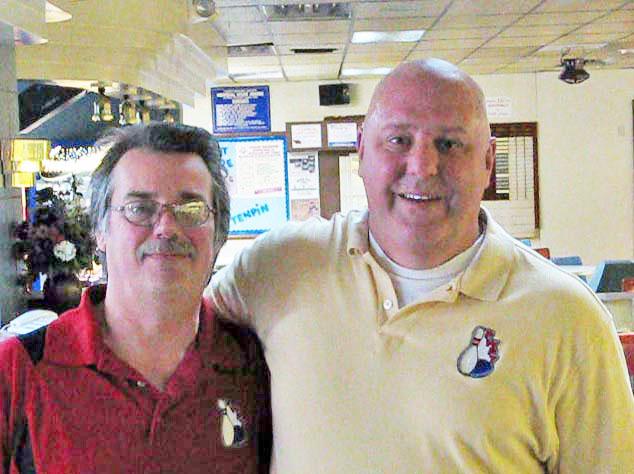 Finalists Jimmy Burns and Gary McKinsey
With lady luck on Gary's shoulders, McKinsey now had momentum going into the final, in which he would face his fellow league mate from the Hagerstown, Thursday Night Commercial "A" League, Jimmy Burns. It seemed only fitting that Burns and McKinsey would face one another in the final, since they both were 5-0 in match play, with the highest 2 pinfall totals-Gary shot 797 for his 5 games, while Jimmy topped everyone with an 811 total. The championship started off in fast and furious fashion, with both bowlers opening impressively with a barrage of marks in the first half of the game. After 5 frames, even though Gary had chalked up a dominating score, Jimmy matched and even surpassed McKinsey's start, and had a lead of a little more than 10 pins at the halfway point. In the 2nd half of the match, the two bowlers slowed down a bit, with Burns increasing his edge further into the match. By the final box, McKinsey needed a double-header to force Burns to mark in the 10th. Gary made a valiant effort, but couldn't get the first strike, and after the smoke had cleared, Jimmy Burns had eclipsed Gary McKinsey, 163-141 to take home the title.
Go Back or Close Window

(To execute a 'BACK' command after clicking on a photo to enlarge, right-click on a white area on the screen that follows, and then select 'Back' from the menu that will appear)
If you like this article, give us a quick click on the 'Google +1', 'Facebook Like', and/or 'Twitter Follow' below