North American Bowling News
---
Williams Wins PBA Motor City Open for Record 46th Career Title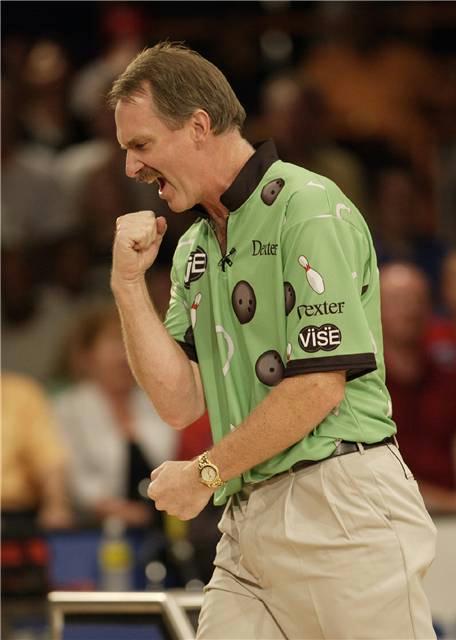 Walter Ray Williams Reacts to key strike (Photo courtesy PBA LLC)
PBA's all-time titles leader extends victory streak to 17 consecutive seasons
ALLEN PARK, Mich. (Nov. 1, 2009) - Walter Ray Williams Jr. has already ventured into territory no bowler in history has seen, but when he rallied to defeat Chris Barnes, 238-230, and win the Professional Bowlers Association's Motor City Open at Thunderbowl Lanes, he broke new ground even for himself.
Williams, who turned 50 on Oct. 6, won a record 46th title in a PBA Tour career that began in 1983, and he extended his PBA record for winning at least one title to 17 consecutive seasons. The Ocala, Fla., resident, who is now eligible to bowl on the PBA Senior Tour as well as the so-called "Junior Tour," threw seven strikes and converted four single-pin spares in the Motor City Open finals that aired Sunday on ESPN. But his nearly flawless performance almost wasn't enough.
Barnes, with strikes on seven of his first eight shots, left the 3-6-9-10 in the ninth frame and failed to convert the spare, giving Williams the lead for the first time in the title match. Then, needing a double and eight pins in the 10th frame to overtake Williams, Barnes left a 7 pin on his first shot.
"I left a lot of nine counts," Williams said. "In the first frame, I threw a great shot and left a ringing 10 pin. The one I left in the third frame (a 6 pin), I pinched the shot a little left, but I'll throw the ball the same way every time after leaving ringing 10s. Sometimes you'll strike, sometimes not. Fortunately today I didn't get too many taps."
The title match was a strike-fest compared to the earlier matches, when conditions were challenging. Bill O'Neill of Southampton, Pa., needed a late strike surge to escape Tommy Jones of Simpsonville, S.C., 201-169, in the opening match.
O'Neill then got lined up and blew past Pete Weber of St. Ann, Mo., 257-224. But as the lane conditions changed, the transition caught up to O'Neill in the semifinal match, when Barnes out-lasted him, 183-169, to set up a title match between the top two qualifiers in the event.
Barnes made a critical adjustment to find the pocket in the championship contest, but Williams had an even better answer.
"At one time in my career, I was 0-9 on TV," Williams said, "but things turned around. For a long time, I couldn't do anything right. Since things turned around, TV has been going good for me."
Even as he approaches his debut on the PBA Senior Tour at the end of the 2009-10 Lumber Liquidators PBA Tour season, Williams isn't showing any signs of slowing down.
"As long as I feel good and stay competitive, I'll keep on bowling," he said. "I don't want to be out here if I'm not competitive; I'd be too frustrated. When I can't compete, when it isn't fun, I'll retire. I have no issue with that. But I feel like I'm still doing pretty well."
He also has set no goals or aspirations for whatever happens before he retires his bowling shoes.
"I keep saying one more (title), and now it's 46," he laughed. "Winning a tournament is the best thing in the world, but you never know when it's going to be the last one."
Go Back or Close Window

(To execute a 'BACK' command after clicking on a photo to enlarge, right-click on a white area on the screen that follows, and then select 'Back' from the menu that will appear)
If you like this article, give us a quick click on the 'Google +1', 'Facebook Like', and/or 'Twitter Follow' below