North American Bowling News
---
Up Close and Personal with Pete Weber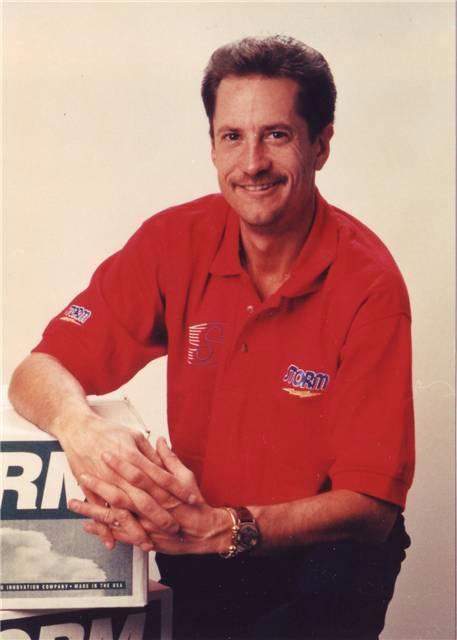 PBA Hall of Famer Pete Weber
NABN: Have you ever bowled any of the other bowling games (duckpin, candlepin, fivepin, skittles, bocce, lawn bowling)? And, which do you like or dislike?
Pete: Duckpin and Candlepin. I like them both equally.
NABN: What are your hobbies?
Pete: Golf, darts, grilling (BBQ).
NABN: What sports teams do you like?
Pete: St. Louis Cardinals, Chicago Bears, huge WWE fan
NABN: When did you first get into WWF/WWE stuff?
Pete: I've been watching wrestling since I was about 10 years old.
NABN: How long did you bowl in 'Regionals', if any?
Pete: Since 1977 to present. And still winning, 43 to be exact, which is a PBA record for regional titles won.
NABN: Did you ever win any doubles events with your father?
Pete: No, but I did win a Regional Doubles title with my brother, John.
NABN: Just a little family background--what are your wife and kids' names? And what do you all like to do on family outings?
Pete: My wife's name is Tracy. Children are: Nicole, AshleyMarie, Troy. Grandchildren: Twins - Savannah & Kali. During the summer when we're home, we like to do barbeques and play ping pong in the backyard.
NABN: What is your preferred oil pattern these days (cheetah, viper, etc.)?
Pete: Shark
NABN: What is your most cherished, or proudest, tournament win or bowling accomplishment?
Pete: The 1st title is always special, plus the 1987 Tournament of Champions, and my 4th U.S. Open title.
NABN: Is there anything in particular more difficult now than it used to be, whether it be due to personal factors, such as age--or equipment issues, such as ball use, or lane dressing?
Pete: Getting loose is more difficult, due to the age factor.
NABN: How have things changed on the tour between the 80s, 90s, and present?
Pete: Lane conditions have changed dramatically because the bowling balls have had an effect on that. Adjustments on the lanes are not what they used to be.
NABN: How many balls do you usually take with you to a tour? (If more than 8, do you have a larger vehicle, or do you just store them in the trunk of a car?
Pete: I take between 12-20 bowling balls from tour stop to stop. I use the PBA ball services truck to transport my equipment.
NABN: Would you say your mental game is the strongest part of your game, or the physical ability, or the ability to make adjustments rapidly, or anything in particular?
Pete: The strongest part of my game is my physical ability and my ability to make adjustments. Also, I think I have one of the best spare games on tour.
NABN: Tips-if a person is struggling with their confidence, what would be a good tip to follow, such as concentrating longer, or not as long, or focusing on executing mechanics, or not being afraid to make a change to get out of a rut and provide themselves with a challenge?
Pete: Always go back to basics and the fundamentals of the game. Don't over-think. If that doesn't work, go see your local coach.
NABN: Who was the toughest bowler to bowl against, for one reason or another, whether it be that this person just happened to bowl excessively well whenever you bowled him, or the guy who'd always seem to perform better than others in clutch situations?
Pete: Walter Ray Williams Jr. - I just can't seem to beat the guy on TV.
NABN: Who did you seem to bowl your best against, for whatever the reason?
Pete: Tommy Jones, Jason Couch, Norm Duke.
NABN: Did you travel with Dick during Dick's touring days?
Pete: Sometimes, but not that much. When I was young, I stayed home with my mother and three brothers and sisters. AMF was very good to the Weber family, and the company did take the whole family to Japan and to some other events. When I was old enough to go on tour myself, my father and I did travel together to some events. He was always my biggest fan.
NABN: How long did you bowl on the tour before you won your first event?
Pete: 2 years.
NABN: Is there any particular format, or part of the tournament format, that you prefer--42-game qualifier, best-of-seven match play, etc.?
Pete: I like longer formats with Round Robin Match play.
NABN: How many weeks do you currently devote to the pro tour, and do you bowl every event, and how many weeks does it entail?
Pete: I try to bowl every event, which usually amounts to at least 20 weeks a year.
NABN: What injuries, if any, have you had to endure over your career, and if they were bowling injuries, how did they occur?
Pete: I had some wrist problems in the mid-80s, which I fixed by relaxing my grip. I also had a fractured shoulder in 2005 due to wrestling with my son, Troy. We don't wrestle any more.
Go Back or Close Window

(To execute a 'BACK' command after clicking on a photo to enlarge, right-click on a white area on the screen that follows, and then select 'Back' from the menu that will appear)
If you like this article, give us a quick click on the 'Google +1', 'Facebook Like', and/or 'Twitter Follow' below