North American Bowling News
---
After 81 Events, O'Neill Wins First Title in Chameleon Championship; Pluhowsky Tops Dorin-Ballard to Capture her Second PBA Women's Series Title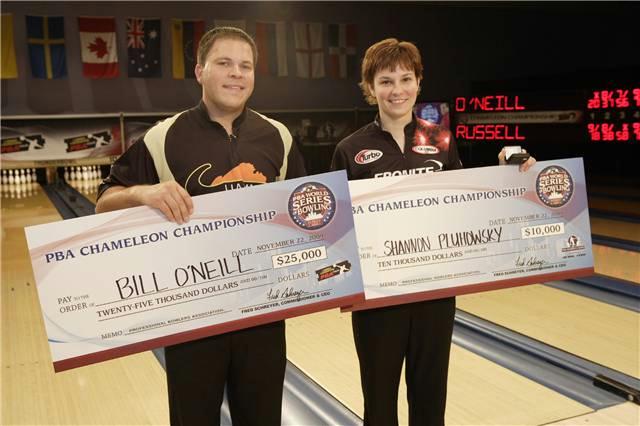 Bill O'Neill and Shannon Pluhowsky (Photo courtesy PBA LLC)
ALLEN PARK, Mich. (Nov. 22, 2009) - After four years and 81 tournaments, Bill O'Neill of Southampton, Pa., shed his "can't miss" label and defeated Ronnie Russell of Indianapolis, 205-192, to win his first Lumber Liquidators PBA Tour title in the PBA Chameleon Championship at Thunderbowl Lanes.
As part of the Chameleon Championships telecast Sunday on ESPN, Shannon Pluhowsky of Phoenix won the Women's Chameleon title, racing past Carolyn Dorin-Ballard of Keller, Texas, 268-204.
O'Neill, the PBA's 2005-06 Rookie of the Year following four years as a Collegiate All-American at Saginaw Valley State University, finally had a little luck on his side after a series of heart-breaking losses on television.
"I'm just really happy to get my name off the list of people who have never won," O'Neill beamed. It was a low-scoring title match with neither player able to put together a string of strikes until Russell had three in a row in his 9th and 10th frames, which O'Neill answered with a turkey of his own in the 10th to clinch the victory. The difference was that Russell failed to convert the 4-7 in the 5th frame and then missed a 10 pin in the 8th frame.
"I didn't think there were any easy spares today," O'Neill said. "Nothing was easy. The lanes were so dry, the way you shoot spares had to change a little bit. I'm fortunate Ronnie missed the two spares he did. If he hadn't, he beats me. "I'm not sure how many people could have beaten a 205 on those conditions," he continued. "I only missed the pocket twice. The way I played the lanes, 220 was probably the best I could have hoped for because I knew my carry was going to suffer. But I knew I had to avoid getting six counts. It worked out.
"Sometimes you need a little luck. A lot of guys who have won their first titles did so sitting on the bench. I'm glad to be part of that group." Despite getting some help from Russell, the match wasn't secured until O'Neill threw a decisive strike on his first shot in the final frame.
"When I got up in 10th frame, a kind of calm came over me," he said. "I knew I was going to throw it good and when the ball came off my hand, it was one of the best shots I've ever thrown. It was a great shot and it came at a perfect time. I really wanted Ronnie to strike out. You don't win your first title easily. I wanted to have to make a shot to win."
In addition to his title, O'Neill earned $25,000, his first trip to the PBA Tournament of Champions in Las Vegas in January, and a spot in the end-of-season PBA Experience Showdown presented by BOWL.COM at the United States Bowling Congress' International Training Center in Arlington, Texas. With a berth in the upcoming PBA World Championship finals also secured, O'Neill said he will be more than ready for the live ESPN telecast on Sunday, Dec. 13, at Northrock Lanes in Wichita, Kansas. "I'm definitely going after Player of the Year," he said.
O'Neill earned his berth in the Chameleon Championship match by defeating PBA Hall of Famer Amleto Monacelli of Venezuela, 170-142, in a split-filled semifinal round contest complicated by an elbow injury Monacelli had suffered earlier in the World Series of Bowling. In the other semifinal match, Russell survived four unconverted splits against Sean Rash of Wichita, Kan., putting together a string of four strikes to eke out a 172-170 victory.
Pluhowsky, who suffered a title-match loss to Kelly Kulick of Union, N.J., in the PBA Women's World Championship earlier in the PBA World Series of Bowling, showed Dorin-Ballard no mercy in collecting her second career PBA Women's Series presented by BOWL.COM title. Pluhowsky struck on nine of her first 10 shots, with only a 7 pin in the fifth frame spoiling a bid for a 300 game heading into the final frame. Dorin-Ballard, a United States Bowling Congress Hall of Famer who was trying for her third PBA Women's Series title, never got lined up.
"It was a great rebound from the Women's World Championship," Pluhowsky said. "In that one, I couldn't strike. Today I did. "It's definitely nice to have a win," she added. "It's stressful when you're bowling in the U.S. Women's Open on all of those (five) different lane conditioning patterns, and you're trying to win but you're also trying to qualify for the exempt tour. You can't focus more on one than the other, so you hope to bowl good so you're a lock for both. Even then, it's tough. So getting a title and not having to worry about an exemption for next year is nice." With her victory, Pluhowsky earned $10,000 and a berth in the PBA Women's Series Showdown presented by BOWL.COM scheduled for April 6-8 at the USBC International Training Center in Texas.
Go Back or Close Window

(To execute a 'BACK' command after clicking on a photo to enlarge, right-click on a white area on the screen that follows, and then select 'Back' from the menu that will appear)
If you like this article, give us a quick click on the 'Google +1', 'Facebook Like', and/or 'Twitter Follow' below