North American Bowling News
---
Hall of Fame Bound Cabral Triumphs at Westview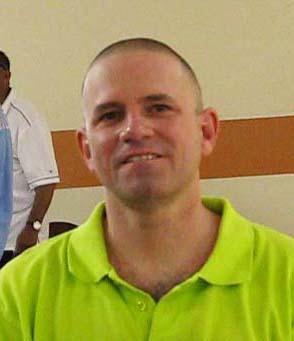 4-Time DPBA Champ, Dennis Cabral
West Warwick, Rhode Island's Dennis Cabral realized his potential at AMF Westview as he captured his 4th star, making him automatically eligible for induction into the Duckpin Professional Bowlers Association (DPBA) Hall of Fame.
Cabral has always been a top performer, but his pro tour wins only began a couple of years prior, when he won his first star at the DPBA Masters event at Westview. Since then, Dennis has been on a tear. Prior to the tour wins, he's a 2-time champion of the prestigious Eastern Classic.
His berth on the ladder at the DPBA September 2009 tour stop at Baltimore, Maryland's AMF Westview came as the result of a lot of work in the head-to-head match play semi-finals. In an exciting climax, which is a story within itself, Dennis ousted Baltimore's Larry Lipka by 7 pins to win his division, with a 3-2 record and 741 pinfall. Cabral was 3-1 going into the final game of match play, as was Sal Nasisi. Because Dennis had a significant edge in pinfall over Nasisi, he needed a win with a decent score to maintain his pinfall lead, in the event that Nasisi won his match. Nasisi bowled Hagerstown's Darrell Walters, while Cabral faced Connecticut's Luke Robustelli. Both Walters and Robustelli weren't about to give in, even though their hopes for winning the division were null. Walters and Nasisi both marked abundantly in their climactic match in the first 5 frames, but Walters broke the game open with a triple-header in the 2nd half to coast to victory. However, Cabral had his problems as well, as Robustelli ended his block with a 180 game, and Cabral's situation was now in question. Larry Lipka was 2-2, but only 7 pins behind Dennis in pinfall, so a win by Lipka would now even their won/lost record. Larry took the bull by the horns as he mounted an impressive start to his game against Mel Richburg. With Lipka charging now, even in imminent defeat against the hot Robustelli, Cabral's job was to accumulate as much pinfall as possible in the latter stages of his fifth and final division game. Dennis rose to the task, marking heavily in his last 3 frames for a 160 score. Seeing Cabral's final result on the adjacent pair of lanes, Lipka who was now in his 7th frame, needed 4 marks in his last 4 frames to achieve his task. Larry threw 2 strong marks in the 7th and 8th frames, but left the 7-8 split in the 9th. Lipka made a valiant effort at sliding the spare, but was unsuccessful. Larry now needed a double-header in the 10th. He threw a worthy ball, but left a single pin, thus enabling Cabral to take Division A.
Cabral advanced to the stepladder finals as the 4th seed. He waited for the winner of the first match, Todd Turcotte vs. Billy Fritts. Fritts rolled a masterful 179 game to move on to the match with Cabral. The game ensued with both players starting out well. Cabral got an edge, and was able to fend off Billy in the end with a 159-141 victory.
Dennis next faced the burly speedballer, Jim Miller. Cabral was up to the task again, and won with a 147-134 effort. Then Dennis went up against 2nd seeded Baltimorean, Todd Williams. Williams got the early jump with 3 strong marks at the outset, but Cabral was unphased, and dug in. By the latter stages, Dennis had gained the lead and finished mightily for a 160-146 triumph.
Top seed, Cecil Saroopchand was waiting in the wings, after a superb 5-0 record in match play, and top pinfall. The match looked to be an extremely interesting and competitive contest. The match began, with both bowlers falling on hard times early, and struggling throughout the course of the game. Tied after 8 frames, Saroopchand rolled his 9th frame, but could only call up a '10' frame. With a chance to take a commanding lead, Cabral summoned his "A" game once again, striking in the 9th. He then left then 2-4 spare break in the 10th, and converted it convincingly. Cabral applied a 9 count, forcing Cecil to double in the 10th box to claim his 2nd DPBA title. Saroopchand went forward, catching the 1-2 pocket, but left a 6 pin single, giving Cabral the win. With the victory, Dennis captured his 4th Duckpin Professional Bowlers Association championship, thus enabling him for a well-deserved automatic induction into the DPBA Hall of Fame.
Go Back or Close Window

(To execute a 'BACK' command after clicking on a photo to enlarge, right-click on a white area on the screen that follows, and then select 'Back' from the menu that will appear)
If you like this article, give us a quick click on the 'Google +1', 'Facebook Like', and/or 'Twitter Follow' below