North American Bowling News
---
Florida's Greg Young Wins $64,000 Scholarship in Teen Masters Grand Championship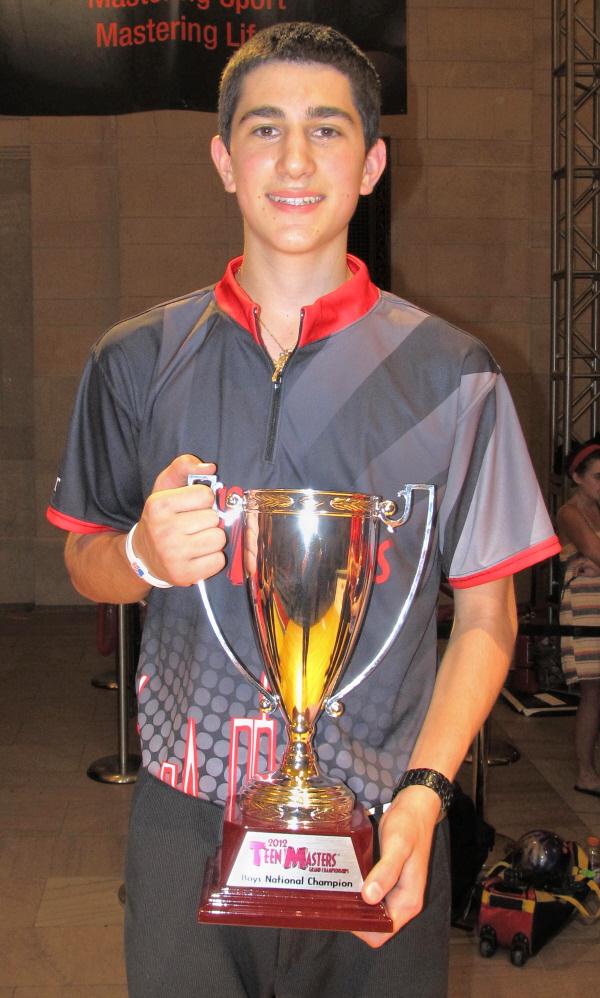 Teen Masters Champion, Greg Young (Photo courtesy PBA LLC)
NEW YORK, N.Y. (Aug. 8, 2012) – Sixteen-year-old Greg Young of Viera, Fla., swept 15-year-old Ashley Dunn of Palmdale, Calif., 216-155 and 214-158, in the best-of-three-game title match of the Teen Masters Grand Championship Wednesday night, August 8th, to win a $64,000 scholarship package, the richest scholarship prize in youth bowling. The tournament finals were conducted on a special one-lane installation in Vanderbilt Hall, inside New York City's Grand Central Terminal, capping two days of match play competition for four high school-age girls and four boys who had qualified in July in Wickliffe, Ohio.
Young, who will graduate from Viera High School in 2014, won the high school boys' division earlier Wednesday for the right to bowl Dunn, the high school girls' division winner, in the "boy meets girl" grand championship match.
"The feeling is unreal," Young said. "I'm looking at the $64,000 check and seeing my future in college. I'm not sure what it will be, but I have a couple of years to decide." While Dunn struggled to find the pocket in the first game, Young got locked in and finished with four strikes for a 216-155 victory. In the second game, Dunn failed to convert two 4-6-7 splits and didn't throw a strike until her final ball in the 10th frame, while Young followed an unconverted 4-10 split in the third frame with a string of four strikes to build an insurmountable lead.
"I was ecstatic to have a chance to pick the long (lane conditioning) pattern," Young said. "Ashley's great on the short pattern; she would have crushed me."
The Teen Masters is noted for its challenging lane conditions, requiring the youth bowlers to compete for part of the tournament on a long oil lane condition and part of the event on a shorter oiling pattern. Young won a coin toss for the right to choose which lane condition would be used for the grand championship match. To place further emphasis on skill over equipment technology, all players were limited to the same two Ebonite bowling ball models throughout the tournament.
Young won the boys' division of the finals over Aaron Yuratovich, 16, of Olathe, Kan. Yuratovich won a $4,000 scholarship Kamron Doyle, 14, of Brentwood, Tenn., finished third for a $2,000 scholarship and Jacob Ettinger, 18, of Lafayette, Colo., was fourth for a $1,000 scholarship.
Dunn, who won an $8,000 scholarship, topped Haley Rubin, 18, of Brandon, S.D., for the girls division title. Rubin won $4,000 in scholarship money. Jessica Davies, 17, of Cape Coral, Fla., was third for a $2,000 scholarship and Melanie Hannon, 16, of Cheektowaga, N.Y., was fourth for a $1,000 scholarship.
Go Back or Close Window

(To execute a 'BACK' command after clicking on a photo to enlarge, right-click on a white area on the screen that follows, and then select 'Back' from the menu that will appear)
If you like this article, give us a quick click on the 'Google +1', 'Facebook Like', and/or 'Twitter Follow' below