North American Bowling News
---
14-Year Old Russian Sensation Pushes England's Stuart Williams to the Limit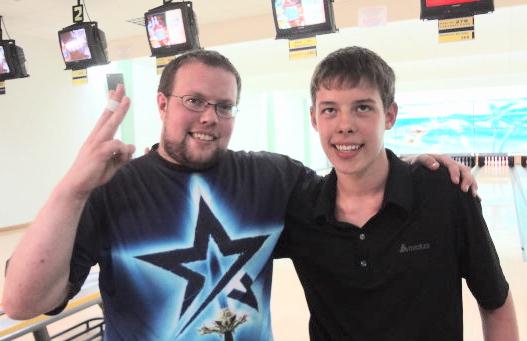 Stuart Williams and Konstantin Matvienko (Photo and details, courtesy 'TalkTenpin.com')
PBA International Star, Stuart Williams, who won his first PBA Tour title in the 2011 Bayer Viper Open during the PBA World Series of Bowling III, won his third Cockatoos Paphos Open title in Cyprus on June 24, defeating 14-year-old Russian sensation Konstantin Matvienko for the title.
In the multi-round event, the steadily improving Matvienko opened his 5-game pinfall qualifying block averaging a healthy 222. As the preliminaries moved along, England's Williams found his stride, tossing 22 strikes in a row at one point, which included back-to-back games of 300 and 288.
As the tourney advanced to the match play rounds, each of the two eventual finalists survived scares but endured to continue through the event. Williams edged Greek international player, Yiannis Stathatos 458-446 in a nail-biter, while Matvienko triumphed in a series of close encounters. The young Russian nipped Nakis Periklious, 471-470, then overcame a 40-pin deficit to defeat Costas Kyriakou, 439-427, and in the semi-final against Paul Mohr, Konstantin finished in grand style with a 277 (491-436) to move into the final.
Meanwhile, despite Matvienko's strong finish, the experienced Stu Williams was the favorite to claim the Cockatoos championship, as he was impressive in a comfortable win over Juho Makela, with games of 234 and 241 to Juho's 158 and 170, leading to a William's victory, 475-328, ultimately landing him the top seeding.
While Williams was in prime form in his bid for his 3rd Cockatoos title, all eyes were on the Russian youngster. The fourteen year old had impressed many during the week, and that included Williams, who said "He has a cool head for such a young player".
The 2-game final could have been over very quickly as Williams raced to a big lead hitting the first 10 strikes and ended with a 278 in the opening game. But Matvienko hung tough, hitting a solid 220 effort. And with 16 bonus pins added to the overall score for the junior, that lead was not as big as it looked and Williams needed to be careful in the second game.
In the concluding game of the contest, an early 7-10 split in Game 2 stirred some concern for Williams, but he rebounded, and rounded out the game with 247 over Konstantin's 193 and the Englander won his third Cockatoos title 525-429.
Go Back or Close Window

(To execute a 'BACK' command after clicking on a photo to enlarge, right-click on a white area on the screen that follows, and then select 'Back' from the menu that will appear)
If you like this article, give us a quick click on the 'Google +1', 'Facebook Like', and/or 'Twitter Follow' below