North American Bowling News
---
Danielle McClay Snatches Victory and $3,000 Grand Prize in Hagerstown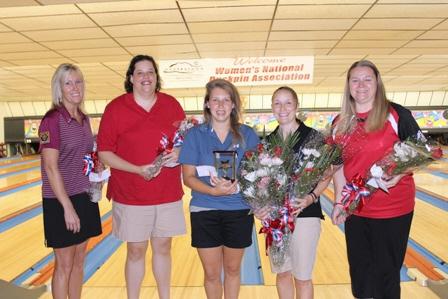 Left to right: Susan Phillips, Chasity Gray, Danielle McClay (champion), Amy Sykes, and Connie Ward (Photo courtesy WNDA)
2011 WNDA Rookie of the Year, Danielle McClay kicked off the 2012 season in a big way as she bagged the $3,000 first prize and her first WNDA ladies tour win at Dual Lanes in Hagerstown. The event was part of Frank Turner's World Classic promotion, staged at "the other Hagerstown house", and was going on at the same time the men were competing at Southside Bowl.
McClay's win was one of the most dramatic finishes ever witnessed on the women's tour, as the top-seed delivered at the end against the Connecticut steamroller, Amy Sykes.
"Dani" qualified 3rd with 1178 for her 8-game block behind Sykes' 1193 total, and Janet Sauter's 1194. The young McClay came out of the divisional match play round undefeated, but tied in one game to propel her to the top of the stepladder at 4½ wins, as she was the only contestant without a loss.
Sykes had a whopping 5-game total of 869, but 1 loss in the division situated her in the 2nd seed position.
In the stepladder finals, the wildcard, Chasity Gray defeated the #4 seed, Susan Phillips comfortably 149-108, but would fall to the #3 seed, Connie Ward 137-130. Ward then faced the red-hot Sykes, who was still on fire, and defeated Ward, 177-136. In the title match, the top seed McClay opted to bowl first and finish last, which would prove significant. As the contest came to its conclusion, Sykes had posted a 148 score, which put McClay on a double-header to win the title. Dani's decision to control her own destiny paid huge dividends, as she rose to the occasion and pitched a resounding double-header to snatch the victory, 154-148.
Go Back or Close Window

(To execute a 'BACK' command after clicking on a photo to enlarge, right-click on a white area on the screen that follows, and then select 'Back' from the menu that will appear)
If you like this article, give us a quick click on the 'Google +1', 'Facebook Like', and/or 'Twitter Follow' below