North American Bowling News
---
Lampman Victorious in All-Canadian Final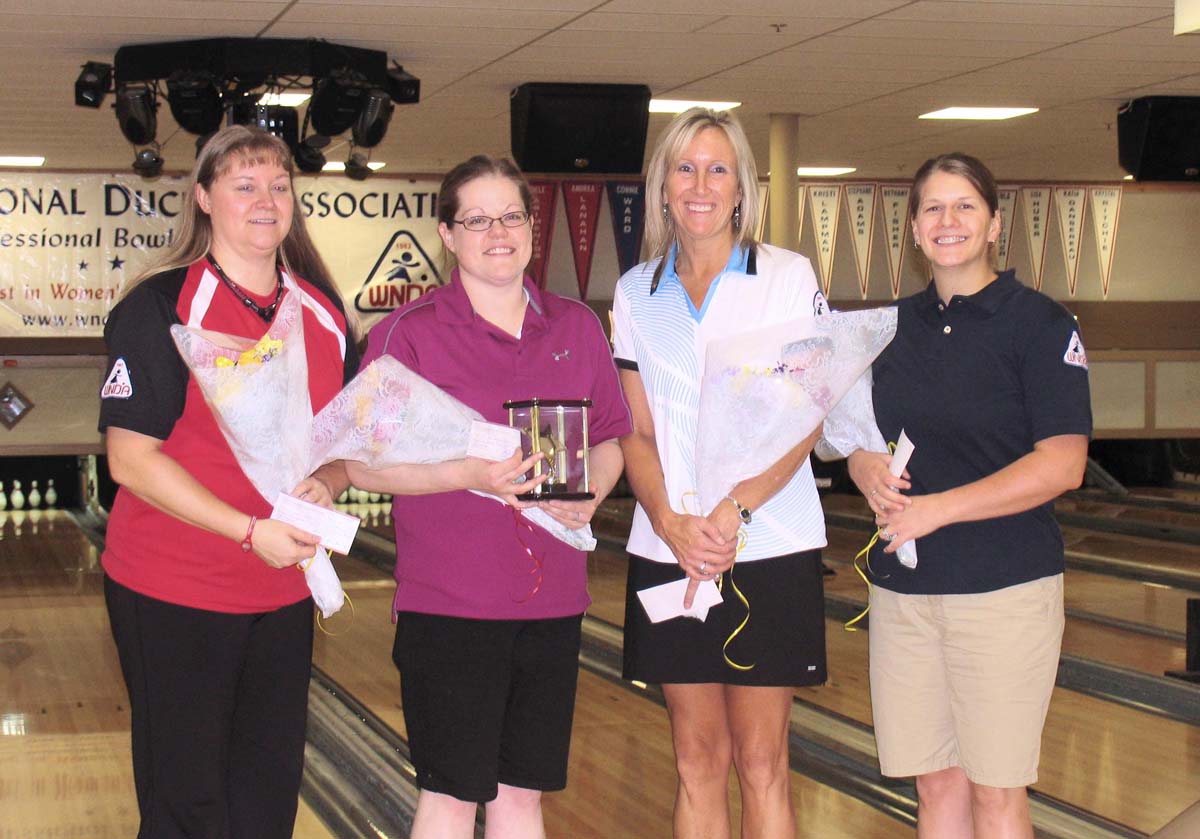 Left to right: Connie Ward, Kristi Lampman (champion), Susan Phillips, and Jennifer DiStefano (Photo courtesy WNDA)
Canada's Kristi Lampman added another duckpin bullet to her bowling career resume as she reigned supreme at Johnson's Lanes in Hamden, Connecticut on June 16, 2012. The top-seeded Lampman defeated fellow Canadian Connie Ward in the WNDA championship in a high scoring affair, 174-154.
Kristi qualified in the Saturday preliminaries without any trouble after rolling a superb 8-game block score of 1181. In the Sunday head-to-head competition, Lampman and Ward had the best won/lost records of all qualifiers, both at 4-1. There were 3 divisions, and only 3 pins separated the winner of each division—Lampman with 726, Jennifer DiStefano had 725, and Ward shot 723. Kristi's 726 effort in the divisional round was 2nd only to Paula Fletcher's 751 total, although Paula's won/lost record was only 2-3. Fletcher, by the way, was strong during the preliminaries as well, qualifying 5th at 1183.
The ladder action got underway with the wildcard, Susan Phillips defeating Jen DiStefano, 146-129. Connie Ward then stepped to the forefront to oust Phillips, 144-130 before falling to Kristi Lampman in the championship. The win was Kristi's 2nd during her short tenure on the Women's National Duckpin Association pro tour.
Go Back or Close Window

(To execute a 'BACK' command after clicking on a photo to enlarge, right-click on a white area on the screen that follows, and then select 'Back' from the menu that will appear)
If you like this article, give us a quick click on the 'Google +1', 'Facebook Like', and/or 'Twitter Follow' below