North American Bowling News
---
Fast Start Carries Team Storn to Victory in Geico Summer Shootout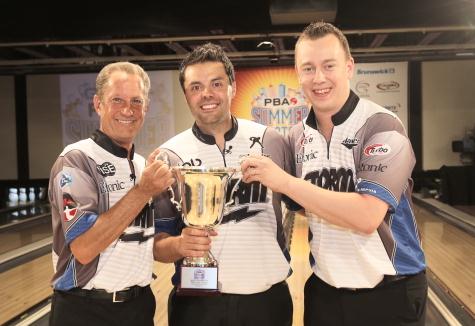 Team Storn: Pete Weber, Jason Belmonte, and Osku Palermaa (Photo courtesy PBA LLC)
CHICAGO (July 15, 2012) — After several rounds of grueling team competition, the Geico-sponsored Summer Shootout for 2012 came down to a "Baker Doubles" matchup between Storm's Pete Weber and Jason Belmonte vs. the Brunswick team of Chris Loschetter and Sean Rash. Weber and Belmonte started the championship match with six strikes and held on to edge Loschetter and Rash, 244-233, to win the Professional Bowlers Association Manufacturers Cup at 10pin Bowling Lounge.
Weber, Belmonte and teammate Osku Palermaa shared a $45,000 first prize.
Despite their perfect start in the title match, Weber and Belmonte couldn't break away from the Brunswick duo. Rash and Loschetter followed Rash's first-frame spare with their own string of five strikes to stay within 10 pins. After both teams converted single-pin spares in the seventh frame, Loschetter and Rash took the lead with back-to-back strikes while Weber and Belmonte posted back-to-back single-pin spares.
Weber, the reigning U.S. Open champion, threw a seven-count spare in the 10th frame, leaving the door open for Team Brunswick to lock up the title, but Loschetter left the 3-4-6-7 split on his first shot in the final frame and failed to convert the spare.
"As soon as I let it go, I knew it was bad," Weber said of his shot in the 10th frame. "The main thing I had to do was forget about it, concentrate on making the spare and then fill the frame with a strike. As I'm getting older, I'm getting better at putting bad shots behind me and not dwelling on them as much as I used to.
'I had to keep in the back of my mind that anything can happen, that it wasn't over," Weber added. "(Loschetter) threw a bad shot but it was a split he could have picked up. Sometimes you'd rather be lucky than good, and this was one of those days."
"The cruel but beautiful thing about being the top qualifier is that it can be a curse or a blessing because it's only one game that determines your fate," Belmonte said. "You don't have the benefit of experiencing competition on the TV pair. Our strategy throughout the tournament was to pick the lane that we felt comfortable with and stick with it, and that's what helped us match up our equipment with this surface."
After qualifying third for the finals, Rash and Loschetter defeated Track's Mika Koivuniemi and Mike Fagan, 256-235, and 900 Global's Missy Parkin and Brian Voss, 235-184, to advance to the championship match. Koivuniemi and Fagan eliminated Columbia 300's Dan MacLelland and Chris Barnes, 236-222, in the opening match after the Columbia 300 players won the Eliminator Doubles Shootout round to claim the fifth spot in the stepladder finals.
Go Back or Close Window

(To execute a 'BACK' command after clicking on a photo to enlarge, right-click on a white area on the screen that follows, and then select 'Back' from the menu that will appear)
If you like this article, give us a quick click on the 'Google +1', 'Facebook Like', and/or 'Twitter Follow' below