North American Bowling News
---
Mike Edwards Finds Success on Senior Tour, Wins PBA Senior Masters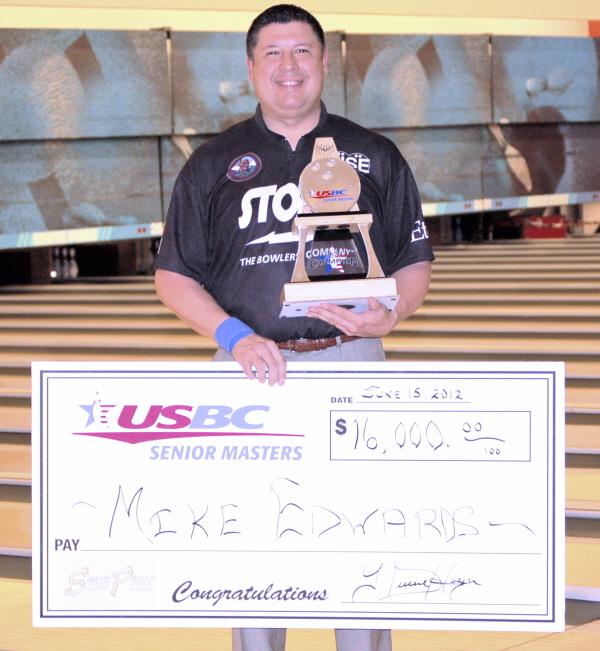 Photo courtesy PBA LLC
Mike Edwards' 701-691 victory over Hugh Miller to lock up his first PBA Senior Tour title—and first major—in the USBC Senior Masters on June 15 at South Point Bowling Center in Las Vegas threw both the PBA Senior Tour Player of the Year and Rookie of the Year races into a tizzy heading into the final three events of the 2012 season.
Edwards, who turned 50 in December, ran the table in the Senior Masters, posting a 7-0 record in the three-game, double-elimination match play event in becoming the first Native American to win a PBA Senior Tour title. The victory came a week after Edwards finished third in the Etonic PBA Senior U.S. Open in his debut as a senior player, and 18 years after winning his only PBA Tour title in the 1994 PBA IOF Bowling for Miracles Open in Toronto, Ontario.
The win also earned Edwards 24 points in the PBA Senior Player of the Year race. Combined with the eight points he earned for his third-place finish in the Senior U.S. Open, he now has 32 points and he's tied for No. 1 on that list with PBA Hall of Famer Walter Ray Williams Jr. and fellow Senior Tour "rookie" Amleto Monacelli, who mirrored Edwards' finishes in the season's two senior majors: Monacelli won the Senior U.S. Open and finished third in the Senior Masters for his 32 points.
Trailing Williams, Monacelli and Edwards in the POY points chase are rookies Bob Learn Jr. (18 points) and Lennie Boresch Jr. (16), PBA Hall of Famer Johnny Petraglia (16), and Ron Profitt and Hugh Miller (12 each). Petraglia is currently sidelined, recovering from shoulder surgery.
For the final three Senior Tour tournaments (Brentwood, Calif., June 17-20; Hammond, Ind., Aug. 6-9, and Decatur, Ill., Aug. 11-14), 16 Player of the Year points will be awarded to the winners, eight points for second place, four for third and two for fourth.
Senior Tour Rookie of the Year will be elected by PBA members and the bowling media. In addition to Edwards and Monacelli, Boresch and Learn are also first-year title winners.
Go Back or Close Window

(To execute a 'BACK' command after clicking on a photo to enlarge, right-click on a white area on the screen that follows, and then select 'Back' from the menu that will appear)
If you like this article, give us a quick click on the 'Google +1', 'Facebook Like', and/or 'Twitter Follow' below