North American Bowling News
---
Amleto Monacelli Wins PBA Senior U.S. Open to Become Tour's First International Champion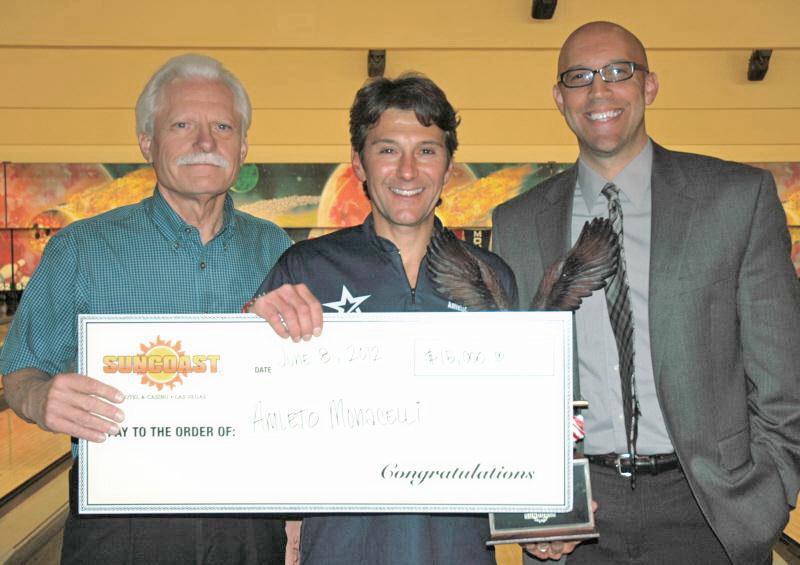 PBA Senior U.S. Open Champion, Amleto Monacelli (Photo courtesy PBA LLC)
LAS VEGAS (June 8, 2012) Professional Bowlers Association Hall of Famer Amleto Monacelli of Venezuela, won the 2012 Etonic PBA Senior U.S. Open Friday to become the first international player to win a PBA Senior Tour title.
The 50-year-old Monacelli defeated fellow Hall of Famer Walter Ray Williams Jr., 255-247, in the championship match at the Suncoast Bowling Center in his Senior U.S. Open debut and the third tournament of his Senior Tour rookie season.
"I wanted to win the U.S. Open so badly on the national tour so that it is why I'm so happy to win the Senior U.S. Open," said Monacelli, who had a national tour U.S. Open best finish of second in 1990. "It is so unbelievable to win against one of the greatest bowlers of all-time – I'm just very happy."
Monacelli, a 19-time winner on the PBA Tour, withstood a challenge from Williams who could have won with two strikes in the 10th frame of the title match. Williams struck on the first ball but left a 10-pin on the second shot.
"I was bowling well but had a couple bad shots in the last game," Monacelli said. "I threw a bad shot in the ninth frame and left the six pin and knew I gave a chance to Walter Ray. I was just lucky he didn't get that second strike in the 10th frame.
For Williams, the PBA Tour's all-time titles leader with 47 wins, it was a bittersweet result as he finished as runner-up for the second consecutive year. But Williams felt fortunate to be the top qualifier for the stepladder finals after nearly being eliminated from the tournament after the third qualifying round finishing in a tie for 45th just 35 pins above the cut.
"It's a strange game," said Williams, who was trying for his fourth career Senior Tour title, and second of the season. "I was able to hit the pocket but couldn't strike in qualifying. I was able to claw myself back but I would have bet you a lot of money that I wouldn't have made it to the finals."
In the semifinal match, Monacelli defeated PBA Tour veteran Mike Edwards of Tulsa, bowling in his Senior Tour debut, 235-225, to advance to the title match.
"I came here hoping to win but there are so many great bowlers on the Senior Tour," said Monacelli, who in 1997 was the first international player inducted into the PBA Hall of Fame and was recently inducted into the United States Bowling Congress Hall of Fame. "I'm very happy to be a pioneer for international players."
In the opening stepladder match, Edwards defeated Hall of Famer Wayne Webb of Columbus, Ohio, who was trying to become the Senior U.S. Open's first three-time winner, 268-244. Webb also finished fourth in the 2011 Senior U.S. Open.
.
Go Back or Close Window

(To execute a 'BACK' command after clicking on a photo to enlarge, right-click on a white area on the screen that follows, and then select 'Back' from the menu that will appear)
If you like this article, give us a quick click on the 'Google +1', 'Facebook Like', and/or 'Twitter Follow' below