North American Bowling News
---
Palermaa Wins Historic PBA International Title in Kuwait Open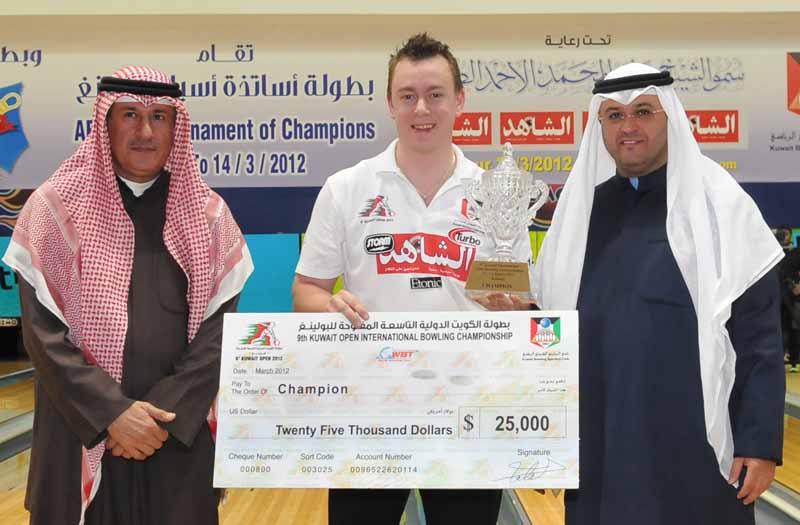 Breaking Ground: Osku Palermaa captures inaugural international WTBA-PBA alliance event (Photo courtesy PBA LLC)
KUWAIT CITY, Kuwait (March 19, 2012) - Finland's Osku Palermaa upset top qualifier Tom Smallwood of Saginaw, Mich., 267-232 and 268-226, in their best-of-three-game title match to win the 9th Kuwait International Open and the first Professional Bowlers Association Tour title awarded internationally under a new alliance between the PBA and the World Tenpin Bowling Association.
Along with his third career PBA Tour title, and second of the 2011-12 season, the Finnish two-handed star collected a $25,000 first prize.
The Kuwait International Open was the sixth event on the 2012 WTBA World Bowling Tour schedule, a series that will culminate with the top three men and top three women in points bowling in the WBT Finals presented by the PBA during the 2012 PBA World Series of Bowling in Las Vegas in November. But it was the first of seven WBT events that will also award PBA Tour titles during the balance of the 2012 season.
Palermaa, who became the first international player to win the PBA World Championship earlier in the season, qualified third for the Kuwait Open finals. After Ronnie Russell of Marion, Ind., defeated Martin Larsen of Sweden in the opening stepladder match, 250-226, Palermaa edged Russell, 234-230, and routed Hong Kong's Wu Siu Hong, 278-237, to advance to the title match.
Other PBA Tour exempt players who competed included Chris Barnes, Double Oak, Texas; Tom Hess, Urbandale, Iowa; Dan MacLelland, Canada; Lonnie Waliczek, Wichita, Kan., and Mika Koivuniemi, Hartland, Mich.
Jazreel Tan won the women's title, 257-206, over Shayna Ng in an all-Singapore final. Ng defeated Putty Armein of Indonesia in the women's opening match.
Following the Kuwait Open, many of the top PBA and international players traveled to Paris for the Brunswick Euro Challenge at Plaza Saint Maximin where the second PBA Tour title in the series will be awarded.
Also included in the Brunswick Euro Challenge will be the stepladder finals of the inaugural WTBA International Open featuring top qualifier Liz Johnson of Cheektowaga, N.Y., No. 2 qualifier Chris Barnes of Double Oak, Texas, and No. 3 Walter Ray Williams Jr. of Ocala, Fla. The WTBA International Open is not a PBA Tour title event. Qualifying was conducted in Las Vegas following the USBC Masters.
Go Back or Close Window

(To execute a 'BACK' command after clicking on a photo to enlarge, right-click on a white area on the screen that follows, and then select 'Back' from the menu that will appear)
If you like this article, give us a quick click on the 'Google +1', 'Facebook Like', and/or 'Twitter Follow' below