North American Bowling News
---
Norm Duke Captures Detroit Open Title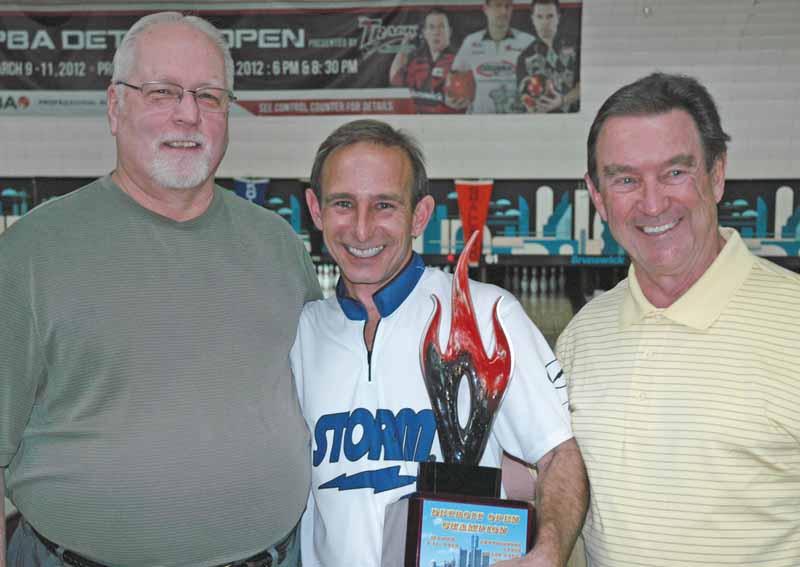 Winner of the Detroit Open, Norm Duke (center), Photo courtesy PBA LLC
ALLEN PARK, Mich. (March 11, 2012) - Professional Bowlers Association Hall of Famer Norm Duke won the PBA Detroit Open presented by Track for his first win of the 2011-12 season and the 35th of his career.
Duke, of Clermont, Fla., defeated reigning PBA Player of the Year and No. 1 seed Mika Koivuniemi, 266-217, in the championship match at Thunderbowl Lanes to win the $10,000 first prize which pushed his career earnings over the $3 million mark. Koivuniemi, who now makes his home in Hartland, Mich., was trying for his 10th career Tour title.
Duke joins fellow Hall of Famers Walter Ray Williams Jr. and Pete Weber as the only players to earn more than $3 million and his 35 wins also moved him into fourth on the all-time career list for titles won.
Williams is PBA's all-time career titles leader with 47 followed by Earl Anthony with 43 and Weber with 36. Williams holds the all-time career earnings mark with $4.35 million followed by Weber with $3.52 million.
"At this point in my career I feel just blessed to be able to compete," said the 47-year old Duke. "It's just so hard to win out here that at this point in my career I'm just blessed - that's all I can say. I'm jealous of what the young guys can do so it makes it all the more special."
Duke, the No. 2 seed, soundly defeated 2009 PBA World Championship winner Tom Smallwood of Saginaw, Mich., in the semi-final match 288-178 to advance to the championship match. Duke attributed his success to reducing the amount of practice he took before each match.
"Usually, everyone wants as much practice as they can get but for me that's not always the case," Duke said. "Sometimes you need the practice but other times you have to know when to get out of there.
"The guys with the big rev rates will just burn up the lane and I didn't want to add to that. Fortunately, I was able to play outside on the lane where I like to play. I had to make a one-board adjustment in the first game but even in the championship match I had to make a three and a half board adjustment."
Go Back or Close Window

(To execute a 'BACK' command after clicking on a photo to enlarge, right-click on a white area on the screen that follows, and then select 'Back' from the menu that will appear)
If you like this article, give us a quick click on the 'Google +1', 'Facebook Like', and/or 'Twitter Follow' below