North American Bowling News
---
Baer Wins PBA East Region's Chameleon Open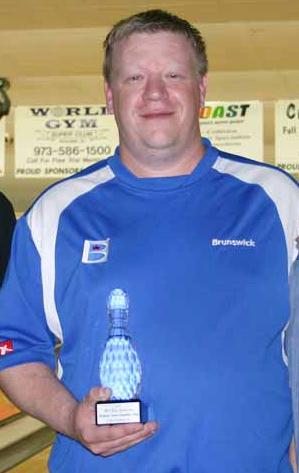 Photo courtesy PBA LLC
Adam Baer of Gettysburg, Pa., defeated Greg Ostrander of Wall, N.J., 192-190, to win the PBA East Region Rockaway Lanes Chameleon Open, $2,500, and his second PBA Regional title in Rockaway, N.J., on April 29.
Ostrander, however, earned the East Region's first paid entry into the 2012 PBA World Series of Bowling as highest finisher among 21 players who entered the region's optional "animal pattern" championship series competition. During the coming months, the East Region will also conduct Cheetah, Scorpion and Viper championship events. The player who earns the most competition points for all four animal pattern tournaments also will win a berth in the World Series of Bowling.
Readers of the North American Bowling News may remember the name Adam Baer from Issue 1. In a "King of the Hill" event in Chambersburg, PA, Baer bowled a flawless game but fell victim to 3 "taps", thus bowing to Mike Walls of St. Thomas, PA in the final.
Go Back or Close Window

(To execute a 'BACK' command after clicking on a photo to enlarge, right-click on a white area on the screen that follows, and then select 'Back' from the menu that will appear)
If you like this article, give us a quick click on the 'Google +1', 'Facebook Like', and/or 'Twitter Follow' below