North American Bowling News
---
USBC Hall of Famer Remo Picchietti, Trailblazer on Lane Maintenance, Passes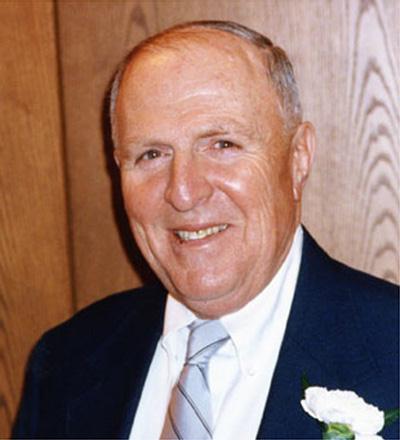 Remo Picchietti
Remo N. Picchietti Sr., a former Village of Bannockburn president and Highland Park city councilman who also ran bowling firm DBA Products of Lake Bluff, died Sept. 26 at his home in Bannockburn. He was 81.
"It really is no exaggeration to say that Bannockburn is what it is today due to the efforts of Remo Picchietti," said Village President Jim Barkemeyer. "When Remo took office as president (in 1975), Bannockburn lived from hand-to-mouth."
Back then, real estate taxes were the only source of income, the police department was part-time, there were few commercial buildings, the U.S. Environmental Protection Agency was suing the village for pollution law violations, and there was no village office space except that borrowed from the school and library. Village officials sat in child-height chairs at board meetings, Barkemeyer recalled.
Mr. Picchietti, who moved to Bannockburn in 1965, attracted Bannockburn Green Shopping Center to the village which, in turn, generated sales tax revenue for a full-time police department. Village Hall was built, and special service districts were created to install sewers on Half Day Road for office park buildings which now provide half of Bannockburn's village and school revenue. The EPA lawsuit went away when the village designated money from a TIF District to build a reservoir and pumping station to end pollution discharging into the Chicago River. Residential areas received sewer lines.
GOT THINGS DONE
Barkemeyer said many in Bannockburn still remember Mr. Picchietti — who served as president for 16 years — as "the man who got things done."
Mr. Picchietti also operated the family business DBA Products Co., Inc., a bowling equipment company that's been part of Lake Forest-based Brunswick Corp. since 1997. DBA Products had offices, warehouses, and factories in the United States, Canada and Europe and distributed its products in 65 countries.
Mr. Picchietti took over the family business in 1959, when his father died, and eventually he became president. The company, Deerfield Bowling Academy, was started by his father in the 1940s.
Over his lifetime, Mr. Picchietti's impact on the bowling industry was broad. He conducted seminars for alley owners on lane maintenance. His first book, "The Science of Bowling Maintenance," was written in 1970 and was followed in later years by "Lane Conditions for Bowlers," "Liability Management for Bowling Centers," "Guide to Fire Resistant Bowling Lane Coatings," and "The Age of Aquarius: Aqueous Coatings for Bowling." Most recently he wrote "A Stone in the Bunch" about the family's business. He served as president of the National Bowling Council, the Billiard and Bowling Institute of America, and the National Association of Independent Resurfacers.
In return, the bowling industry recognized his contributions. Mr. Picchietti was named to the International Bowling Museum and Hall of Fame and the United States Bowling Congress Hall of Fame.
THREE PATENTS
Mr. Picchietti invented products to help business owners and bowlers. He held three patents: a machine for cleaning bowling balls and shoes (1987); a selectively pneumatic bowling glove (1995); and a bowling ball finger insert having a wear indicator (1996).
"After retiring, Remo put his knowledge of the bowling industry to use as a consultant all over the world," Barkemeyer said. "He traveled extensively, loved to golf, and flew gliders."
Mr. Picchietti served as a justice in 1957 in West Deerfield Township and from that four years of service derived his nickname among family and friends of "Judge."
Go Back or Close Window

(To execute a 'BACK' command after clicking on a photo to enlarge, right-click on a white area on the screen that follows, and then select 'Back' from the menu that will appear)
If you like this article, give us a quick click on the 'Google +1', 'Facebook Like', and/or 'Twitter Follow' below