North American Bowling News
---
Canada's Pla-Mor Event Hosts Perfection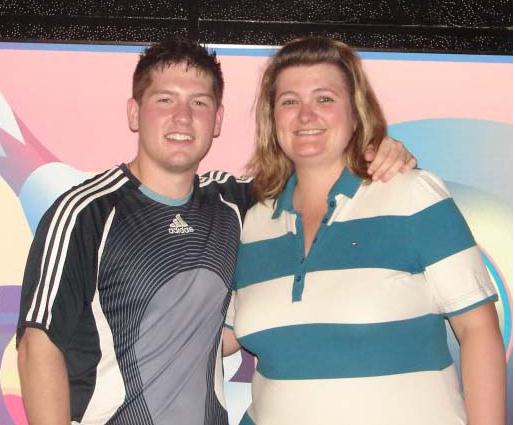 Mitch Davies and Christina Herbert
During the extended weekend of August 11th-14th, Pla-Mor Lanes in Ontario hosted an open fivepin event which turned out to be an historic occasion. Normally, the fact that a few of the men from the U.S. duckpin pro tour made an appearance to play in the Canadian bowling game would be big news, but a bigger story occurred during the qualifying round of the event as there were 2 perfect games rolled on the same day, one on the ladies' side of the event, and the other on the men's side.
Ontario residents Christina Herbert of Arnprior and Mitch Davies of Hamilton both turned in flawless games of 450 in a rarity that rivaled the scarcity of the famous back-to-back no hitters tossed on ESPN by the Oakland A's Dave Stewart and the Los Angeles Dodgers Fernando Valenzuela, back in 1990.
For Christina, her effort catapulted her into the women's top qualifier position with a monstrous 1799 total for her 6-game block, while Davies topped the men's side with an 1801 aggregate score. Herbert rode her wave of excellence up to the championship match the following day before finishing as runner-up to the eventual champion, Connie Ward. On the men's side, Marc Goulet won over Dave Phipps in the final.
Christina's husband, Mike, did exceptionally well himself, posting a robust 1687 total which landed him in 6th place during the qualifying round.
Regarding the duckpinners, there were a couple of noteworthy performances. Bernie Hipkins qualified 2nd behind Davies with a 1756 score, and Mark Berends had the 3rd best preliminary round total for the men with 1726.
Go Back or Close Window

(To execute a 'BACK' command after clicking on a photo to enlarge, right-click on a white area on the screen that follows, and then select 'Back' from the menu that will appear)
If you like this article, give us a quick click on the 'Google +1', 'Facebook Like', and/or 'Twitter Follow' below