North American Bowling News
---
Hurricane Irene Takes a Toll on Candlepins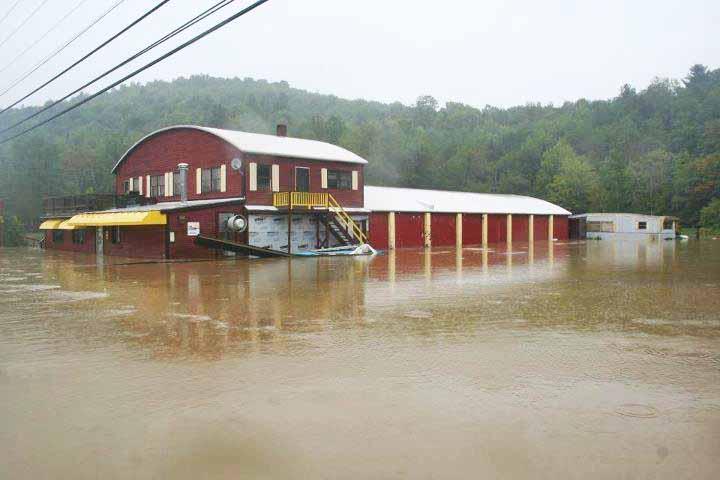 One of the temporary casualties of Hurricane Irene was North Star Bowl in Vermont. On an encouraging note, the bowling alley plans to re-open its doors for business (Photo courtesy 'The Candlepin Gallery' Facebook page)
While this news item isn't directly about bowling, the sport was affected and the repercussions of the event can't be ignored.
Hurricane Irene may be gone but on August 29th, the state of Vermont—one of the residence areas for candlepin bowling—was hit hard and felt the wrath of the storm's fury. The mountainous state experienced catastrophic flooding in the worst drenching for Vermont since 1927.
The storm dumped as much as 11 inches of rain on parts of the state, where rivers were already high from a wet summer and heavy snowfalls last winter. The Deerfield River's rapidly rising waters devastated the town.
All state offices closed and the National Guard deployed six rapid response teams in the fight to combat nature's assault on the New England state.
President Obama signed an emergency declaration for Vermont.
"We're continuing to deal with the impact and the aftermath of Hurricane Irene," Obama said. "We're going to make sure folks have all the support they need as they begin to assess and repair the damage left by the storm...The impacts of this storm will be felt for some time. And the recovery effort will last for weeks or longer."
.
Go Back or Close Window

(To execute a 'BACK' command after clicking on a photo to enlarge, right-click on a white area on the screen that follows, and then select 'Back' from the menu that will appear)
If you like this article, give us a quick click on the 'Google +1', 'Facebook Like', and/or 'Twitter Follow' below