North American Bowling News
---
Jeff Ferrand: A Backbone of Duckpins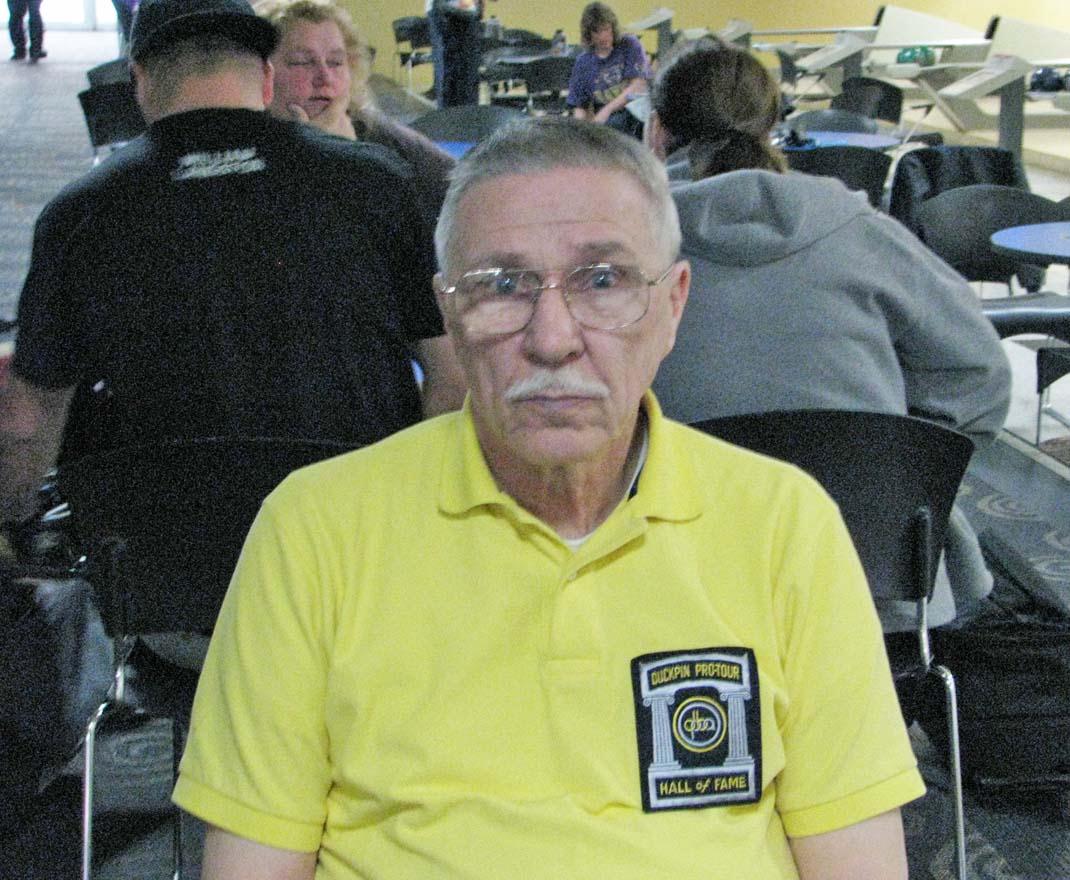 The 'All-Business', yet personable Hall of Famer, Jeff Ferrand
Sometimes in life we mingle with individuals who qualify as celebrities and we don't even realize just how much these people have accomplished. This editor recently had the privilege to sit down and chat with one of the members of the duckpin game's Hall of Fame—Salisbury, Maryland's Jeff Ferrand, and 2 minutes after talking with him, it was pretty easy to come up with an adjective to best describe this bowling legend— Professional.
Notwithstanding his superior credentials in bowling, one need only to take a look around at one of the DPBA pro tour events, and after a little digging, it'll be discovered that Jeff Ferrand had a hand in making it work.
As with any major contributor to a particular field of endeavor, hard work and dedication are the key ingredients to a storied career. Like many top duckpin performers, Ferrand started bowling at an early age—in his case, somewhere between the ages of 2 and 4. As he matured toward his later teen years, he was already pretty good at the game. Sometime around the 1959 season, Jeff was approached by one the Salisbury area's premier players, Mickey Jones, and Ferrand was asked to join up with Jones' team in Mickey's place, which also included another strong player, Clarence Gassaway. Ferrand jumped at the chance and during that season, Jeff's average improved from 106 to 120, which was quite strong in those days.
A hitch in the military interrupted Ferrand's bowling career, but in 1965 he was back on the local scene, and was steadily moving up as a duckpin threat. Ferrand competed in several of the heralded and grueling "All-Star Classic" events, and by 1968 he was introduced to the duckpin pro tour, which he had no idea existed prior to that.
Ferrand won his first pro tour in November of '68 at Princess Lanes in Norfolk, Virginia, and was fast becoming a recognized star. But Jeff didn't rest on his prowess on the skill level. He was also fascinated with everyone and everything going on in the game of duckpins. Ferrand was diligent attending the pro tour meetings even when not many people were showing up regularly, and was fastidious with keeping statistics. It wasn't long before he was appointed as secretary of the pro tour, and shortly thereafter, Frank Applestein, president of the duckpin pro tour, asked Ferrand to keep track of the Bowler of the Year points and standings.
Over the years during his tenure as an officer of the pro tour, Ferrand rewrote and reorganized the tour's bylaws on two separate occasions, in an effort to make the rules conform to National Duckpin Bowling Congress standards, as well as providing a consistent layout so that the bylaws made more sense.
Later in the 1980s, Ferrand, along with assistance from tour member and succeeding secretary Wes O'Donnell, revised the Bowler of the Year points system as it exists today.
Ferrand was a true force in the game of duckpins during the glory years of the 1970s. All facets of his makeup—his scoring ability, his administrative side, his demeanor, his knowledge of the game, and his bowling style itself, which was second to none when it came to being as smooth as silk—everything came together at once which made him almost like a 'mecca in human form' for duckpin bowling.
Accomplishments
Ferrand's bowling achievements are a highlight reel for one career, to say the least. Jeff won a substantial 5 pro tours, his last one in 1980 at White Oak Lanes. During the 1970s, Ferrand had incredible success. In the 1972-1973 season, he broke the 'high average for a single season' record by a full pin at a 143 clip. An amusing story behind that feat was that his league was a somewhat casual bowling league, and featured '5 on a team'--but Jeff's team had a 6-player roster. His team agreed among themselves that with each game rolled, the bowler with the lowest score would sit out the next game and allow the sidelined bowler to take that spot in the nightly rotation. During the course of the season, the only game that Ferrand had to sit out was after Game #104 of the 105-game season, so Ferrand had to take the bench for the league's final game of the year. Jeff laughingly admits now that the situation wasn't too funny to him at the time.
In the 1980-1981 season, Ferrand finished a close 2nd in the nation to Buddy Creamer in the race for Number One bowler. Buddy had 150.660 for a stout 415 games and Jeff was #2 with 150.288 for an astonishing total of 995 games.
A glaring testimonial to his prowess as a bowler occurred back in the late 1970s. Ferrand once went 45 consecutive games without missing a single pin for a spare. This is mind-boggling when you consider that Jeff bowled in different bowling centers during the week, and when figuring in tournaments in which you bowl on different lanes after each game, where no 2 lanes are dressed the same with oil conditions…it's simply phenomenal. Ferrand recounted that in the game in which the streak was broken, it was a doubles event, and this was the only open frame for the whole game between the 2 bowlers! Jeff's partner, Vince Neal, had an all-mark 192, while Ferrand shot a 203 game for a combined 395 total.
One of Ferrand's most memorable tournament wins was in the Eastern Classic, of which he is a 2-time champion. In the 10th frame of the last game, he needed a mark to claim the title, as Attleboro, Massachusetts' Peter Pierce had earlier posted a whopping 2004 score. Ferrand slid the 5-10 split for a spare and put a count on it to climax an all-mark 202 game, posting a 2010 total. His final 3 games in the event added up to 579—184, 193, and 202.
The World Cup
Back in 1983, Ferrand was one of the 5 members of the U.S. "Dream Team" during the much talked about "small ball" World Cup competition in which 4 nationalities came together to participate. Bowlers from the United States, Canada, Argentina, and the Philippines met in what could be best described as 'Goodwill Games' for bowling. The U.S. team was composed of Jeff Ferrand, Jeff Pyles, Peter Pierce, Buddy Creamer, and Swede Lavers—an unparalleled modern-era combination for American duckpins if ever there was one. As we look back, this is a grouping that has accumulated 56 duckpin pro tour wins up through the present.
Ferrand recalls that at one point during the competition, the American team rolled an 'Andy Varipapa' 300 game, in which the fivesome pitched 13 consecutive strikes at one point. Jeff doesn't remember exactly who was the bowler who ended the streak, but he remembers there was some jovial ribbing going on at the time directed toward that player.
Ambassador for Duckpins
During the World Cup experience, Ferrand was approached by Tomas Guzman, one of the Argentine bowlers, and was asked if he could get a few sets of duckpin balls shipped to Argentina. Ferrand ended up contacting Bob Pirella of Paramount, initially footing the bill himself, and subsequently 12 sets of 3 lb., 12 oz. duckpin balls were sent to the Argentine consulate in New York, and from there the wheels of progressed were put into motion, and Argentina soon received the shipment.
Later in a junior tournament held in Washington, DC involving kids from the Philippines who were invited to participate, Ferrand was approached by one of the adults with the group, and was asked if he could locate and provide them with a set of solid orange bowling balls. Ferrand complied to an exchange for a set of balls used in the Philippines, and mailed the shipment. Not too long afterward, Jeff received his end of the bargain—4 balls which he estimates as 5¼ inches in diameter, with varying weights, as high as 4 lbs., 5 oz.
The National Tournament
Among his many accomplishments in bowling and on the administrative side of duckpins, Ferrand was also extremely successfully as a tournament director, as he was in charge of running the "National Tournament" for a 10-year stretch from 1985-1994. As tournament director, his focus wasn't necessarily on the number of entries for the 5-week event, but more so on the number of games rolled by all the participants. During this 10-year period, participation during Ferrand's rule saw an increase from around 6500 games rolled during the event in 1985 to over 11000 games bowled in 1994, climaxing at Fontana Bowlarama in Takoma Park, Maryland. And each year, there was an increase from one year to the next. This is a pretty good indication that even if an event has strong promotion, when it's organized properly and operates in a professional manner, not only will an event pick up new players, but it doesn't lose its existing participants.
Across the Miles
Jeff Ferrand's dedication to duckpins is pretty evident when you consider the number of miles he's logged in during his commutes to and from the bowling centers over the years—and he continues to do so to this day. Currently, his typical commute from Salisbury to Chestertown is around 80 miles each way—a 1½ hour ride. But during the years in which he was a bowler/secretary at Greenway East Bowl, he lived over 100 miles from the bowling alley, making his commute about 2 hours each way.
Again, commitment to the game and a love for bowling superceded the incon- venience of travel. Ferrand was renowned as a valued league secretary ever since his early years at Wicomico Lanes in Salisbury, and was more than capable of handling the demanding 44-team Greenway East Pro Triples League—a league that included most of the top players in Baltimore.
Recognition
It's no surprise that with all of his accomplishments, Jeff Ferrand would be an inductee into any Hall of Fame related to the sport of duckpin bowling. In 1982, Ferrand was inducted into the National Duckpin Bowling Congress Hall of Fame for Superior Performance. He had been nominated for the honor in 1980, but couldn't enter until he reached the age of 40. The following year, he was again nominated and then subsequently inducted. In 1984, the DPBA officially instituted its own Hall of Fame, and Jeff was honored at that point. DPBA requirements at the time for hall of fame induction were 5 tour wins and 1 Bowler of the Year award, and Ferrand had satisfied these specs based on his 5 tour wins and 2 Bowler of the Year awards (1976 and 1980).
(NOTE: Issue 7 of the NABN incorrectly reported that 4 tour wins were the criteria for automatic DPBA induction.)
The "Turner Award"
In 2010, Jeff Ferrand received the coveted Frank Turner Lifetime Achievement Award, a prestigious honor only dealt to an elite few. Originally, this was an award given to Hagerstown bowling proprietor Frank Turner, whom over the years was a major contributor to the sport of duckpins and to the DPBA. The requirements for the honoree is that he must be a member of the DPBA Hall of Fame, must have served on the governing body or an elected office for a minimum of 10 years, and must have done something for the betterment of the tour. The award is bestowed via a committee vote from the president of the pro tour, all living recipients, and from the 5 most senior committee members of the governing body who haven't already received the award. In addition to Turner, the other recipients of the award are John Weinkam and O'Neill Wynne, who were honored in 2004, and Dennis Pontes, who received the award along with Ferrand (2010)
Where would Duckpins be Without Him?
Jeff Ferrand has contributed to the game of duckpins on several levels. In the early years of the pro tour, when a bowler won a tour stop, oftentimes the winner's check was the only prize received, and once in a while, the hosting establish- ment would spring for a trophy or plaque. After a time, Ferrand suggested to the governing body that it would be nice if the tour itself would present something along the same line. The idea was accepted, and since Jeff had a background in this line of work, he was enlisted to design a plaque for the future champions, as well as awards for the Bowler of the Year and Rookie of the Year winners.
Ferrand has owned and operated Eastwood Trophies in Salisbury, MD since around 1975, and has supplied trophies and plaques to the National Duckpin Congress on request. He also designed the NDBC's 'Gold Level' award.
Jeff also was responsible for producing the huge duckpin pro tour banner that was hung at the events, which he created in 1972, as well as another large hanging banner that came along a little later which many bowlers have noticed that reads "The Best in Duckpin Bowling".
When a person is considered an icon, it's someone who's name goes hand-in-hand with a particular field of endeavor. Performer, administrator, organizer, ambassador, historian—being so heavily involved on so many levels is justification enough to consider Jeff Ferrand as one of the true icons of duckpin bowling.
Go Back or Close Window

(To execute a 'BACK' command after clicking on a photo to enlarge, right-click on a white area on the screen that follows, and then select 'Back' from the menu that will appear)
If you like this article, give us a quick click on the 'Google +1', 'Facebook Like', and/or 'Twitter Follow' below