North American Bowling News
---
Candlepin Record Falls to Massachusetts Man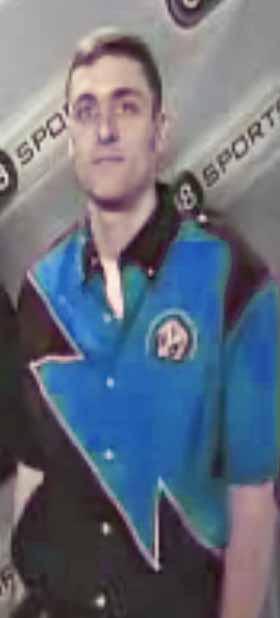 The new world record holder for 'high triple' in Candlepin Bowling, Mark Ricci
Mark Ricci of Somerville, Massachusetts broke a Candlepin world record on September 30, 2011 as he tallied games of 160, 157, and 202 to set a new 3-game high set mark of 519, eclipsing the old mark by a scant 5 pins.
The new record was rolled at Metro Bowl in Peabody, Massachusetts in Ricci's Friday night pro league. Mark's first 2 games, or strings as they're referred to in Candlepin circles, were already a hefty opening total of 317, and when the 30-year old opened Game 3 with a triple-header, destiny had put the previous all-time high of 514 in jeopardy.
After the completion of the climactic 202 game, someone said, "Wait a minute, that's a world record!", Ricci recalled. "I wasn't even paying attention... I found a zone and I couldn't do anything wrong. It was very cool."
Ricci's record-setting pace obviously inspired the rest of his teammates, as his team rolled an 814 score, which is said to be another record for a 5-man team. Ricci's teammate, Dave DuPuis, fell 3 pins shy of a 200 game himself with a 197 in the mammoth team effort.
In his younger days—more precise, his elementary school years—Mark was both a tenpin bowler and a candlepinner. He had an excellent tenpin teacher—his grandmother was on the ladies tenpin pro circuit. During that period, Mark was in two Saturday junior leagues— candlepins in the morning, and tenpins in the afternoon. As he grew older, Ricci, focused more on the small ball game, which he preferred because of the uniqueness and the challenge.
Ricci has given a lot to the candlepin game, as he is a certified instructor, and coaches junior leagues at nearby Woburn Bowladrome on Saturday mornings. Now, the candlepin game has given back to Mark—a world record.
2011 has been a big year for Candlepin bowling, as the high game of 245 was tied by Chris Sargent back in May. Ironically, Sargent is also a member of Ricci's Friday night team for the current season.
Go Back or Close Window

(To execute a 'BACK' command after clicking on a photo to enlarge, right-click on a white area on the screen that follows, and then select 'Back' from the menu that will appear)
If you like this article, give us a quick click on the 'Google +1', 'Facebook Like', and/or 'Twitter Follow' below