North American Bowling News
---
Callahan Fends Off Young's Challenge to Win 2nd Star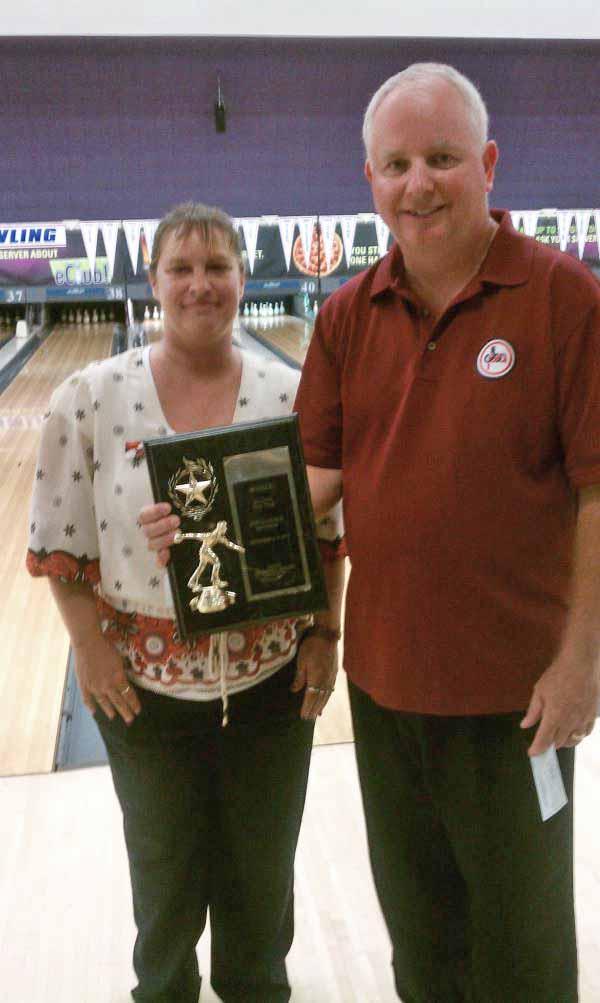 Mark Callahan displays his Winner's Plaque (Photo courtesy DPBA)
AMF Dundalk Lanes was the host house for the DPBA on Labor Day weekend, September 2nd through the 4th, and it was there that Stewartstown, PA's Mark Callahan tightened his stranglehold as one of the premier duckpinners in the sport today.
From the top seed position, Callahan fended off the challenge of the 2010 DPBA Rookie of the Year, Canadian Jeff Young in his quest to be the first native fivepinner to bring a duckpin championship back across the northern border.
The bottom 3 rungs of the stepladder finals, from fourth seed to wildcard, enjoyed the home field advantage in that they are all members of the Baltimore pro league, which rolls at AMF Dundalk on a weekly basis during the course of the year. But in the end, it would be a bowler from the nearby 'Pinland' bowling center (Callahan) and the Canadian (Young) who would vie for the title.
The opening battle on the stepladder featured a matchup between the #5 seed, John Deantoniis and the wildcard, Walt Brooks. Deantoniis would come out on top, 164-132 in the kickoff match of the stepladder, and then would follow up by derailing Michael Weaver in Match #2, with a triple-header in the last 3 frames to secure a 166-140 win. John would continue his impressive run, defeating fellow Baltimorean Kevin Burke, 151-140 in his 3rd successive victory.
Deantoniis was strong heading into the semi-final game, as he squared off against Jeff Young. Jeff stood his ground and went toe to toe with John, staying virtually even throughout the match. The foundation 9th frame was the turning point in the contest, as Young spared in the crucial box, while Deantoniis failed to convert on a spare attempt. In the 10th frame, John left the 5-7 split, leading to another open frame. As the scenario materialized, Young needed a 9-count on his 9th frame spare, and 10 out to win by a pin. Like a grisled duckpin veteran, Young dropped the essential 9, and leaving nothing to chance, nailed the single for a spare, eventually winning the contest 157-147.
Young definitely seemed to have the spark in his bid for the DPBA title, but certainly wasn't looking past the top seed, Mark Callahan.
The match began, and Callahan, never one to beat himself, was steady and true after the long wait that the top seed inevitably has to endure. Young had trouble getting any kind of streak going, and as the game progressed, Callahan was beginning to mount a substantial lead. By game's end, Mark was true to his ranking on the ladder, and captured his long-deserved 2nd DPBA star in a 147-115 victory.
Go Back or Close Window

(To execute a 'BACK' command after clicking on a photo to enlarge, right-click on a white area on the screen that follows, and then select 'Back' from the menu that will appear)
If you like this article, give us a quick click on the 'Google +1', 'Facebook Like', and/or 'Twitter Follow' below