North American Bowling News
---
Duckpins in Argentina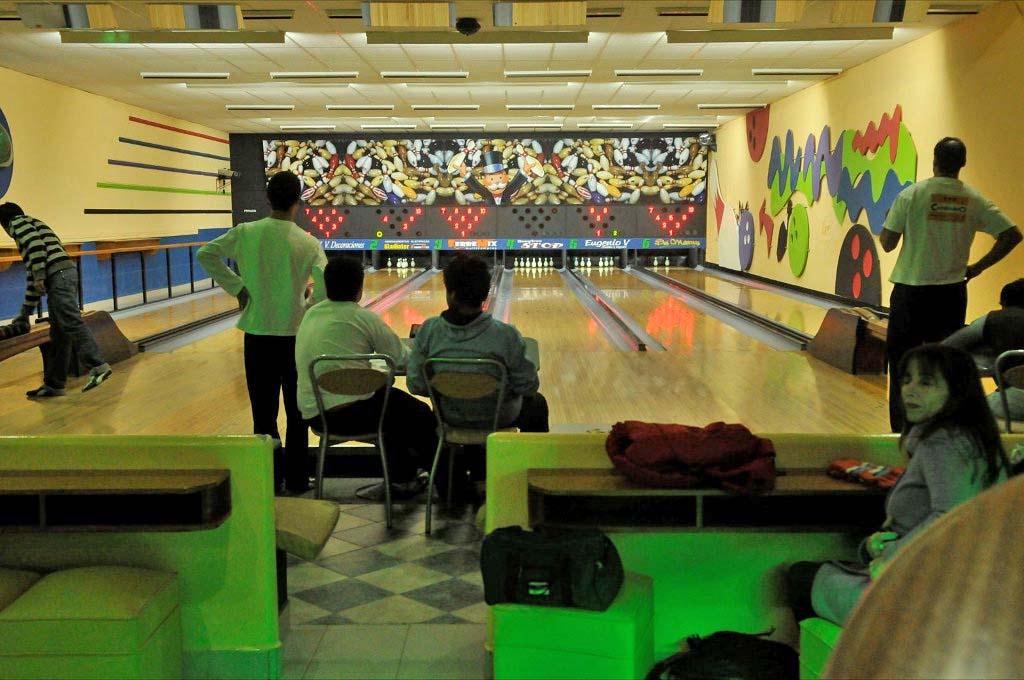 Open Play bowling at "Mister Pin" bowling center in South America
Much has been said about the Canadian integration into the DPBA, but the Pop Whitten pro duckpin tour has laid its own claim on international duckpin hospitality, as a new face from 'south of the border' recently emerged to partake in competition on the PWPT.
One of the amazing stories of 2011 came about at White Oak Lanes on August 20th in the Pop Whitten Pro Tour when Argentina's Ezequiel Delfino, made the long trek from his South American homeland to participate in the pro duckpin event. Delfino, a resident of Coronel Pringes, which is approximately 400 miles from Buenos Aires, is an avid duckpinner. In this historic debut for a Latin American competing in a North American duckpin pro event, the 34-year old Argentine—a burly, likable, good-natured fellow—made quite an impressive showing in the tour, scoring a solid 814 for 6 games 'on foreign soil'.
Leading up to his superb performance in representing the South American continent, one of the astonishing things about Ezequiel's story is that his trip to participate in the Pop Whitten pro event took him a grueling 31 hours in travel time. The flight from Buenos Aires to Miami was an 11-hour plane ride, and from there, he and his lady companion spent 20 hours driving up the east coast to Silver Spring, Maryland.
Delfino, a 20-year veteran of the duckpin game, says that there really aren't any bowling leagues in Argentina, but they do have tournaments. There's one big tour event annually, and there are around 6 to 7 other yearly events for the competitive players. With the absence of bowling leagues, it's difficult for Delfino to precisely assess what his average is, but based on the scores he's rolled in tournaments on his continent, he feels his average would lie somewhere around 134 to 136. Ezequiel's single high game is 214, and his best 3 consecutive games add up to somewhere in the 480+ range.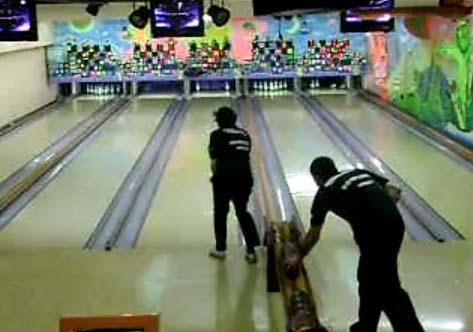 An oddity from Argentina: a 5-lane bowling center
The scoring is tougher in Argentina. Sideboard action is drastically less than what is experienced in the United States. Delfino states that the balls are a little bigger down in South America, (probably around 5¼" in diameter, based on the way Ezequiel described the balls, which coincides with what Jeff Ferrand described about equipment in the Philippines, earlier in this publication).
Delfino estimates that there are approximately 200 duckpin centers in Argentina, most of them being small houses made up of 4 to 6 lanes each. According to Ezequiel, about 50% of the lanes utilize 'pinboys', while the other 50% employ string machines—but there are no automatic pinsetters. Gener- ally, their bowling centers still use wood surfaces for the duckpin lanes, rather than the synthetics..
The players in South America take their bowling seriously, as you can easily tell if you watch any of the videos of Argentina duckpin bowling on "YouTube".
Besides the use of pinboys, one particular difference between 'here and there' is that the players bowl 'ball for ball'. This naturally expedites the bowling experience, which has to be a positive point for the bowling establishments as well as the spectators.
Delfino did exceedingly well in his 6-game block at the Pop Whitten Pro event, with scores of 140, 104, 128, 157, 147, and 138.
Ezequiel's effort was especially impressive when you consider the fact that he was bowling in a strange geographic environment for the first time, with no familiar faces around him, he was in an unfamiliar bowling alley, rolling at a pace in which he was unaccustomed (having to conform to the bowling courtesy of the Maryland area), and using a smaller ball than what he normally uses, not to mention rolling on lanes which utilize the synthetic playing surface.
Although Ezequiel Delfino is the first resident of a South American country to venture forward, putting up his money to compete in a pro-style duckpin event, he isn't the first Latin player to achieve success in American duckpin tournaments. Just to mention a couple of bilingual U.S. citizens—Julio Feliciano, an occasional member of the DPBA, and a 'regular' on the Pop Whitten circuit, has enjoyed a good deal of success on the PWPT. A few years back, another Latin player, Frank Ortiz, made a splash at the Buddy Creamer event around the year 2003, when he qualified with a solid 1081 total for 7 games in the open (scratch) tourney.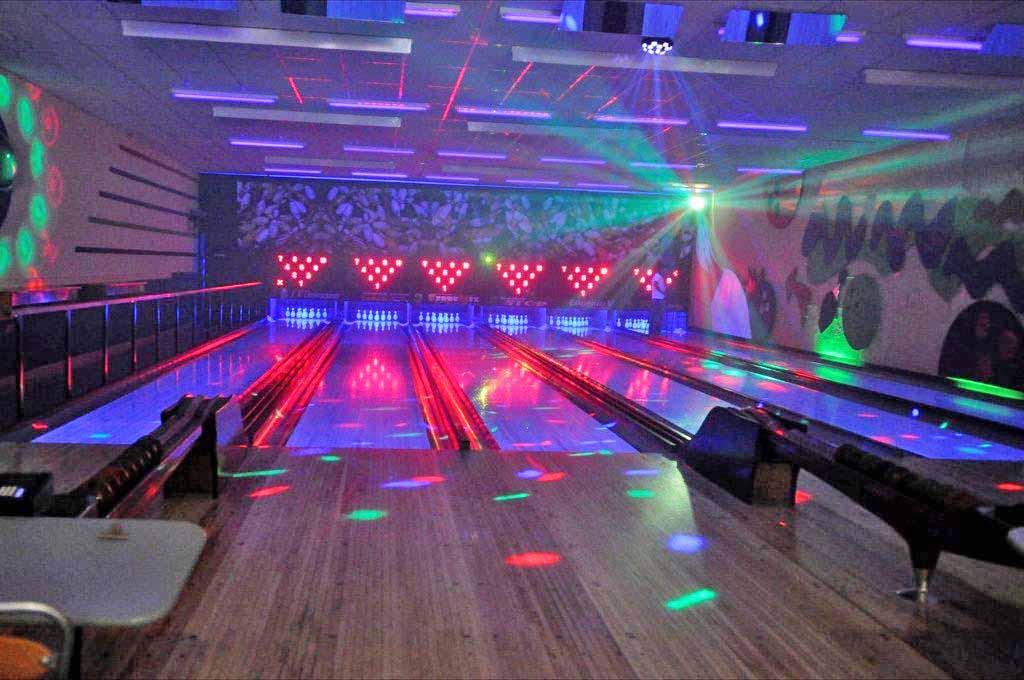 And yes...they have Cosmic Bowling in Buenos Aires, just like in the U.S.
Ezequiel's home house is a 6-lane bowling center in Coronel Pringes called "Mister Pin". Even though the duckpin centers are without automatic pinsetters, the establishment is well equipped with the on-demand, state-of-the-art, beautiful lighting extravaganza commonly known in this country as 'cosmic bowling'.
From the videos this editor has viewed on YouTube, there are some really accomplished bowlers in South America who would easily be considered 'buzzsaws' if you ever had to face them in a one on one bowling contest.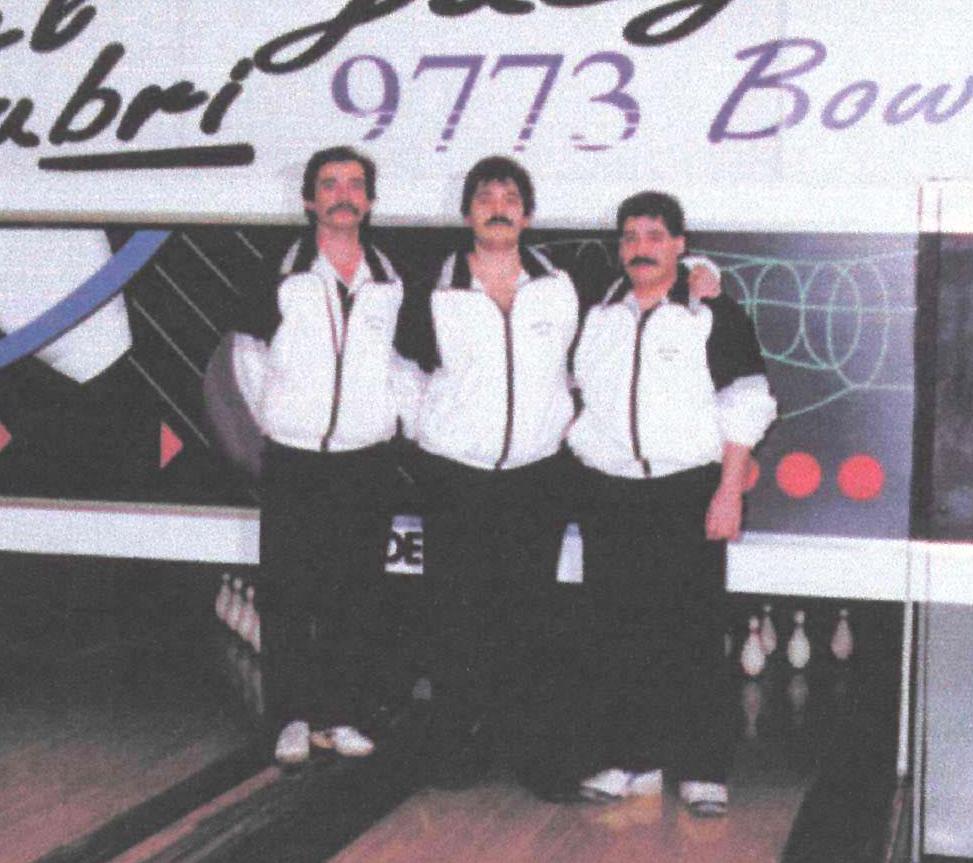 From 1997, a Latin duckpin team, with Nestor Nicolini, on left
In 1997, this editor had the opportunity and privilege to communicate with one of the high rollers of Argentina, Nestor Nicolini, who provided a lot of interesting info on the state of duckpin bowling 'down south'. Delfino says that Nicolini is still one of the top players on the South America continent.
With the Canadian contingent fitting in so well with the U.S. duckpin events, and now with the intrepid efforts of one of Argentina's finest, the prospect of another World Cup event similar to the one held in 1983, is a distinct possibility—just a little legwork from one of the organizations could make such a dream materialize.
Ezequiel Delfino is a prime example of a true bowling explorer setting sail for a new world. Courage and confidence in his ability to compete with total strangers in an unfamiliar environment has allowed him to etch his name into a page of bowling history.
Go Back or Close Window

(To execute a 'BACK' command after clicking on a photo to enlarge, right-click on a white area on the screen that follows, and then select 'Back' from the menu that will appear)
If you like this article, give us a quick click on the 'Google +1', 'Facebook Like', and/or 'Twitter Follow' below